News
Hogs Back IPA celebrates return of pubs
Added: Monday, June 29th 2020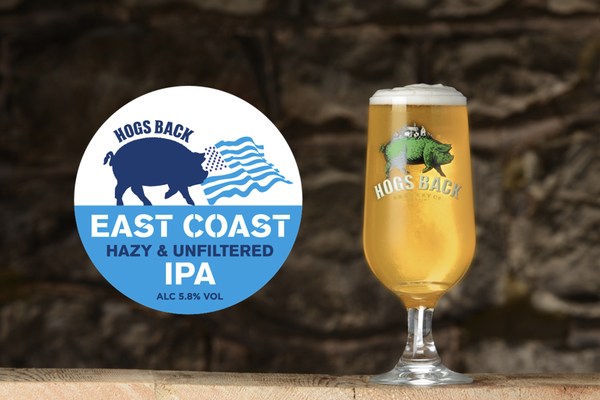 Hogs Back Brewery in Surrey – famous for growing its own hops – has launched East Coast IPA, a summer beer that will celebrate the re-opening of pubs on 4 July.
East Coast IPA, 5.8 per cent, is unfiltered and is available in cans and keg. Brewery owner Rupert Thompson says: "The American style of IPA is hugely popular and the beer is a strong addition to our craft range."
Hogs Back was founded in 1992 in Tongham on a former farm. Its flagship brand TEA – Traditional English Ale – is one of the leading regional ales in the South-east. In 2014, Rupert Thompson and his team planted a hop garden over the road from the brewery and grew Fuggles, English Cascade and Farnham White Bine – the last named was a variety that had disappeared many years earlier but has now been restored.
The hop garden was relocated in 2019 and at 8.5 acres is close to three times the size of the original garden. When it's fully mature, the new site will provide 50 per cent of the brewery's hop requirements. A hop kiln and warehouse will be added to enable hops to be dried and packed within 24 hours of picking.
East Coast IPA was created by Hogs Back's head brewer Miles Chesterman and is brewed with seven hops: Cascade from the hop garden, Fuggles, Ekuanot, Calypson, Mosaic, Idaho 7 and Mount Hood. The four malts in the recipe are Pale, Munich, Wheat and Golden Oats.
The beer has a hazy gold colour and an intense aroma of citrus fruits, pine kernels, peppery hops and an intriguing hint of nougat, which will come from the grain. Creamy malt balance peppery hops and tangy fruits on the palate. The finish is long and complex, creamy malt intermingling with sharp fruit, peppery hops, pine and nougat.
Further informstion: sales@hogsback.co.uk