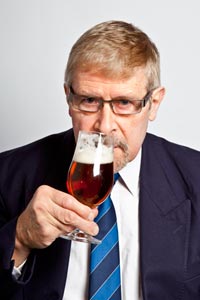 Roger Protz Biography
Roger Protz is one of the world's leading beer writers, historians, lecturers and tasters. He is the author of more than 20 books on the subject, including 300 Beers to Try Before You Die, one of the biggest-selling books on the subject. Other books include The Ultimate Encyclopedia of Beer, the World Guide to Beer and 300 More Beers to Try Before You Die. He has edited more than 20 editions of the annual CAMRA Good Beer Guide.
He was named Glenfiddich Drink Writer of the Year in 1997 and 2004 and in 2003 was presented with the first-ever Lifetime Achievement Award from the British Guild of Beer Writers. He has won two Gold and six Silver Tankard awards from the guild and in 2013 won Gold as Best Writer in Pub and Beer Press. He has won 13 awards from the North American Guild of Beer Writers.
He gives many public tutored beer tastings, including the annual Great British Beer Festival at London Olympia, the BBC Food Show in Birmingham every November, beer festivals throughout Britain and City of Ale in Norwich every May. Abroad, he has conducted beer talks and tastings for Friends of the Smithsonian Institute in Washington D.C., Beer Expo in Melbourne, Australia, in Prague and Riga in Latvia. He has conducted beer talks in both Australia and Britain with the Australian "Beer Diva", Kirrily Waldhorn.
Roger travels widely in search of good beer. He is a frequent visitor to the United States and mainland Europe - with many trips to Belgian breweries - and has travelled as far as Finland, Russia and Australia. He has been to all six Trappist breweries in Belgium and has stayed in two of them -- Achel and Westmalle. In Britain he has done a number of collaborative brews with craft breweries, including a Burton Ale with Otley in south Wales and a Ruby Ale and a Flanders Ale with the Chiltern Brewery in Buckinghamshire.
He writes for BEER magazine, the Publican's Morning Advertiser and What's Brewing in Britain and has contributed to both the Guardian and the Independent. He is a frequent broadcaster and has appeared on the Today Programme, You and Yours, and the Food Programme. He also writes for All About Beer magazine in the U.S. and Beer & Brewer in Australia.