News
Cities unite to boost Britain's beer & pubs
Added: Thursday, October 25th 2018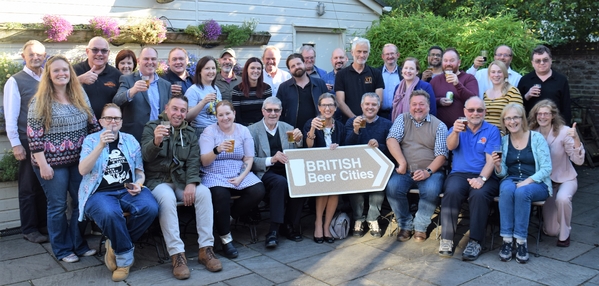 Report by Frances Brace
Seven years after Norwich first positioned itself as the nation's "City of Ale", 13 more town and cities have set up activity-packed Beer Weeks. A recent ground breaking forum, aptly held in Norwich, brought together heads of tourism and beer industries and organisers of nine of the "Beer Cities".
Setting the Scene 
Pete Brown, beer writer, researcher and consultant, chaired the Forum and gave the keynote, "state of the beer nation" speech. 
He said there has never been a better time to be a beer drinker but pubs and breweries are facing tough times. 21 pubs are closing each week and sales of cask ale are down 6.8% a year. He looked at reasons behind the decline – which are also impacting on high streets and town centres across the country. Despite the macro societal and lifestyle changes that play against pubs and shops, Brown offered a message of hope. 
"There's a huge growth in the 'Experience Economy' and the opportunities associated with it.The more time we all spend on screens and in virtual space, the more we need to reconnect with the real world," he said. "The search for the authentic is on. Beer Weeks play into this. They aregrass-root organised; region-specific; collaborative and inventive. They provide reasons for people to explore; things for them to learn; places for them to find; and a rich array of tastes for them to discover. 
"Individual Beer Weeks have already made their mark, but by joining forces, the impact will be much bigger. The aim of the Forum was to establish whether there really is an appetite for working together, and the answer was a resounding yes -- and a resolution to work on the practicalities." 
Forum Outcomes 
Following the Forum, there are now three more potential Beer Cities. Delegates from Cardiff and Lancaster aim to establish Beer Weeks, and Beer Writer of the Year Adrian Tierney-Jones is planning to create a Beer Weekend for Exeter. 
Another key outcome from the Forum is the commitment from Dawn Leeder and Phil Cutter,co-founders of Norwich City of Ale and founder of Beer Cities, to run seminars across the country on how to set up, run and develop successful Beer Weeks. 
Norwich was first to run a city-wide beer festival involving multiple venues, driving footfall into more than 40 participating pubs during the week and building the city's reputation for beer tourism all yesr round. The focus on locally-produced beers increaes the economic benefit to the region. 
"Norwich is a great example, but we don't have the monopoly on best practice," says Dawn. "The seminars and workshops will draw on the brilliant work done by Beer Cities across the country. Those attending the Forum were kind enough to share the stunning successes they've had, but just as importantly, they were really open about the things that were really difficult or that didn't work. These insights will be tremendously useful to anyone already running, or looking to set up, a Beer Week." 
Plans for the "Beer Cities On Tour" seminars will be announced over the next few months. 
Roger Protz and Beer City Presentations 
Leading beer writer Roger Protz chaired the Beer Cities' presentation session, introducing it with a whistle-stop look at many of the world's greatest beer locations. His love of the beer and pub history, culture and unique identity of numerous British towns and cities was palpable. And his encouragement to Beer Week organisers was wholehearted. 
Presentations were made by representatives from eight Beer Cities: 
"The creativity and organisational skills of the Beer City organisers are remarkable," said Protz. "They know their own towns or cities intimately and have created Beer Weeks that work brilliantly in their particular locations." 
Activities they have initiated include collaborative brews, tutored tastings, beer and food-matching evenings, beer and music-matching sessions, ingredient symposiums, quizzes, pub history talks, meet-the-brewer nights and ale trails. 
One of the striking observations from the Forum is the fact that the Beer Week organisers are all volunteers. Some have no connection with the industry; others have daytime jobs in pubs or brewing. 
As Protz says, "What they share is a love of beer, an inclusive attitude, and the willingness to give up weeks of their time to create joyous celebrations of pubs, brews and the unique offerings of their own localities. These provide fantastic platforms for the industry at the same time as attracting new visitors to their towns or cities."  
Andrew Daines and the Visit Flanders Model 
Andrew Daines of Visit Flanders gave a fascinating talk on the work done in the UK and Ireland to build the reputation of Flanders as a tourist destination for beer-lovers. Recognising that visitors to Bruges, Ghent, Antwerp and other parts of Flanders want an immersive, authentic experience, the tourism sector has rigorously promoted its café and beer offerings. The success of the Flanders campaigns in enticing international visitors signals the considerable opportunities there are for Britain to attract beer visitors from overseas. Daines says: 
"Flanders' tourism sector enjoys substantial economic and reputational gains, through embracing our unique Belgian beer culture. Britain's brewers are creating a craft, artisanal product that combines tradition and innovation, and should be celebrated in the same way that Scotland's whisky  – or indeed Belgium's beer – is. 
"The Beer Cities initiative provides an excellent platform that, with appropriate support and investment, could deliver similar significant benefits in relation to both domestic and international visitors to the UK."  
David Wilson and the Economic Impact 
David Wilson of the British Beer and Pub Association reiterated the enormous contribution of beer and pubs to the British economy, and said that it made complete sense to work together to promote Britain as a Beer Nation.He pointed to the fact that people coming to Britain who visit pubs spend on average 35% more (£174 more) while they are in the country than those who don't visit pubs. He said there is a high interest in local food and drink specialities. 
"All this clearly underlines the logic of investing in beer tourism. Targetting people interested in beer and pub culture can boost numbers of incoming international tourists and their spend per head.And it can get people travelling to different parts of Britain regardless of time of year. Clearly Beer Weeks and the positioning of cities as Beer Cities can play a huge role in this dynamic."  
Stefan Gurney and Support from BIDs 
There are over 300 Business Improvement Districts (BID) in the UK. Stefan Gurney, executive director of Norwich BID,and vice chair of the BID Foundation, advised on information Beer Cities shouldgive their local BIDs when applying for funding. He said that Norwich BID can totally justify to its stakeholders the sizeable support it gives to City of Ale. That is because in the first instance co-founders and organisers Dawn Leeder and Phil Cutter provided a compelling case backed up with statistics – and ever since, the event has been showing its positive economic and social impact. 
Tom Stainer and support from CAMRA 
Tom Stainer, CAMRA's chief of campaigns and communications, paid tribute to the CAMRA members at the forum who had set up Beer Weeks. He said the Beer Cities initiatives were just the kind of activity that branches up and down the country should be supporting. "Our campaign is all about keeping pubs open and promoting beer, and Beer Cities are all about driving footfall into pubs and sampling of different and local beers, so I think our members supporting Beer Cities should be a no-brainer." 
David Powles and Leveraging Local Media 
David Powles, editor of the Eastern Daily Press, gave delegates ideas on how to work effectively with local media. He said that while misfortune and conflictand politics may seem to dominate the news agenda, journalists also seek good-news stories with interesting angles. Well-written releases with content relevant to the paper's readership are very welcome, particularly when accompanied by great photos. 
British Guild of Beer Writers' Panel Discussion 
The panel discussion, chaired by Pete Brown, involved contributions from Guild members Roger Protz, Adrian Tierney-Jones, Frances Brace and Susanna Forbes.The session was well received, with delegates keen to hear what attractsbeer writers to events – and how they decide between all the different opportunities. 
Conclusion 
Beer Week budgets ranged from £0 to just over £20,000. One of the challenges for Beer City organisers is to provide evidence showing how the events attract tourists, drive footfall and increase spend in pubs. It is through these metrics that they will attract further funding. Some of the delegates had compelling evidence, and anyone wishing to find out more should look out for "Beer Cities on Tour" and sign up for one of the sessions. 
"It isn't easy to build this kind of event up from scratch," says Dawn Leeder. "The good thing is, anyone wanting to start one up now can learn from the Beer Cities' collective experience-- mistakes as well as successes and triumphs! 
"In the meantime, the established Beer Cities are going to work together to build each other's following and to build the country's reputation as a top world beer destination." 
She and Frances Brace, who is also working on the Beer Cities campaign, expressed huge gratitude to the Brewers' Research and Education Fund (BREF) for its grant to get the Beer Cities' Forum off the ground.  
Presentations were made by the following Beer Weeks:
Birmingham (Krishan Rajput, Tim Rowe)
Brighton (Emma Inch)
Cheltenham & Gloucester (Allie Lucas, Tony Lucas, Leigh Norwood)
Norwich (Dawn Leeder, Phil Cutter)
Oxford (John Romer, Russ Taylor)
Sheffield (Jules Gray)
Stockport (Chris Walkden)
York (Nick Love). 
Other cities and towns represented at the Forum were:Cardiff (Grant Russell)
Edinburgh (Amy Rankine)
Lancaster (Tim Tomlinson)
Kildare, Ireland (Susan Boyle)
Leicester (Nicholas Lloyd)
Nottingham (Lucy Stanford, Jared Wilson)
Waterford, Ireland (Clare Dalton). 
Current Beer Cities (with their 2018 dates) are:-
Sheffield Beer Week     12 - 18 March
Oxford Beer Week    5 - 13 May
Edinburgh Beer Week  21 - 27 May
Norwich City of Ale    24 May - 3 June
Manchester Beer Week    29 June - 8 July
Nottingham Craft Beer Week  June
York City of Ale  30 June - 7 July
Birmingham Beer Week  20 - 29 July
Leeds Beer Week  17 - 26 August
Brighton & Hove Beer Week 24 August - 2 September
Bristol Beer Week    8 - 15 September
Tunbridge Wells Beer Weekend 13 - 16 September
Cheltenham & Gloucester Beer Week  14 - 23 September
Leicester Beer Week 20 - 30 September
Stockport Beer Week  20 - 30 September
Pictured below: Stefan Gurney of BIDs with Phil Cutter and Dawn Leeder