News
Moor gives Italians a taste for cask ale
Added: Friday, November 17th 2017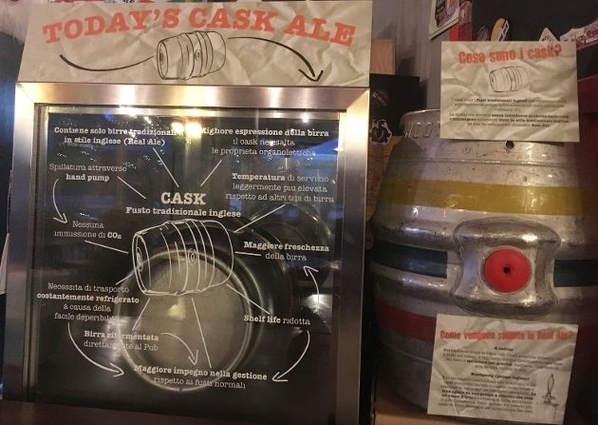 Bristol-based Moor Beer has become the first brewery to supply British cask beer to the Italian market on a regular basis. 
While festivals and one-off deals have seen cask beer previously available in Italy, investment and the growing reputation of Moor Beer means multiple shipments a month have started and are increasing. 
The craft beer movement in Italy is a relatively new phenomenon. In the past decade more than 1,000 micro-breweries have appeared and distributors also supply brews from around the world. 
The global recognition of Moor Beer, coupled with their expertise from sending a significant proportion of production to around 20 export markets, prompted their Italian distributor to organise for a regular flow of award-winning brews. 
Justin Hawke, owner and head brewer says: "This is an exciting deal for us and a wider opportunity to increase interest in cask beers in a major market eager to explore great products. 
"Cask beer is fantastic – it is a natural product, full of flavour which is why it has such appeal. Given how it is made and handled, it is vitally important to us that we work with people who understand and respect what great quality cask beer is. We have that with our partners and friends in Italy." 
Lorenzo Fortini from distributor Ales & Co in Italy said: "Moor Beer creates top quality real ale and as this is a relatively new subject for Italian drinkers, we are determined to introduce them to the finest beers available. We trust Moor Beer, as they work hard in delivering fantastic products in great condition, especially as it needs to travel from the UK. 
 "Planning ahead with the brewer means we can inform our customers in advance about what is coming. We carefully select the venues that can handle the products, from storage to venting the casks and serving the beer, in the best condition, so that the quality is not compromised. 
 "When we consider the unique appeal of cask beer we cannot think of a better brewer to partner with than Moor Beer. We are delighted to have organised this continuous supply deal and will look to build the distribution and profile of the beers." 
Moor Beer produces naturally hazy beers, retaining the full flavour and freshness of the product and without introducing processing agents to fine the beer. 
Their dedication to this style – something they call "modern real ale" – extends across their range in all formats. Moor Beer is the only producer to have CAMRA approval for real ale in cans.
*Pictured top: instructions in Italian on how to cellar, tap, spile and serve cask beer.