News
Get high on the Hogs Back for Xmas time
Added: Tuesday, November 14th 2017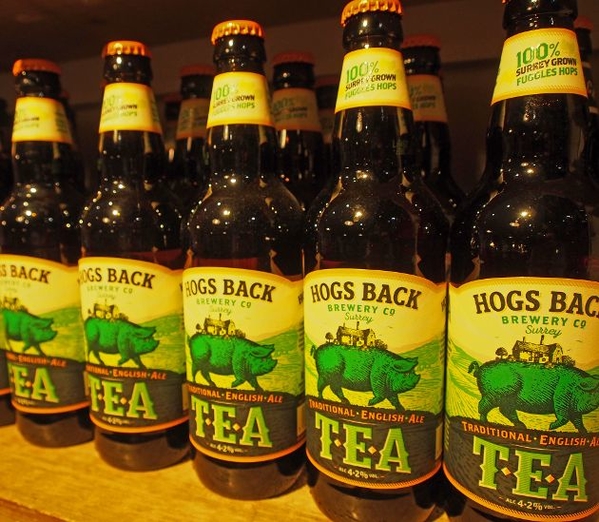 Surrey-based Hogs Back Brewery has secured a raft of new off-trade listings ahead of the key festive sales period that will see its flagship TEA, or Tongham English Ale, in more than 1,000 supermarkets across the South-east and its Hogstar English Craft Lager stocked nationally by Majestic Wines.
The new stockists for TEA are the Co-op, who are listing the 500ml bottled ale in 320 stores; Morrisons, with 39 stores and Tesco, who are adding it to 19 Express stores in addition to the 64 stores already stocking it. The new listings join existing distribution for TEA in Sainsbury's, Waitrose and ASDA. At the same time, Hogstar 330ml cans are going into 211 Majestic Wines stores across the country.
Hogs Back relaunched TEA this summer, giving the brand a new label with a cleaner, more modern look while retaining the heritage and iconic hog image that have helped to make it one of the leading ales in the South-east. The new bottle design also features a "100% Surrey grown Fuggles hops" neck collar to communicate the beer's local provenance; a proportion of hops in the brew are sourced from Hogs Back's own hop garden next to the brewery.
Hogstar English Craft Lager, launched in 2013, is a 4.5% ABV lager brewed with five different hops, including English Cascade grown on the Hogs Back hop garden, and matured for over a month to allow flavours to deepen. Hogs Back launched Hogstar in cans in 2016.
Rupert Thompson, Hogs Back managing director, says: "We are delighted to have secured wider distribution for TEA and Hogstar in time for the busy Christmas beer buying season. These are all retailers with a reputation for stocking interesting, quality beers and supporting local producers, so Hogs Back beers are a perfect fit.
"The relaunch of our flagship TEA has certainly helped to win these new listings; the new label design gives the brand greater impact on the shelf and we're confident it will achieve strong sales.
"Hogstar is growing in popularity among drinkers who want a lager with more flavour than offered by standard brands, and its appeal to younger drinkers was boosted by putting it in cans. We're pleased that the listing with Majestic Wines will bring Hogstar to a wider audience across the country."
The RRP for TEA is £2.17 per 500ml bottle, and £2.00 for the Hogstar 330 ml can.
Hogs Back's range for the off trade also includes two beers that are ideal for the festive season. Advent Ale, offered in 500ml bottles, is a ruby coloured, 4.4% ABV ale with a refreshing fruity nose, a sweet liquorice and roasted malt flavour and rich dark chocolate aftertaste.
Also available is the newly bottled 2017 vintage of A Over T -- Aromas over Tongham. The 9% ABV bottled-conditioned beer now has a 10 year "drink by" date and Hogs Back expects the ale to mature over the next decade to offer even deeper and richer flavours to those with the patience to wait.