News
Here's one I brewed earlier...
Added: Sunday, July 23rd 2017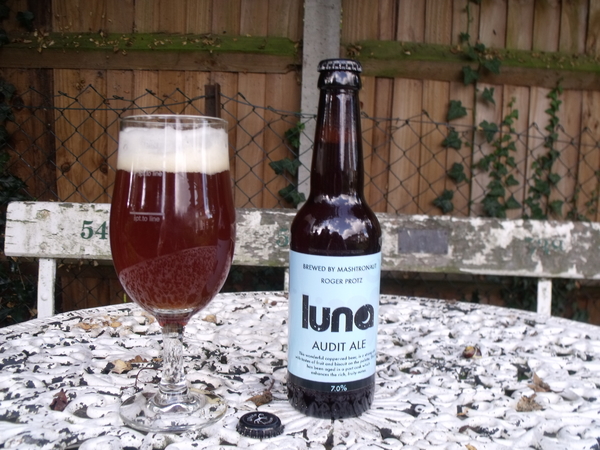 The best things in life are worth waiting for. In October last year, I helped brew an example of Audit Ale with the White Horse brewery in Oxfordshire, backed by Titanic Brewery in Stoke-on-Trent:
http://protzonbeer.co.uk/features/2016/10/18/audit-ale-taking-account-of-history
The beer was one of several Titanic is making with leading people in the world of beer: the first was brewed by Andrew Griffiths MP, former chairman of the Parliamentary Beer Club.
I chose Audit Ale as a result of the style's historic associations with the universities of Oxford and Cambridge. The beer was brewed either at breweries within the colleges or by commercial brewers. It was strong ale enjoyed at the annual Audit Feasts when the universities' annual accounts were settled.
The 7% interpretation brewed at White Horse was made with Flagon extra pale malt and dark crystal malt with traditional Fuggles and Goldings hops.
I was keen the beer should be properly aged as the original Audit Ales were brewed following the harvest and then stored in wood until the following spring. In this case, Keith Bott at Titanic obtained an oak case from the port industry in Portugal and our beer quietly aged in the cask until it was bottled – rather later than intended.
The finished beer is bottle conditioned and is a revelation. It has a copper/red colour and throws a big fluffy collar of foam. Stored in wood that has held wine, it has a massive hit of fruit on the aroma with funky, acidic notes from wild yeasts trapped in the oak. There's toasted grain, a touch of butterscotch and floral and earthy hops.
Creamy malt dominates the palate but bitter hops add a powerful balance with acidic notes from wild yeasts and a rich fruity wine note. The finish is bittersweet with toasted malt, wild yeast and wood notes, tart fruit and spicy/peppery hops.
Only one batch of the beer, called Lunar, was made and there are just a few bottles left: contact the Titanic shop on www.titanicbrewery.co.uk
My thanks to all at White Horse and Titanic for their skills and enthusiasm. To set the record straight: my contribution to "brewing" the beer was to make the tea.