News
Moor Beer pale ale aids battle with cancer
Added: Tuesday, May 30th 2017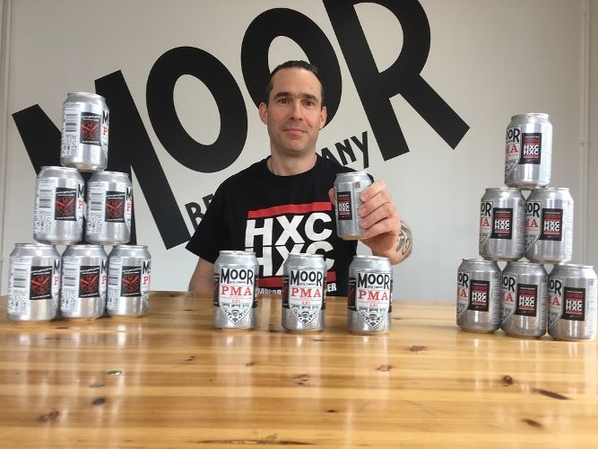 PMA, the Pale Modern Ale for those with a Positive Mental Attitude, by Moor Beer celebrates its first anniversary of raising funds to fight cancer.  
Having already generated £4,100 for cancer research, the beer was brewed in collaboration with Hardcore Hits Cancer (HCXHC), the charitable organisation to support those affected by the disease around the world. 
As part of Moor Beer's core line up, PMA is a 5.3% hoppy ale with oats and a highly-drinkable intense flavour. The popular variety was introduced a year ago in cans, as well as on draught, all of which are naturally conditioned with live yeast, unfined and vegan-friendly. 
Justin Hawke, owner and head brewer at Moor Beer, and newly-appointed vice chairman of the Society of Independent Brewers (SIBA), met the HCXHC team at a Berri Txarrak concert in Spain in December 2015.  A conversation led to the idea to do something positive and support those affected by cancer by linking beer and music. 
Justin said: "PMA is a fantastic beer and its recipe is one I wanted to brew for a long time. The flavour has been well-received as it's on track to become one of our best-sellers.  
"A chance meeting with HCXHC led to the creation of PMA and what better way to help them get their message out around the world than by a top-quality ale? 
"Everyone will know someone who has been affected by cancer but we always keep a Positive Mental Attitude and are doing what we can to win the fight. 
"It has been fantastic to brew such a flavoursome and popular ale for such a good cause and the fact that we've raised £4,100 to date has made it even more rewarding. PMA is truly a beer that fights cancer." 
So far, some of the monies raised have been donated to Bristol University Cancer Research Fund. The company has also worked with Penny Brohn, Macmillan, and Cancer Research UK through various events, and some of Moor Beer's distributors have been involved, with over €500 being donated in Italy and Spain by Ales & Co and Beerbox, respectively. 
PMA is available from usual Moor Beer distributors, at its Tap Room or from the online shop moorbeer.co.uk/online-shop/.
*Moor Beer was born in 2007 when Justin Hawke purchased a defunct brewery based in the Somerset Levels and Moors. With a location now in the centre of Bristol, Moor Beer has become one of the world's top-rated breweries regularly winning national and international awards. 
Having kicked off the unfined beer movement in the UK to produce products that do not compromise on flavour and aroma, Moor Beer is the first brewer to be accredited by CAMRA for cask, keg, bottle and can.