News
Vanilla Stout scoops champion beer award
Added: Wednesday, August 10th 2016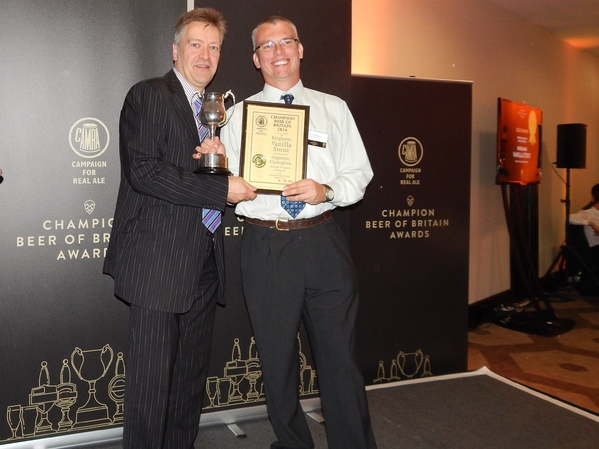 A redundant computer programmer who turned his home-brewing hobby into a commercial business scooped the prestigious Champion Beer of Britain award at the Campaign for Real Ale's Great British Beer Festival on 9 August.
Chris Bingham, who launched Bingham's Brewery at Ruscombe near Twyford in Berkshire in 2013, stole the show with his Vanilla Stout (5%), the first-ever beer in the Speciality Class of the competition to win the top award. He is pictured (right) receiving his plaque from CAMRA chairman Colin Valentine at an awards ceremony staged at the Hilton Hotel close to London Olympia, scene of the beer festival.
Chris Bingham told a packed audience of fellow brewers he hoped his award would help turn the spotlight on to beer. "There's too much attention in the media given to cider and wine – let's make this the Year for Beer," he declared to sustained applause.
He adds vanilla to the dark malts that make up his stout. In a blind tasting of the category winners that preceded the awards ceremony, the judges were unanimous in choosing Chris Bingham's beer.
Silver in the championship went to Old Dairy Brewery of Tenterden in Kent for Snow Top, with Bronze awarded to Tring Brewery in Hertfordshire for its Death or Glory.
Tiny Rebel from Newport in Wales, last year's winner of the championship with Cwtch, made its presence felt again this year, winning silver for its Hank bitter and bronze for Cwtch.
And family brewer Timothy Taylor from Keighley in Yorkshire, supreme champion in 2014 with Boltmaker, won a gold award in the bitter category for the same beer.
THE AWARDS
Mild
Gold: Williams Brothers (Alloa), Black
Silver: Mighty Oak (Maldon, Essex), Oscar Wilde
Bronze: Acorn (Barnsley), Darkness
Bitter
Gold: Timothy Taylor (Keighley), Boltmaker
Silver: Tiny Rebel (Newport), Hank
Bronze (joint): Hawkshead (Cumbria), Bitter; Salopian (Shrewbury), Shropshire Gold
Best Bitter
Gold: Surrey Hills (Dorking) Shere Drop
Silver: Salopian Darwin's Origin
Bronze (joint): Colchester No 1 and Tiny Rebel Cwtch
Golden Ale
Gold: Golden Triangle (Norwich), Mosaic City
Silver: Grey Trees Independent Craft (Aberaman), Diggers Gold
Bronze: Marble (Manchester) Lagonda IPA
Strong Bitter
Gold: Heavy Industry (Henllan), 77
Silver: Hawkshead NZPA
Bronze: Adnams (Southwold, Suffolk), Ghost Ship
Speciality
Gold: Bingham's Vanilla Stout
Silver: Titanic (Stoke), Plum Porter
Bronze: Saltaire (Shipley) Triple Chocoholic
SUPREME CHAMPIONS
(includes beers that won prizes in the Champion Winter Beer awards)
CHAMPION BEER OF BRITAIN 2016: Bingham's Vanilla Stout
Silver: Old Dairy Snow Top
Bronze: Tring Death or Glory
*The Great British Beer Festival runs until Saturday: www.gbbf.org.uk