News
Taxi! Oakham IPA takes a cab to London
Added: Sunday, July 3rd 2016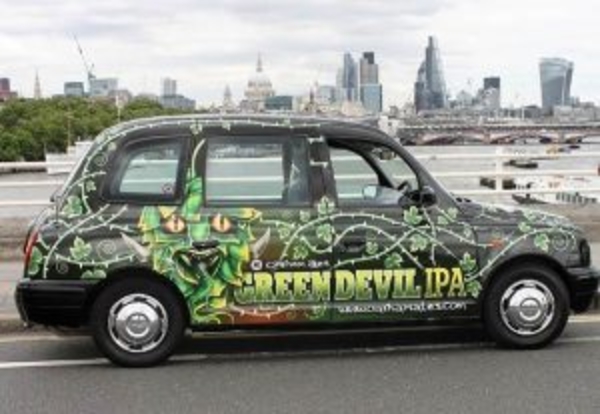 Green Devil IPA, the award-winning beer from Oakham Brewery in Peterborough, has hit London. It's available in bars and restaurants and is backed by a taxi decked out in the striking Green Devil colours and logo.
The beer has won many awards since it was launched six years ago and was named Champion Cask Ale at the 2013 and 2015 International Brewing Awards, beating off beers from 23 other countries.
London is a new area for supplies from Oakham, which is also expanding its Oakademy of Excellence. The scheme has 300 members across the country and is made up of venues that serve Oakham's ales, keg beers, cider and wine on a permanent basis. Members benefit from access to exclusive Limited Edition ales as well as enjoying priority for seasonal and special beers.
The Old Fountain is one of the first pubs in London to receive beer direct from the brewery and to become an Oakademy member. The pub is just a few minutes from Old Street Underground station.
For the full range of Oakham ales as well as Pan-Asian cuisine, beer lovers can also visit Oak at the Mansion House, a short walk from Kennington station.
Further information from: www.oakhamales.com.