News
Beer range grows, Lidl by Lidl
Added: Wednesday, July 8th 2015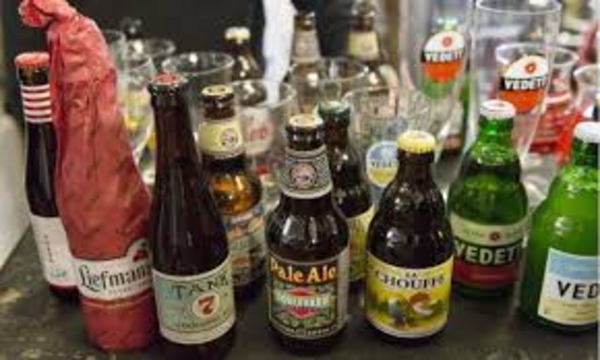 Discount supermarket group Lidl has entered the craft beer sector with a large range of new beers, many with prices that undercut those on offer in the Big Four's stores.
Old Speckled Hen, for example, will cost £1.17 in Lidl, compared with £2 in Sainsbury's. £1.50 in Asda and £.125 in Tesco. Bishop's Finger costs £1.25 in Lidl and £1.50 in Asda.
Lidl is offering 48 regional beers across the country with prices ranging from £1.17 to £1.69, the majority at £1.49.
While beers from Greene King, Shepherd Neame and other major brewers will not set beer lovers' pulses racing, the range does include a number of beers from smaller craft brewers. They include:
Cwrw Gorslas and Welsh Pale Ale, both 4.3%, from Red Kite Brewery in Llantrisant, Mid-Glamorgan;
Yorkshire Gold, 4%, from the Leeds Brewery, brewed with pale and crystal malts and hopped with Chinook and First Gold varieties;
Star, 4.3%, from the Portobello Brewery in Notting Hill, West London, brewed with Maris Otter pale, caramalt and crystal malts;
Hatherwood Brewery in Witney, Oxfordshire, with Ruby Rooster and Golden Goose, both 3.8%, brewed with English malts: pale, crystal and chocolate malts, Cascade, Fuggles, Goldings and Styrian hops in Ruby Rooster, pale and crystal malts and Fuggles and Styrians in Golden Goose;
Tower Brewery's Salt's Burton Ale, 3.5%, a true Burton Ale brewed by John Mills in the former maltings of Salt's Brewery in Burton. It's brewed with pale and crystal malts and hopped with Northdown and Pilgrim varieties.
Belgian beers include Chouffe and Liefmans.
Lidl will announce further additions to the range in September.
Full list
Scotland
Caledonian 80/-
Caledonian Deuchar's IPA
McEwan Champion
McEwan Signature
Innis & Gunn Original
Shepherd Neame Burns Ale
North-east
Black Sheep Monty Python's Holy Grail
Black Sheep All Creatures Ale
Jennings Cumberland Ale
Jennings Cocker Hoop
York Guzzler
Leeds Yorkshire Gold

North-west
Holts Two Hoots
Holts Humdinger
Robinsons Cheshire Black Stout
Thwaites Lancaster Bomber
Midlands
Tower Salt's Burton Ale
Brakspear Oxford Gold
Marston's Pedigree
Marston's Old Empire
Ridley's Old Bob
Wales
Cwrw Gorslas
Welsh Pale Ale
Ryhmney Export
Rhymney Dark
Brain's Rev James
Brain's SA Gold
South-west
Wickwar BOB
Pirate's Gold
Box Steam Derail Ale
Box Steam Funnel Blower
Butcombe Bitter
Badger First Call
London
Courage Directors
Wells Bombardier Burning Gold
Hogs Back Hop Garden
Hogs Back Gardeners' Tipple
McMullen Pale Ale
Portobello Star
East Anglia & South-east
Shepherd Neame Whitstable Bay
Shepherd Neame 1698
Ringwood Old Thumper
Shepherd Neame Master Brew
Greene King Abbot
Greeene King IPA
All UK
Hobgoblin Strong Dark Ale
Ruby Rooster
Morland Old Speckled Hen
Shepherd Neame Bishop's Finger
Golden Goose