News
M&S launches new British beer range
Added: Monday, May 25th 2015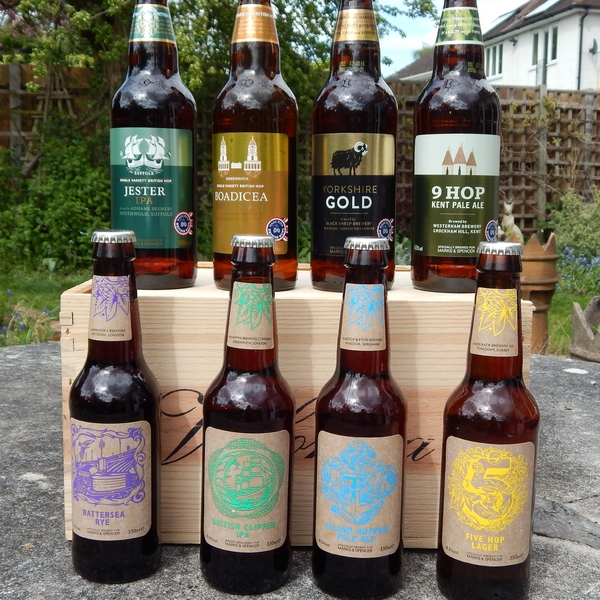 Marks & Spencer has a new range of beers and, while they are still own-label, the name of each brewery is made clear on the labels – a big step forward.
Adnams Jester IPA (5.2%) has head brewer Fergus Fitzgerald's finger prints all over it. It has a bold, brassy copper colour with a complex aroma of burnt orange and sultana fruit, with toasted malt and tangy hop resins. Citrus and sultana fruits dominate the palate but are balanced by bitter and tart hops. The finish is bitter with dark fruit, toasted grain and hop resins with a dry and fruity finale.
Westerham 9 Hop Kent Pale Ale (4%) is pale gold with a big hit of perfumy hops on the nose with pineapple, mint, green tea and camomile on a base of fresh bread grain and tart hops. Bitter hops dominate the mouth with rich grain and tart fruit. The finish is bittersweet with piny hops, tangy fruit and lightly toasted grain. The hops are Target, Goldings, Pilgrim, Sovereign, Progress, First Gold, WGV, Bramling Cross and Finchcock's Spirit of Kent.
Meantime British Clipper IPA (6%) has an attractive bronze colour and, as befits the name, uses Fuggles and Goldings hops. It has a spicy and fresh bread nose with sultana fruit and earthy, piny hops. Bitter hops in the mouth are balanced by toasted grain and burnt fruits while the finish is balanced between fruity hops and juicy malt, and ends dry and hoppy.
Black Sheep Yorkshire Gold (4.5%) is brewed with Maris Otter malt and English hops. It has – unsurprisingly – a gold colour with a herbal and spicy nose with a strong hint of lemon and lightly toasted malt. Sherbet lemons feature strongly on the palate with bitter and grassy hops and juicy malt. The bittersweet finish has continuing lemon notes with spicy hops and toasted grain.
Meantime Boadicea (4.4%) has a pale gold colour with a grassy, piny and herbal hop nose and "freshly baked bread" malt character. Lemon fruit builds in the mouth with bitter hops and nutty malt, with the lemon note continuing in to the finish, balanced by juicy malt and bitter hop resins.
Windsor & Eton Island Hopper Pale Ale (4.5%) uses English Sovereign hops – well, the brewery is in site of Windsor Castle – with Nelson Sauvin from New Zealand. It has a deep bronze/pale copper colour with a fresh bread and raisin fruit nose along with spicy hops. Toasted malt builds in the mouth with a growing spicy hop note and tart fruit. The bittersweet finish offers toasted malt, citrus fruit and spicy hop resins.
Hogs Back 5 Hop Lager (4.5%) is aged for a minimum of four weeks. It has a pale bronze colour with toasted malt, peppery hops and light fruit notes on the nose. Bitter hops dominate the palate but are balanced by juicy malt and gentle fruit. The quenching finish offers rich toasted malt, bitter hops and light tangy fruit.
Sambrook's Battersea Rye (5.6%) is brewed with 100% British ingredients and has a "bright penny" copper colour. The aroma is spicy and malty, with earthy hop notes. Rye bread builds on the palate with dark, burnt fruit and bitter hops. Rye notes dominate the finish but there are good bitter hop notes and burnt fruit as balance.