News
Beer range honours great explorer
Added: Sunday, December 14th 2014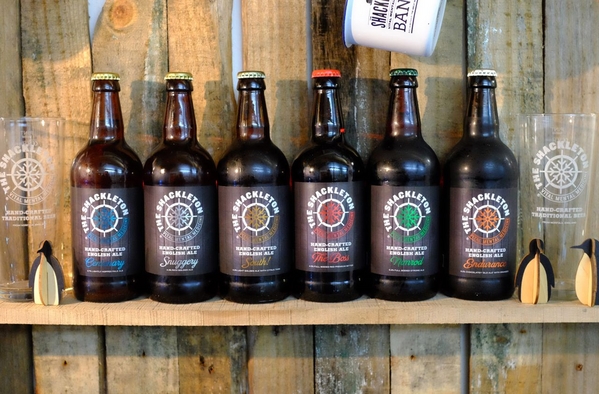 Lifestyle brand The Shackleton has relaunched its explorer-inspired range of beers, with a new brewery partner and an expanded range of six ales.
The Shackleton beers are now brewed by Brentwood Brewing Company in Brentwood, Essex, and range from the 3.7% Centenary session ale to the 6.5% Endurance.
All of the beers are named after aspects of the adventures of the great Edwardian Anglo-Irish Antarctic explorer Sir Ernest Shackleton.
Founder and managing director of The Shackleton brand, Simon Middleton, explained the origins of the beers: "We started life as a musical instrument manufacturer, launching The Shackleton banjo last year, and opening Britain's first banjo factory in more than 60 years, just a few months ago. The handmade instruments are going great. We've built and sold 200 around the world. But all along we've been interested in developing other high quality products relating to the Shackleton story.
"We started out this summer with three ale varieties, brewed by a Norfolk micro-brewery. It was a great product, but we need to expand capacity and so we've partnered with the small family-run Brentwood Brewing Company. It's a great partnership and I would so far as to say our Shackleton beers are just about the finest I've ever tasted."
There are six Shackleton varieties, all brewed with locally-sourced malted barley and whole leaf hops. Already available in 500ml bottles, they can also be supplied on draught for trade sales.
Centenary is a 3.7% ABV lightly hopped pale ale, so named because Shackleton set off on his greatest expedition 100 years ago.
Snuggery is a 4.3% ABV rich golden ale with fruity Cascade hops and a slightly sweet malt character, named after the shelter Shackleton's men created out of two upturned lifeboats.
South! is a 4.5% light golden ale with a citrus tang, given the same name as Shackleton's own epic book about his adventures.
The Boss is a 4.5% full bodied red bitter with rich malt flavours, so called because Shackleton was always known by his men as The Boss.
Nimrod is a 5.2% slightly sweet strong ale named after Shackleton's 1907-09 expedition which went further south than any previous exploration.
Endurance is a 6.5% chocolatey old ale with added oranges for extra tang, named after Shackleton's great ship.
The Shackleton beer range is on sale at the company's own store at Hellesdon Barns, Norwich, as well as in selected retail outlets. It can also be bought online at www.theshackleton.com and full national distribution will follow in 2015.
The Shackleton brand includes British-made knitwear designed from photographs of Shackleton and his men, and the company is launching a full range of clothing next year.
The enterprise was launched on the Kickstarter crowd-funding platform in 2013, with one of the top 5% most successful ever Kickstarter campaigns. Founder Simon Middleton went on to secure equity funding from several of his Kickstarter backers, and is now seeking an additional £500,000 equity funding to expand the business.
Further information:
Shackleton®, Vital Mental Medicine®, and The Great British Banjo Company® are registered trademarks of The Great British Banjo Company Limited.
The Shackleton brand is a wholly owned division of The Great British Banjo Company Limited.
For more details, interviews, photography, and product samples please contact:
Simon Middleton, The Shackleton, Hellesdon Barns, Hellesdon Hall Road, Norwich, NR6 5BB
Email: simon@theshackleton.com
Telephone: 01603 417903