News
All steamed up for new oyster stout
Added: Wednesday, August 13th 2014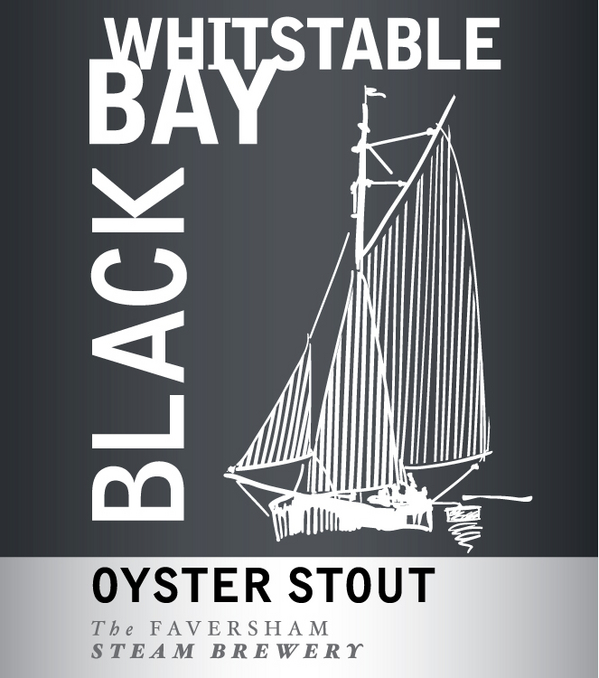 Whitstable Bay Black Oyster Stout is the newest addition to the Whitstable Bay Collection from the Faversham Steam Brewery.
It is a silky keg stout brewed using a unique blend of four coloured malts which impart a rich, complex flavour, balanced by the finest Admiral hops, and finished with a smooth, creamy head.
The introduction of Oyster Stout follows the huge success of the collection --Whitstable Bay Pale Ale, Whitstable Bay Blonde Lager and Whitstable Bay Organic Ale -- since it was launched last July.
All the beers are handcrafted using 100% natural ingredients, including chalk-filtered mineral water from the brewery's own artesian well.
The contemporary lens design for Whitstable Bay Black features a white oyster dredger silhouette on a black background, reflecting its namesake – the popular coastal town of Whitstable.
The name was chosen to complement the existing Whitstable Bay range, by adding a stout drawing upon the heritage of the town and its famed oysters. When stouts first emerged in the 18th century, oysters were not the delicacy they are today, but a common snack served in pubs, and proved an excellent pairing.
Marketing manager Mark Miller said: "This beer reflects the historic association between oysters and stout.
"The Whitstable Bay range offers a great breadth of choice, and we decided that a stout would fit well within the portfolio. Our brewers have come up with a delicious full-flavoured stout, with a 4.2% ABV.
"It is available on draught only, and we recommend a cold dispense of 3.5⁰C. It uses a gas mix of 70% nitrogen and 30% CO2, as the high nitrogen content gives a smoother and creamier head."
Whitstable Bay Black Oyster Stout tasting notes: Roasted mocha notes are complemented by a subtle bitterness from Kentish hops and a velvety smooth finish
Faversham Steam Brewery: Britain's oldest brewer, Shepherd Neame, originally adopted the Faversham Steam Brewery title in the late 18th century when it became one of the first steam-powered breweries outside of London. The family company paired the revolutionary machinery with the finest local ingredients to create exceptional beers, and it has now revived the title to reflect the traditional provenance of the new Whitstable Bay collection.