News
Bolt from the blue: Tim Taylor wins gold
Added: Tuesday, August 12th 2014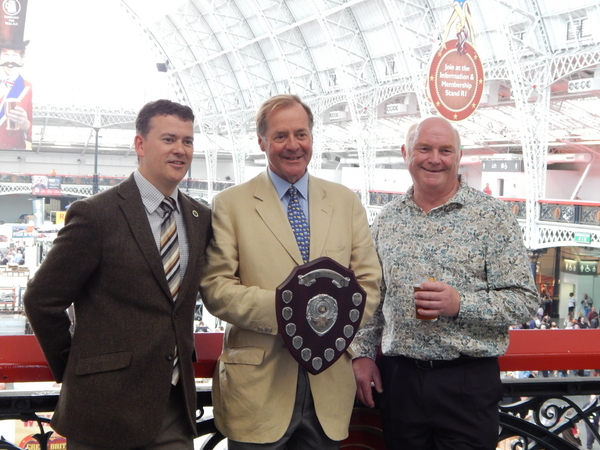 Timothy Taylor's Boltmaker has been crowned the Champion Beer of Britain at the Great British Beer Festival, Olympia, London. Pictured above (left to right) marketing director Grant Simpson, managing director Charles Dent and head brewer Peter Eels.
The West Yorkshire 4% Best Bitter was judged the Supreme Champion over a host of other finalists in seven different beer categories: Bitters, Best Bitters, Strong Bitters, Golden Ales, Milds, Winter Beers, and the Speciality class, including beers from both small microbrewers and large regional brewers.
Nik Antona, Champion Beer of Britain Director, spoke in praise of today's winner. He said:
"It is fantastic to announce Timothy Taylor's Boltmaker as the Champion Beer of Britain 2014. This full flavoured bitter is a modern classic that is as impressive today as the day it was first brewed. "
Head Brewer Peter Eells said,
"I'm speechless. We work very hard to produce great beers and we really believe this is the best beer we can brew – so to have it acknowledged in such an important competition is absolutely fantastic."
Managing Director Charles Dent added,
"We're absolutely delighted. It's our favourite, it's the brewers favourite, it's the beer that you drink if you're drinking with us and it's named after one of our favourites pubs – The Boltmakers."
This year's Silver went to Oakham Citra, whilst the Bronze award went to Salopian Darwin's Origin.
All three of the beers are available at the Great British Beer Festival this week.
Overall winners-
Gold – Timothy Taylors, Boltmaker
Silver – Oakham, Citra
Bronze – Salopian, Darwin's Origin
Mild category-
Gold – Bank Top, Dark Mild
Silver – Branscombe Vale, Mild
Bronze – Castle Rock, Black Gold
Bitter category-
Gold – Timothy Taylor, Boltmaker
Silver – Mighty Oak, Captain Bob
Joint Bronze – Flowerpots, Flowerpots Bitter &  Sambrook's Wandle Ale
Best Bitters-
Gold – Salopian Darwin's Origin
Silver – Red Willow, Directionless
Joint Bronze – Purity, Mad Goose & Langton, Inclined plain bitter
Golden Ales-
Gold – Oakham, Citra
Silver – Hawkshead, Cumbrian Five Hop
Bronze – Salopian, Hop Twister
Strong Bitters-
Gold – Church End, Fallen Angel
Silver – Blue Monkey, Ape Ale
Bronze –Loch Ness, HoppyNESS
Speciality Beers-
Gold – Saltaire Triple Chocoholic
Silver – Offbeat, Way Out Wheat
Bronze – Peak Ales, Chatsworth Gold
Champion Winter Beer of Britain (from category winners announced in January 2014)-
Cairngorm, Black Gold (Stouts Category)
Dunham Massey, Dunham Porter (Porter Category)
Exe Valley, Winter Glow (Old Ales & Strong Milds)
Kinver, Over the Edge (Barley Wines & Strong Old Ales)
Champion Bottled Beer of Britain winners 
(Sponsored by Beer Hawk)
Gold – Marble, Chocolate Marble
Silver – St Austell, Proper Job
Bronze – Spire, Prince Igor Imperial Russian Stout
*Below, Harvey's of Lewes, Sussex, brought more tradition to Olympia with a horse-drawn dray