News
Craft beers head for Booths summer fest
Added: Thursday, June 19th 2014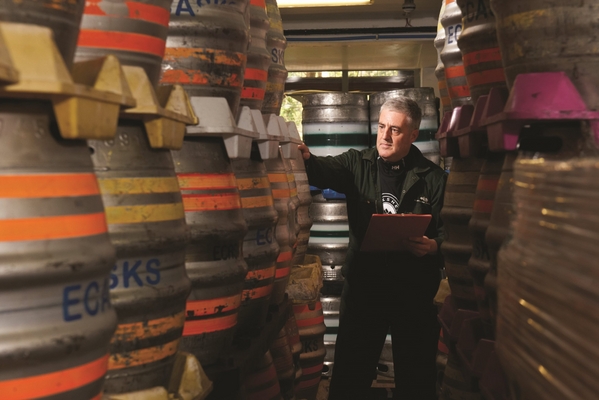 For a limited time only, some of the finest breweries in the North West are producing artisan, craft beers exclusively for Booths. Four new limited edition ales will be launched by Northern retailer Booths for their Beer and Cider Festival taking place in its 29 stores from the 18 June – 15 July. 
The ales have been specially brewed for Booths by four breweries operating within each of Booths counties; Booths Golden Ale by Tatton Brewery in Cheshire, Booths Black IPA by Hawkshead Brewery in Cumbria (pictured), Booths Summer Ale by Ilkley Brewery in Yorkshire and Booths Lemongrass Ale by Lancaster Brewery in Lancashire.
Booths Golden Ale – Tatton Brewery, Cheshire
Tatton Brewery uses Cheshire yeast to give their beers a distinctive character and brew using traditional techniques in a modern brew house in Knutsford, Cheshire. A biscuit coloured golden ale, with a pronounced aroma that is lightly resinous, citrus with hints of spice and exotic fruit.
Booths Black IPA – Hawkshead Brewery, Cumbria
Hawkshead Brewery has been brewing traditional beers with a modern twist in Cumbria since 2002. Booths Black IPA is dark in colour but surprisingly light and refreshing on the palate, with aromas of tropical fruit and resinous pine.
Booths Summer Ale – Ilkley Brewery, Yorkshire
A light, refreshing golden ale with intense aromas of peach, mango and passion fruit with a hint of citrus and a rounded dry finish.  Booths has selected Ilkley Brewery, a fairly new brewery which was established in the Yorkshire town of Ilkley in 2008, as they constantly innovate and develop their ales from grain to glass
Booths Lemongrass Ale – Lancaster Brewery, Lancashire
Subtle lemongrass citrus flavours delicately balanced with pale malt elements. Booths has selected Lancaster Brewery to produce Booths Lemongrass Ale as their beers are brewed with timeless ingredients and techniques by people that care. 
More than 100 beers and ciders will be on promotion at 4 for £6 for the duration of Booths  Beer and Cider Festival (18 June – 15 July). There will be in-store sampling events taking place at all Booths stores with a range of 10 different beers being sampled each week, customers can also request to try any of the beers or ciders before they buy. 
Beer Buyer at Booths John Gill explains; "The rich brewing heritage in the North-west means we are never far from an exceptional local pint; from the traditional brewing techniques of Tatton Brewery, to the modern twist on traditional brewing by Hawskhead Brewery.
"We're so pleased to be working with these great local breweries to offer some fantastic new Booths beers to enjoy this summer and look forward to sharing these with customers  during our Beer and Cider Festival". 
Anne Jones, Hawkshead Brewery, adds; "Booths value us as local suppliers. John Gill, the buyer, has brewed with us here at the brewery and joined in some sampling sessions. He's interested in the people behind the beer and the brewery rather than just looking at it as a commodity." 
Booths is encouraging customers to join the Beer and Cider Festival online by sharing their thoughts and feedback on the products via Twitter. The retailer will be hosting its famed #BoothsCheers events at 7pm on the following Thursdays; 26 June, 3 July and 10 July, with online tasting parties taking place with customers and beer bloggers. To find out how to get involved, visitwww.booths.co.uk.