News
Hawkshead beers head for the wood
Added: Sunday, January 19th 2014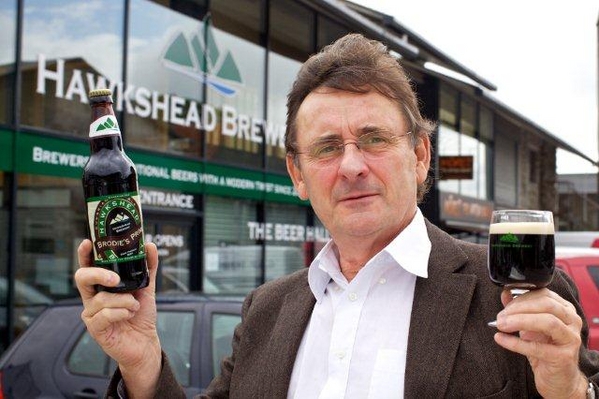 Hawkshead Brewery in Cumbria, one of the fastest-growing independents in the country, has added new bottled beers to its range, including two that have been aged in Scottish whisky barrels. The barrels started life in the Bourbon industry in the United States and the beers names – Jack and Jim – give a strong hint of their distilleries of origin.
The brewery was launched in 2002 in an old barn at Hawkshead by former BBC journalist Alex Brodie (above), a long-standing real ale lover and CAMRA member. By 2006 the brewery had outgrown its original plant and moved to Staveley with new, custom-built German brewing kit that has enabled it to produce more than 5,000 barrels a year. The complex includes the Beer Hall and visitor centre with a bar and restaurant: the brewing process can be viewed from the hall (see image below).
Three new bottled-conditioned beers are IPA, Brodie's Prime Export and Dry Stone Stout. The Export is also the source of the two beers aged in Bourbon casks.
IPA (7%) is an American-style interpretation of the style, with a highly complex hop recipe. Underpinning a malt base of Maris Otter pale, Vienna and crystal malts, the kettle hops are Cascade, Citra and Columbus, with Motueka, Nelson Sauvin and Simcoe used for dry hopping following fermentation. It has a hazy bronze/gold colour with a massive hit of citrus – grapefruit, melon and tangerine – on the nose with lightly toasted malt and spicy hops. Tart fruit and bitter hops dominate the palate with juicy malt. The finish is dry and bitter, with a quinine-like hop intensity allied to tangy bittersweet fruit and dry toasted malt.
Brodie's Prime Export (8.5%) is a beefed-up version of the regular Brodie's Prime, brewed with Maris Otter pale, crystal, chocolate and Vienna malts plus oats. The hops are Cascade for bitterness and Dana and Bramling Cross for aroma. It's a deep ruby red/russet brown in colour. We're in Belgian Dubbel/Rochefort territory with this beer. It has a big fruit cake and herbal and spicy hops aroma with pronounced liquorice notes, smoke and tobacco. Rich chocolate makes an appearance on the palate, with roasted grain, liquorice and bitter, spicy hops. The finish starts sweet with big chocolate and liquorice notes, but hop bitterness builds and the beer ends dry, hoppy and malty, with continuing chocolate notes.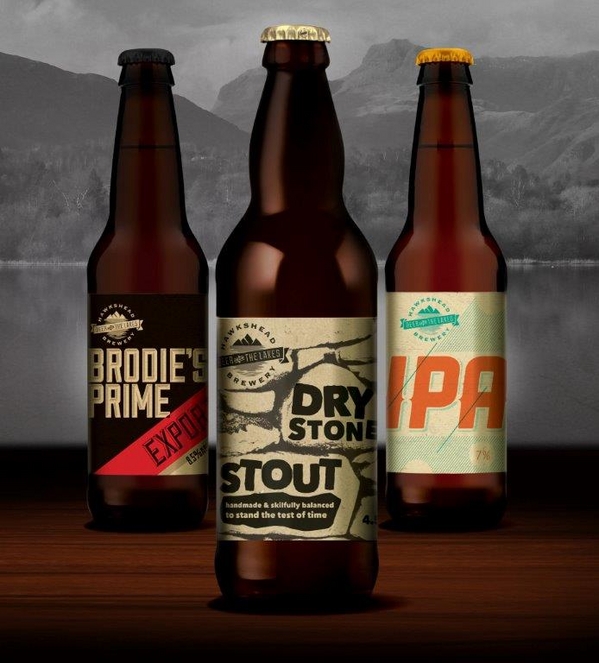 Dry Stone Stout (4.5%) is brewed with Maris Otter pale malt, oats, wheat malt, crystal and chocolate malts and roast barley. The hops are Cascade and First Gold for bitterness, with Hersbrucker and Bramling Cross for aroma. The black/brown beer is intensely hoppy for the style, with peppery hop resins vying for attention on the nose with roasted grain and bitter chocolate and delicious hints of dates and figs. Dark, burnt fruit and roasted grain build in the mouth, balanced by bitter chocolate and peppery hops. There's a superb creamy malt note in the finish, with continuing notes of chocolate and burnt fruit, and a solid underpinning of bitter hop resins.
The two bottle-conditioned oak-aged beers are No 1 Jack and No 2 Jim (8.5%), both fashioned from Brodie's Prime Export and stored in Jack Daniels and Jim Beam Bourbon casks that were broken down and exported for use in the Scottish malt whisky industry. No 1 has a powerful oak, smoke and whisky nose, with rich chocolate notes. There's a big hit of whisky in the mouth with burnt grain, chocolate and developing hop bitterness. The long and complex finish has bitter chocolate, oak and whisky notes and growing bitter hop resins. It finally ends intensely bitter.
No 2 has a pronounced wood and vanilla nose with berry fruit notes, dark grain and gentle hops. Burnt fruit, oak and whisky build in the mouth with growing bitter hops, vanilla and oak. Whisky makes a big contribution to the finish but burnt grain, dark fruits and bitter hops add balance.
The beers can be bought from the brewery online shop: www.hawksheadbrewery.co.uk