News
Witches to cast a Halloween ale spell
Added: Thursday, October 17th 2013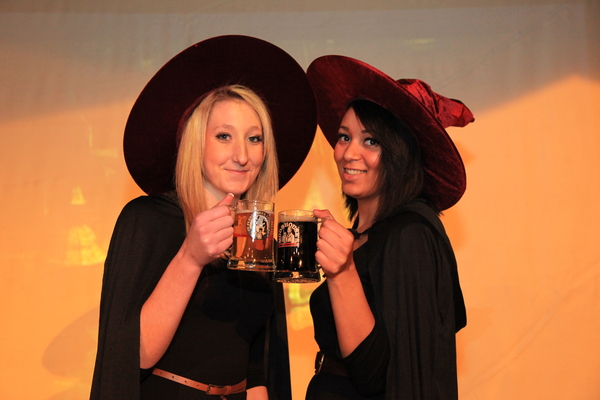 MOORHOUSE'S CASTS SPELL FOR SPOOKTACULAR HALLOWEEN
Moorhouse's, the internationally acclaimed'Pendle Witches ales brewer, is set for a spell-binding Halloween as early seasonal sales go national to hit a record high.
For the first week of October the North West's newest regional brewer saw a sales surge of more than 100 percent on 2012, with 663 brewer's barrels (more than 190,000 pints) leaving the new £4.2 million brewery, launched two years ago. With the 100 brew-length plant, Moorhouse's has increased production of seasonal specials and now Halloween is busier than Christmas for the Burnley brewery.
In recent years sales have spiralled by more than 35 per cent during the weeks prior to 31 October as Moorhouse's increasingly becomes known as the Halloween brewer. Last year more than half-a-million pints were despatched. The internationally acclaimed brands pay tribute to the legend of the ill-fated witches who roamed Pendle Hill near Burnley in the early 17th century.
For this year's witching season the brewers have been busy stirring the cauldron to produce a line-up of innovative ales in addition to its  "famous five" core brands -- Black Cat, Pride of Pendle, Premier Bitter, Blond Witch and premier Pendle Witches Brew.
Launching this year's brews, David Grant, Moorhouse's managing director, said: "Halloween just gets busier and busier each year -- even more than Christmas -- as our witch brands become more widely known to both publicans and drinkers alike.
"But without a doubt this year looks set to be truly outstanding despite trading conditions at their toughest ever.  Substantial orders have already gone out to leading pub companies Enterprise and Wetherspoon's." Earlier this year, Moorhouse's passed the five-million-pints-a-year milestone, following on from hitting a £4.5 million tunrover for the past financial year. The next target is £7 million turnover en route to reaching full production capacity for the 1,000 barrels a week brewery.