News
Up the Kriek in Cornwall with cherry beer
Added: Monday, August 5th 2013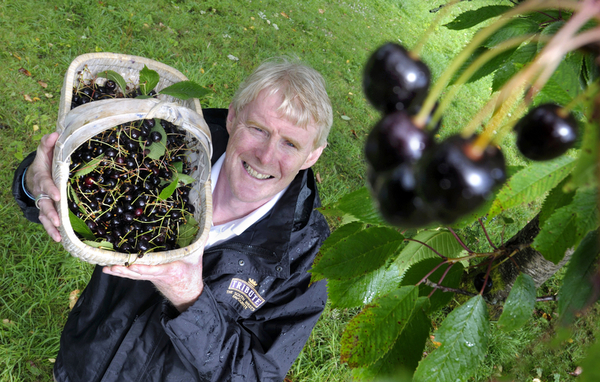 Cornwall's favourite brewer St Austell Brewery is creating its own version of one of Europe's most famous beers by producing a limited edition Belgian style 'kriek beer' - sweetened using the tastiest Cornish cherries grown in the heart of the Tamar Valley. Brewery sommelier Marc Bihsop is een with the pick of the crop from Bohetherick Farm.
Kriek beers date back centuries and are brewed in what is known as a 'lambic' style, where they are fermented spontaneously with wild, naturally occurring airborne yeast in the style of a traditional wine or cider. It has a naturally tart taste which is sweetened with fruits like cherries, raspberries or peaches to create an unusual and complex brew. 
The cherries being used by St Austell Brewery have recently been hand picked at an orchard at Bohetherick Farm in the Tamar Valley near Saltash,Cornwall. 
These will now be mashed and added to impart their sweetness to the specialist beer which began life at the Brewery earlier this year and has been slowly conditioning in wooden barrels for the past six months. 
Roger Ryman, Head Brewer at St Austell Brewery, said: "This is the latest in our programme of experimental beers with small batch production runs that are really about having a bit of fun and pushing the boundaries. The natural fermentation process required for a kriek beer does bring with it a whole bunch of challenges for a commercial brewery – it's a bit like putting a hay meadow in your pristine bowling green – but we've been very careful to keep it entirely separate. 
"We brewed a strong beer in pre-used wooden barrels and inoculated it with wild yeasts and friendly bacteria. Now we'll add the cherries. We don't yet know when it will be ready – sometimes the Belgians leave it for three years – but Christmas is a good estimate. The finished result will have quite a tart, vinous taste that is then balanced by the fruit to create something not far off of a fine port." 
The Tamar Valley was once renowned for fruit growing after the development of the railway meant producers could have their produce on sale in Covent Garden just hours after picking. But the global marketplace has seen demand dwindle and there are now very few cherry trees left in the region. 
Bohetherick Farm has an orchard with more than 50 Burcombe cherry trees, some of which are more than 125 years old. Jessica Jeans, who runs the farm with husband Will, said: This year has seen a bumper crop of cherries and they really are quite delicious. We are very keen to support local sourcing so we were delighted when St Austell Brewery asked us for cherries for their beer. We really look forward to enjoying a bottle or two of the finished article."