News
Beer fest will scale Olympian heights
Added: Monday, July 15th 2013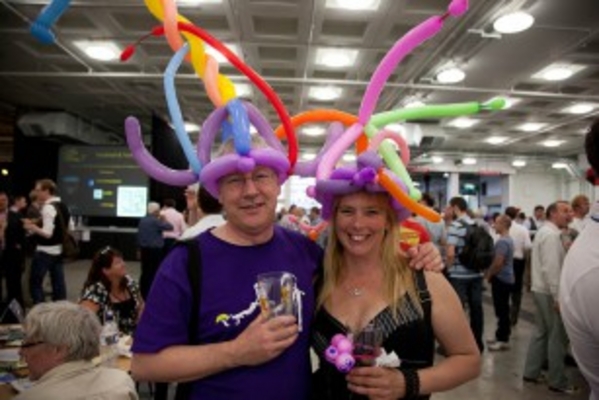 One of the world's top beer festivals – featuring beers from Britain and many other countries – is getting close. The 36th CAMRA Great British Beer Festival will start with a bang on Tuesday 13 August at London Olympia with the unveiling of this year's Champion Beer of Britain.
The Great British is unique in showcasing beers from all around the world – most other famous festivals restrict choice to their own countries or, in the case of the Munich Oktoberfest, their own city. There will be 400 British cask beers to sample, plus cider and perry, as well as beers from the United States, Belgium, the Netherlands, Germany and the Czech Republic.
There will be unique tasting events every day led by leading beer experts. On Tuesday at 18:00 and again on Wednesday at 13:30, Roger Protz (pictured) will take an audience through this year's Champion Beers of Britain followed on Wednesday at 18:00 with a selection of beers from his new book 300 More Beers to Try Before You Die – the book will be launched at the festival.
On Wednesday evening at 19:00 Ian White and Chris Rouse will present a selection of ciders from some of Britain's finest producers. Thursday at 13:30 sees beer sommelier Jane Peyton match an eclectic range of British beers with pistachio nuts with the help of American pistachio growers.
Editor of the Italian Beer Guide Luca Glaconne and international beer judge Lorenzo Dabove host a tasting  of some of Italy's finest beers on Thursday at 18:00, and rounding up the tutored talks Jeff Evans, editor of the Good Bottled Beer Guide will sample six beers from his latest edition on Friday at 13:00 and 17:00.
All these events will require a specific advance ticket which can be purchased alongside a general admissions ticket at www.gbbf.org.uk or by ringing 0844 412 4640.
The main stage brings a variety of different live music act including Chaminade String Quartet on Tuesday evening, Ferocious Dog on Wednesday evening, Fret and Fiddle at Thursday lunchtime, The Martin Harley Band on Thursday evening, The Gary Fletcher band performing at Friday lunchtime, Alvin Stardust on Friday evening and wrapping up the show The Fulham Brass Band are due to play all day Saturday.
The festival opens on Tuesday 13 August between 12:00 and 17:00 with a trade session for publicans, pub company and brewery representatives, then is open to the public between 17:00 and 22:30. On the following days the festival will be open on 14, 15 and 16 August between 12:00 and 22:30 and on Saturday the 17th it opens at 11:00 and ends at 19:00.
The nearest Underground and train station is Kensington Olympia. The District Line shuttle from Earls Court is due to run during the duration of the festival. Public transport is advised.
To keep up to date via twitter follow @camra_official or @gbbf using  the hashtag #gbbf.