News
Big beer events in May
Added: Tuesday, April 30th 2013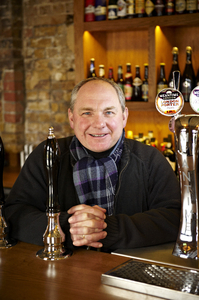 Big Beer Events
Bank Holiday weekend 4 & 5 May
London Brewers Alliance Beer Festival
London Fields Brewery, Hackney
365-366 Warburton Road, London E8, next to London Fields Station.
Both days: 12-5; 6-11pm.
See below for full details
Wednesday 8 May 7pm
An Evening with Roger Protz
Lord Clifden, 34 Great Hampton Street, Hockley, Birmingham (Jewellery Quarter Station). Good Beer Guide-listed pub. Event supported by Budweiser Budvar. Budvar Original, Dark, Yeast Beer and "Half and Half" on tap along with cask ales. Roger will conduct a tasting and also discuss his world-wide travels in search of good beer.
www.thelordclifden.com. 0121 523 7515
Thursday 9 May 7pm
An Evening with Roger Protz
Elgoods Brewery, North Brink, Wisbech, Cambridgeshire.
A talk and tasting of Elgood's beers. Roger will also discuss his travels in search of good beer. Beer and buffet: £15 per person. Proceeds to Tapping House Hospice. Book: kate@elgoods-brewery.co.uk. 01945 583160
Monday 13 May
Meantime Brewery
London – Beer Capital
Dinner and beer matching with London beers, from Mild to Russian Imperial, including Meantime beers
Guest speaker Roger Protz
Host: Alastair Hook (pictured)
6.30pm, Old Brewery, Pepys Building, Old Naval College, SE10
£50. 0203 327 1280. www.oldbrewerygreenwich.com/bookings
SOMETHING'S BREWING AT YOUNG'S FESTIVAL OF BEER
Meantime Brewery has teamed up with a number of Young's London and Surrey pubs to host a series of matched British cheese and charcuterie evenings throughout May, as part of Young's Festival of Beer (29th April – 31st May).
THE EVENTS
Guests can treat their taste buds to intriguing pairings such as Yakima Red (an American-hopped red ale with a touch of German caramel malt) matched with brie, game terrine and ham hock; while one of Meantime's longest serving brewers, Rod Jones, provides a fascinating insight into the beer making process. Other pairings include India Pale Ale (described as a hop wine, made with Maris Otter malt, Fuggles and Golding hops), served with a choice of mature white cheeses, smoked sausage or ham. 
Participating Young's pubs include:  
Thursday 2nd May, The Grove Pub, 39 Oldridge Road, Balham, London SW12 8PN http://www.grovebalham.com 
Wednesday 8th May, The Windmill Hotel, Clapham Common South Side, Clapham, London SW4 9DE http://www.windmillclapham.co.uk  
Thursday 9th May, The County Arms, 345 Trinity Road, London SW18 3SH http://www.countyarms.co.uk/  
Tuesday 14th May, Dial Arch, The Warren, Royal Arsenal Riverside, Woolwich, London SE18 6GH http://www.dialarch.com  
Wednesday 15th May, The Prince Alfred, 5a Formosa Street, London W9 1EE http://www.theprincealfred.com  
Thursday 16th May, Bishop Out of Residence, 2 Bishop's Hall, off Thames Street, Kingston-Upon-Thames, Surrey KT1 1PYhttp://www.bishopoutofresidence.co.uk
Tuesday 21st May,  Plough, 89 St John's Hill, Clapham, London SW11. www.theploughstjohnshill.co.uk
London Brewers Alliance Festival - 3-5 May 2013
WORLD CLASS BEERS BY LOCAL BREWERIES
London's Brewing is a brand new festival from the London Brewers Alliance (LBA) to celebrate London's thriving and vibrant brewing scene. The festival will bring together over 100 beers from some of the 30+ breweries that make up the LBA. Held from 3rd-5th May at The Brewhouse, London Fields Brewery events space in the heart of Hackney,London's Brewing 2013 will showcase the outstanding range and variety of beers produced by members of the LBA -uniting local beer makers with the new generation of beer lovers.
The bank holiday weekend festival will be an exciting mix of the capital's oldest breweries alongside London's freshest microbreweries. The LBA aims to put London brewing firmly on the map and this event will treat beer lovers to brews from some of the UK's most loved breweries including Fullers and Camden Town through to the latest vibrant flavours from the newest producers on the scene including Weird Beard and Pressure Drop.  
With an array of world class brews, from pale and amber ales, stouts and porters to lagers and speciality beers, being produced in the capital, the festival will cater not only for London's newest  wave of discerning young ale enthusiasts but also the occasional pint drinkers looking to experience exciting new tastes and aromas.
As well as offering the opportunity to revel in London's finest beers, London's Brewing will have plenty of attractions for the crowds to indulge in. Across the 2 days will be an unstoppable line-up of great music with live music by day and DJ's into the evening, a handpicked selection of the best local food producers offering delicious, locally sourced food plus a kids area. As if that wasn't enough, there will also be a full programme of edifying and entertaining talks giving festival goers an insight into beer, brewing and food.
Celebrating the dramatically changing face of London's brewing industry and its enthusiastic new audience, London's Brewing 2013 will feature its own inaugural awards. Recognising the best brews in the capital for their contribution to the London brewing scene. The London's Brewing Awards in association with Simply Hops will be awarded by the London Brewers Alliance from an esteemed panel of beer experts including Melissa Cole and beer writer Des De Moor.