News
Record turnout in world beer awards
Added: Monday, February 18th 2013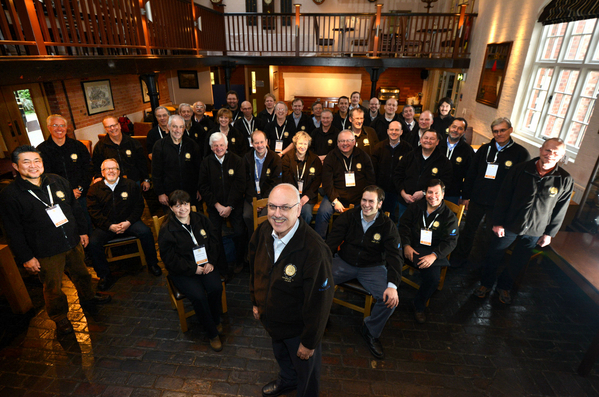 Ninety-six medals were presented to brewers in the International Brewing Awards 2013, after a three-day judging session at the National Brewery Centre in Burton upon Trent. This year's competition attracted almost 1,000 entries – a significant increase on the field in 2011, when the bi-annual event was last held. Beers were submitted from more than 45 countries by a broad spectrum of producers from regional micro-brewers to multi-national companies. Presenting medals to the award-winners, chair of judges Bill Taylor (in foreground above with other judges) said, "We are delighted with this year's awards. The number and diversity of entries demonstrate the support for the competition from all parts of the global brewing community, as does the willingness of the 40 expert brewers to give up their time to judge. 
"This competition, judged by professional brewers, dates back over 120 years. In 2011 we brought the awards back to the UK and were overwhelmed by the industry's response.  This year, we have built on that success and consolidated our position as the competition that best represents the very best beers from the entire global brewing industry."  
The medal winners were announced in front of an audience of more than 100 competitors, judges and industry and local guests. Bronze, Silver and Gold medals were awarded, while the 11 overall Championship winners will be unveiled at an awards luncheon at London Guildhall on 24 April.
LIST OF WINNERS International Smallpack Lager Competition (Presented in Bottle, Can, PET or Plastic) Trophy presented by BFB: 
Class 1 for Lager 2.9% - 4.4% ABV       
BRONZE Fresca Carlsberg UK - San Miguel, Spain UK 
SILVER   Crafty Beggars – Good as Gold Lion Co, New Zealand  
GOLD   Triple Hop Pilsner  Lion Co, New Zealand 
Class 2 for Lager 4.5% - 4.9% ABV       
BRONZE Kambodia Beer Khmer Brewery, Cambodia 
SILVER   Tiger Asia Pacific Breweries, Singapore 
GOLD   Max Hitejinro Group, South Korea  
Class 3 for Lager 5.0% - 5.4% ABV       
BRONZE Asahi Super Dry Shepherd Neame Ltd – Asahi Breweries, UK 
SILVER   Gambrinus Premium Plzensky Prazdroj a.s, Czech Republic 
GOLD   Livu Sencu Cido Grupa SIA, Latvia 
Class 4 for Lager 5.5% - 6.9% ABV        
BRONZE Tyskie Gronie Kompania Piwowarska, Poland 
SILVER   Safari Lager Tanzania Breweries, Tanzania 
GOLD   Bryggmastanns Primium hold AB Abro Bryggeri, Sweden 
International Smallpack Ale Competition (Presented in Bottle, Can, PET or Plastic) Trophy presented by British Guild of Beer Writers
Class 1 for Ale 2.9% - 4.4% ABV         
BRONZE Landlord Timothy Taylor & Co Ltd, UK 
SILVER   Inferno Oakham Ales, UK 
GOLD   Big Wave Golden Ale Craft Brewers Alliance – Kona  Brewing Company, Hawaii, US 
Class 2 for Ale 4.5% - 4.9% ABV        
BRONZE Ghostship Adnams Plc, UK 
SILVER   Samuel Adams Cream Stout The Boston Beer Company, USA 
GOLD   Macs Sassy Red Lion, New Zealand 
Class 3 for Ale 5.0% - 5.4% ABV        
BRONZE Karuizawa Kogen Beer - National Trust Yo-Ho Brewing Corp, Japan   
SILVER   Bengal Lancer Fuller, Smith & Turner Plc, UK 
GOLD   Mirror Pond Pale Ale Deschutes Brewery, USA 
Class 4 for Ale 5.5% - 6.9% ABV        
BRONZE Pale Ale Sierra Nevada, Vertical Drinks , USA 
SILVER   IPA BridgePort Brewing Company, USA 
GOLD   Inversion IPA Deschutes Brewery, USA 
International Keg Ale Competition Trophy presented by drink Technology + Marketing 
Class 1 for Ale 2.9% - 4.4% ABV        
BRONZE  Black Joseph Holt Ltd, UK 
SILVER   Marston's Oyster Stout Marston's Plc, UK 
GOLD   Saltaire Gold 4.0% Saltaire Brewery, UK 
Class 2 for Ale 4.5% - 6.9% ABV         
GOLD   Pale Ale Sierra Nevada, Vertical Drinks, USA  
International Keg Lager Competition Trophy presented by Bebidas  Magazine 
Class 1 for Lager 2.9% - 4.7% ABV       
BRONZE Crystal Lager Joseph Holt Ltd, UK 
SILVER   Curious Brew Curious Drinks, UK 
GOLD   Hells Lager Camden Town Brewery, UK  
Class 2 for Lager 4.8% - 6.9% ABV       
BRONZE Schiehallion Harviestoun Brewery, UK 
SILVER   Breda Royal Lager R W Randall Ltd, Guernsey 
GOLD   Diamond Lager Joseph Holt Ltd, UK 
International Dark Beer Competition (Presented in Smallpack, Keg and Cask) Trophy presented by Institute of Brewing & Distilling (IBD)
Class 1 for Dark Beer 2.9% - 3.7% ABV       
SILVER    Light Munro The Highland Brewing Company, UK 
GOLD   Black Dog Elgood & Sons Ltd, UK 
Class 2 for Dark Beer 3.8% - 4.7% ABV       
BRONZE Entire Stout Hop Back Brewery, UK 
SILVER   Tavern Porter Daniel Thwaites Plc, UK 
GOLD   Brown Ale Nogne O Det Kompromisslose Bryggeri A/S, Norway 
Class 3 for Dark Beer 4.8% - 5.7% ABV       
BRONZE Minoh Beer Stout A.J.I Beer Inc (Minoh Beer), Japan   
SILVER   Black Butte Porter Deschutes Brewery, USA 
GOLD   Samuel Adams Cream Stout The Boston Beer Company, USA 
Class 4 for Dark Beer 5.8% - 6.9% ABV       
BRONZE Lord Lieutenant's Porter The Chiltern Brewery, UK 
SILVER   Ebenezer BridgePort Brewing Company, USA 
GOLD   Obsidian Stout Deschutes Brewery, USA 
International Strong Beer Competition (Presented in Smallpack, Keg and Cask) Trophy presented by BrauWelt International Magazine
Class 1 for Strong Lager        
SILVER   Tennent's Extra Tennent Caledonian Breweries, UK   
GOLD   Kalnapilis 7:30 Kalnapilio-Tauro Grupe UAB, Lithuania 
Class 2 for Strong Ale          
BRONZE Quadruple Ale Sharp's Brewery, UK 
SILVER   Samuel Adams Third Voyage The Boston Beer Company, USA 
GOLD   Spiced Red Sharp's Brewery, UK  
Class 3 for Strong Dark Beer        
BRONZE Liberation 140 Liberation Brewery, Jersey 
SILVER   Straffe Hendrik quadruple Brouwerij De Halve Maan, Belgium 
GOLD   Narwhal Imperial Stout Sierra Nevada, Vertical Drinks, USA 
Class 4 for Strong Speciality Beer       
BRONZE Samuel Adams Utopias 2012 The Boston Beer Company, USA 
SILVER   Smugglers Grand Cru St Austell Brewery, UK 
GOLD   Samuel Adams Cinder Bock The Boston Beer Company, USA 
International Speciality Beer Competition (Presented in Smallpack, Keg and Cask) Trophy presented by Barth-Haas Group  
Class 1 for Speciality Wheat Beer         
BRONZE Baltika No8 Wheat Baltika Breweries, Russia 
SILVER   Verginz-Weiss Beer Macedonia Thrace Brewery, Greece  
GOLD   Samuel Adams White Lantern The Boston Beer Company, USA 
Class 2 for Fruit & Vegetable Beer        
BRONZE Harvestmoon Yuzu Ale Ikspiari Company Ltd, Japan 
SILVER   Mort Subite Original Kriek Alken Maes, Belgium 
GOLD   Mort Subite Oude Kriek Alken Maes, Belgium 
Class 3 for Organic Beer         
GOLD   Original Gold Wm Evan Evans, UK 
Class 4 for Speciality Other Special Feature Beer    
BRONZE Smoked Porter (Alder Smoked Malt) Alaskan Brewing Company, USA 
SILVER   Rodenbach Grand Cru Palm Breweries N.V, Belgium GOLD   Samuel Adams Black/Brew The Boston Beer Company, USA 
Class 5 for Special Hop Beer         
BRONZE NorthWest Pale Ale – Red Chair NWPA Deschutes Brewery, USA 
SILVER   Samuel Adams Double Agent IPL The Boston Beer Company, USA 
GOLD   Adams Latitude 48 The Boston Beer Company, USA 
International Cask Ale Competition Trophy presented by Morning Advertiser Magazine 
Class 1 for Cask Ale 2.9% - 3.8% ABV 
BRONZE Black Cat Moorhouses (Burnley) Brewery 
SILVER   Tetley's Carlsberg UK 
GOLD   Cornish Coaster Sharp's Brewery, UK
 Class 2 for Cask Ale 3.9% - 4.3% ABV 
BRONZE Natural Blonde Harviestoun Brewery, UK 
SILVER   Island Hopping The Highland Brewing Company, UK GOLD   Liberation Ale Liberation Brewery, Jersey 
Class 3 for Cask Ale 4.4% - 4.8% ABV       
BRONZE Nelson's Revenge Woodforde's Norfolk Ales 
SILVER   Three Swords Kirkstall Brewery Co Ltd,Vertical Drinks UK 
GOLD   Pale Ale The Highland Brewing Company, UK 
Class 4 for Cask Ale 4.9% - 6.9% ABV 
BRONZE Dissolution IPA Kirkstall Brewery, Vertical Drinks, UK   
SILVER   Sharp's Special Sharp's Brewery, UK 
GOLD   Green Devil IPA Oakham Ales, UK