News
News Roundup: Woodforde's, Cask Marque, Hawkshead & Moorhouse
Added: Tuesday, January 8th 2013
Brewery manager wins coveted Beer Sommelier title
A brewery manager from Woodforde's has become Norfolk's first accredited Beer Sommelier. Bruce Ash from Woodforde's in Woodbastwick met with exacting standards of the Beer Academy to become one of only 29 Beer Sommeliers in the UK and the first from Norfolk. 
The year-long training course saw Bruce demonstrate his ability to assess different features of beer such as aroma, clarity, mouthfeel and drinkability, as well as show an understanding of brewing materials and the origins of beer styles. For his practical project Bruce created a beer and food menu for Norfolk pub The Black Boys in Aylsham in a bid to change attitudes towards matching beer and food, instead of wine. The course culminated in an exam which tested Bruce's palate and knowledge of beer production.
Bruce Ash, Brewery Manager from Woodforde's, comments: "I'm really proud to be flying the flag for brewing excellence in Norfolk. Becoming a Beer Sommelier is no easy task, but the course has improved my understanding of flavours, aromas and beer development which will enhance my role here at Woodforde's." The course was run and assessed by The Beer Academy in London.
*The Beer Academy is an educational body founded by a small group of beer enthusiasts in 2003 to help people understand, appreciate and enjoy beer sensibly.  To date over 10,000 people have attended Beer Academy courses and tasting events such as the BBC Good Food Show, the Great British Beer Festival and the British Museum as well as in pubs and bars up and down the country.  The Academy offers a range of courses and qualifications ranging from a 90 minute tutored introduction to beer through to the two day Advanced Course for serious beer connoisseurs. Full details of all Beer Academy Courses and events can be found www.beeracademy.co.uk or follow on Twitter @TheBeerAcademy.
Cask Ale Week returns in the autumn
National Cask Ale Week will return this autumn from 27 September to 6 October to boost interest in real ale. The event is run by Cask Marque, the industry-backed organsiation that monitors beer quality in pubs and is a sponsor of CAMRA's Good Beer Guide. The week is supported by breweries and pubs in a bid to bring a new audience to cask beer and also increase visits to pubs.
One theme of the week will be "Introduce a Friend", which will urge cask ale lovers to encourage friends and acquaintances to try real ale for the first time. Thursday 26 September will feature national Masterclasses in Cask Ale, with brewers, sommeliers and beer writers staging tutored beer tastings in pubs. See www.cask-marque.co.uk.
Hawkshead boosts production
Hawkshead Brewery in the Lake District has reported a 17.5% increase in production in 2012, bucking the economic trend. Production rose to 5,250 barrels, made possible by the brewery's second major investment in plant and equipment in its 10-year history.
Founder and managing director Alex Brodie says: "It's tough in the beer market at present with the economic squeeze, the government forcing prices up by beer duty increases, the large number of new breweries and the lack of finance available, so we've done well to increase our share. We are still a small brewery and the key for us now is not volume growth but to solidify our niche positon in the North West and concentrate on doing what we do better."
*Hawkshead is based at Staveley and the brewery includes the Beer Hall, which is a bar, restaurant and visitor centre. The beer range includes Windermere Pale, Bitter, Red, Lakeland Gold and Brodie's Pride. www.hawksheadbrewery.co.uk.
Moorhouse's celebrates record Christmas
Moorhouse's of Lancashire has hailed a record breaking Christmas with sales hitting almost 600,000 festive pints. The fast-growing Burnley brewery reports an uplift of nine per cent on December 2011 sales – which enjoyed a 52 per cent spike following the launch of a new multi-million pound brewery. 
Expanding business with leading national pub companies including Enterprise, Mitchells & Butler, J D Wetherspoon and Punch saw the famous "witch brews" on bars throughout Britain as well as in hundreds of free trade pubs across the northern heartland. Top-selling brews Pride of Pendle and Blond Witch each accounted for some 22 per cent of sales while Christmas specials made up 19 per cent. Lap Prancer was once again brewed for general release while Ice Witch was delivered to Wetherspoon's and Elves Bells to M&B's Nicholson's pubs. In Bury the Trackside on the East Lancashire Railway reported that nine gallons of Lap Prancer sold out in an afternoon. The December sales followed record growth during November and for the Halloween season in October.  
David Grant, Moorhouse's managing director (pictuered), said: "Sales at the start of the December were slow, but pubs were helped by the milder weather as people decided to get out and celebrate despite the economic gloom. So once again our acclaimed brews surpassed all previous sales to enjoy very healthy growth and beat the outstanding Christmas of 2011. We have achieved this by our commitment to excellent quality and service, not by heavily discounting. We are very pleased with this performance for the second festive season of the new brewery. Now we look forward to the challenges of 2013 and further building on the success of our new brewery."
The 147-year-old brewer bucked the harsh economic climate with the opening of the £4.2m brewing complex in 2011 -- complete with visitor centre and hospitality suite -- to treble former production capacity to 15m pints-a-year. It aims to hit 600 brewer's barrels-a-week and a £7m turnover by 2014.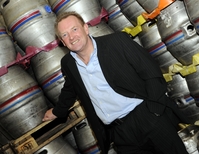 Hawkshead NZPA goes for Gold
Hawkshead Brewery's NZPA (New Zealand Pale Ale) has won another medal, this time with a Taste Cumbria Gold Award. It was one of 40 Gold's given to producers in Cumbria as part of the 2013 Cumbria Life Food & Drink Awards. Around 200 products, across seven categories (meat, dairy, bread, desserts, condiments, beer and miscellaneous) were judged by a panel in November, with the beer category taking nine Gold awards.
NZPA was described by the judges as "a pale ale abundantly hopped with exotically fruity New Zealand hops". This is the latest in a string of awards for NZPA. Llast year it won a Gold medal in the CAMRA Cumbrian Beer of the Year awards and previous to that a Bronze medal at the Brewers Society North region competition 2011.
"We're delighted that judges have recognised the quality of New Zealand's hops and the skills of our brewing team" said New Zealander, Matt Clarke, Head Brewer, pictured.