News
Round-up: online beer shop launched; Acorn pub wins top Yorkshire award; London female Beer Sommelier named; Micro offers prizes for best pub photos
Added: Monday, September 17th 2012
A pair of retail experts has launched a new online beer retailer, www.BeerHawk.co.uk that aims to revolutionise the retailing of world and craft beers in Britain. Mark Roberts (33) and Chris France (35) have launched the BeerHawk.co.uk venture aiming to offer increased choice and the convenience of online shopping to ale aficionados across the country.
The pair, who both left senior positions with Laithwaites Wines and Proctor & Gamble earlier in the year to launch the venture, have secured deals with brewers all over the world with the aim of offering Britain's best range of quality ales and speciality beers. The ecommerce website has a stock list of more than 200 speciality beers from breweries across the globe, and is the first to offer free delivery to customers. BeerHawk.co.uk also offers regular deliveries of unusual brews on a "beer club" basis and hand selected gift packs for beer lovers.
"We love drinking great beers and guest ales in pubs, but were frustrated by how difficult it was to purchase these beers to drink at home.  The range available in most supermarkets is poor, and the few existing websites that do stock better beer were either hideously difficult to use, or hit customers with a large delivery charge at checkout," said BeerHawk.co.uk director Mark Roberts.
"The typical consumer of speciality beers has become a great deal more discerning and adventurous over the past decade, and the secure website we have created enables users to easily hunt out their favourite ales and discover unusual beers from the comfort of their sofa. It will also allow us to send a hand-picked regular 'beer club' selection that we individually select on the basis of quality, beer style and value," he added.
The firm is based in Harrogate, North Yorkshire, and is already negotiating with a number of businesses to provide rewards and incentives for staff and customers.
"In our corporate jobs the quality of the product, value for money and customer satisfaction was meticulously monitored every single day.  We're bringing that same focus and attention to detail, but adding the passion and enthusiasm of two blokes who have created their dream jobs," said Chris France of BeerHawk.co.uk.
He concluded: "Our range only includes beers that we have personally tasted and are willing to recommend to our customers.   We're inviting beer-lovers to help us hunt out new beers for consideration, and expect to introduce new breweries into our range each week.  We want our customers to feel part of our company and join us in our hunt for the world's best beer".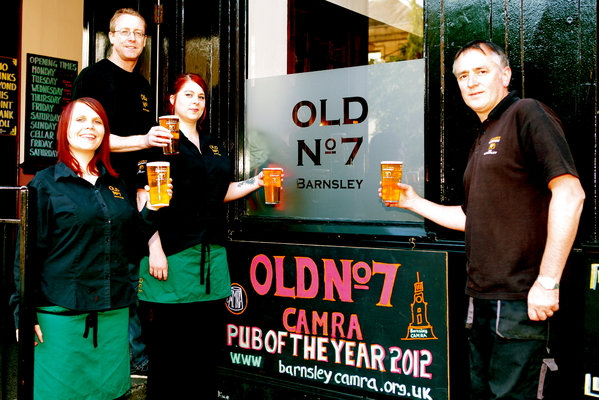 Acorn Brewery toasts 'Best in Yorkshire' accolade
Barnsley's historic Old No 7 has been proclaimed one of Yorkshire's top three pubs -- after little more than a year of trading. CAMRA, the Campaign for Real Ale, has voted the Market Hill hostelry bronze winner in the Best Pub in Yorkshire Pub of the Year Awards.*
The accolade comes only 13 months since Dave and Judi Hughes of Wombwell's fast-growing Acorn Brewery, and business partner Michael Thorpe, unveiled the 'cask ale haven' brewery tap following a £180,000 restoration. Announced to coincide with today's release of the 40th CAMRA Good Beer Guide 2013, the award puts a Barnsley real ale pub among the best in the country.
Dating back to the 18th century, the Grade-II listed property was first licensed in 1925 but closed by Enterprise Inns in 2010. Earlier this year local CAMRA members declared it 'Barnsley Pub of the Year 2012'. Acorn proprietor Dave Hughes said: "To be named as one of the best three pubs in the whole of the Yorkshire region so soon after opening is staggering -- a great honour. We took a big risk but it shows we were right to make our investment. This is a terrific tribute to the pub team, who work very hard to give a warm welcome and, crucially, serve excellent beer.
To celebrate the award Acorn will hold "Meet the Brewer" events at the pub during Cask Ale Week, (28 Sept to 7 Oct). Phil Gregg, Barnsley CAMRA'S Pubs Officer, said: "This is fantastic news for the pub, the brewery and, more importantly, the town. The Old No7 has transformed the real ale scene within Barnsley town centre. Prior to the opening cask ales, were limited to a handful of pubs in town. Now many of the other long-standing pubs within the town centre area have introduced cask ale to their range, which has been fantastic for the town.
"The hard work of Dave Hughes, Michael Thorpe, Fiona Holmes and all of the staff at The No 7 has paid huge dividends. The pub was recently awarded Barnsley CAMRA pub of the year 2012 and the news of the regional award is the icing on the cake.
 "Since opening the pub has gone from strength to strength, hosting beer festivals, tasting evenings and guest speakers -- and long may it continue. I am confident that these will be the first awards of many for the pub and I would like to place on record my huge congratulations to all involved." 
*Photo shows (left to right) Old No 7 manager Fiona Holmes, Michael Thorpe, Kayleigh Manterfield and Acorn's Dave Hughes.
London's first female Beer Sommelier 
London's first female Beer Sommeliers has been accredited by the Beer Academy.  Jane Peyton is a beer writer, trainer and principal of a corporate events company which organises beer, cider and wine tastings; and beer and food matching events. 
Jane said: "I'm part of a campaign to change people's perception of beer. For instance, did you know that beer is great with many deserts?  Try one of my favourites -- a beer ice-cream float. Place a scoop of vanilla ice cream in a glass of Imperial Stout and sprinkle cocoa on it -- I call it a beer-puccino and it rules!
"Beer is Britain's national drink and brewers here make some of the best beer in the world.  My ambition is for all good restaurants to provide extensive beer lists alongside their wine lists. Serve the beer in 250 ml crystal wine glasses and suddenly beer becomes elegant enough for even the finest establishment."
Yorkshire Brewery launches photo celebration of pub life
One of Yorkshire's leading micro-breweries is asking pub landlords and customers to help it celebrate the best of British "pub life". To mark next month's launch of its new Saltaire Pride cask session bitter, the award-winning Saltaire Brewery announced its first "Pride in Pub Life" photography competition, with an invite to pub-goers to capture the day-to-day life in their favourite hostelries.
The best photographs submitted as part of "Pride in Pub Life 2012" will be included in an exhibition to be held early in 2013, with the overall winning image used as part of the marketing for Saltaire Pride. The winning photographer will also receive a cash prize of £250, with cash prizes for the second and third-placed photographers also available.
Tony Gartland, head brewer at Saltaire Brewery, said: "The launch of the Saltaire Pride 'Pride in Pub Life' competition is the ideal opportunity for us to celebrate the great British pub and for professional and amateur photographers to show why they're proud of their local. There's a wider range of pubs and bars than ever, and each has its own atmosphere. We want to capture that myriad pub life through photographs taken by the people who use those pubs – and we welcome all entries, whether they're taken with a top-of-the-range camera or a mobile phone."
Saltaire Pride – a cask bitter with a 3.9 ABV – will be launched into pubs early next month.
Further enquiries:        Phil Reed or Tim Downs, Aberfield PR
                                    0113 357 2070