Feature
Historic Magdala is back in business
Added: Saturday, July 3rd 2021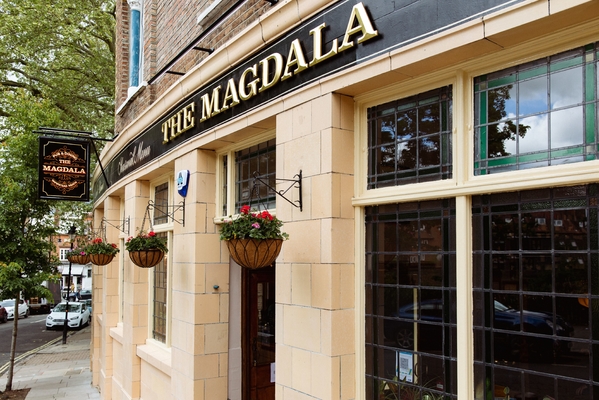 You could write a book about the Magdala Tavern in Hampstead – and that's before you sample the beer and food. The pub is famous as the place where Ruth Ellis – the last woman to be hanged in Britain – shot her lover David Blakely in 1955 but the pub's history goes much further back.
It dates from the 1860s and, in the breast-beating style of Victorian Britain, took its name from a British military victory, the Battle of Magdala in 1868 when a British Expeditionary Force defeated the Abyssinian army in the fishing village of Magdala close to the Red Sea.
And Magdala is believed to be the birthplace of Mary Magdalene, who witnessed the execution of Christ and allegedly saw him rise from the tomb.
In more recent times, the Magdala, just a few yards from Hampstead Heath station, was owned by the big London brewer Charrington, bought and closed by an even bigger brewer, Bass of Burton-on-Trent. When Bass left brewing in 2000 the pub fell into the clutches of the pub company Punch Taverns, who closed it in 2014.
There were fears in the local community that Punch, true to form, would sell the building for redevelopment as private housing. But after three years of what the new owner, Dick Morgan (pictured), calls "tortuous negotiations", the Magdala has opened its doors again.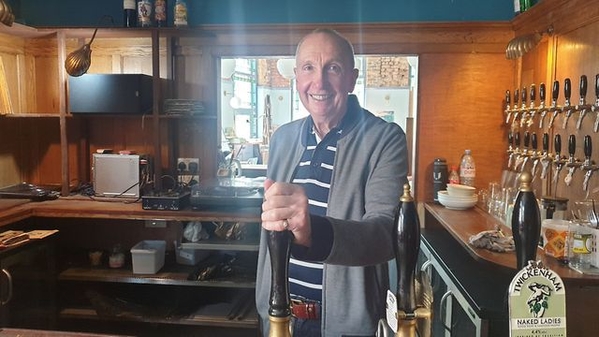 Dick owns the Express Tavern in Kew and the Sussex Arms in Twickenham but his roots are in Hampstead. "I was born and grew up here," he says. "My granddad lived opposite the Magdala and re-opening the pub is a real home-coming for me."
He has spent £250,000 on restoring the pub and keeping its traditional look and feel. The two bars have wood-panelled and cream-painted walls, plush red banquettes, photos of famous visitors from yesteryear and partitions with etched Art Nouveau glass tops announcing "wine", "ale" and "gin". Impressive tall stained glass windows flood the bars with light while lush green pot plants add to the Hampstead Heath atmosphere.
"We've been careful to add a few modern details while keeping the old pub's heart alive," Dick Morgan says. "The most important aspect of any good pub is the community around it and we're looking forward to welcoming everyone for a quiet coffee and read of the papers, a reunion lunch with the whole family or a few pints at the bar with friends."
There's no shortage of good beer if you fancy a pint. Cask ales include Draught Bass, Harvey's Sussex Best Bitter and Purity Mad Goose. The Big Smoke Brew Company in Esher supplies both cask and keg beers and this adds to the family feel of the pub as the brewery is owned by Dick Morgan's son James.
Other breweries supplying the Magdala include Lost and Grounded, Burning Sky, Marble, Mad Squirrel and Wild Beer. There's a long list of whiskies, gins and vodkas, a well-chosen wine list plus a range of cocktails.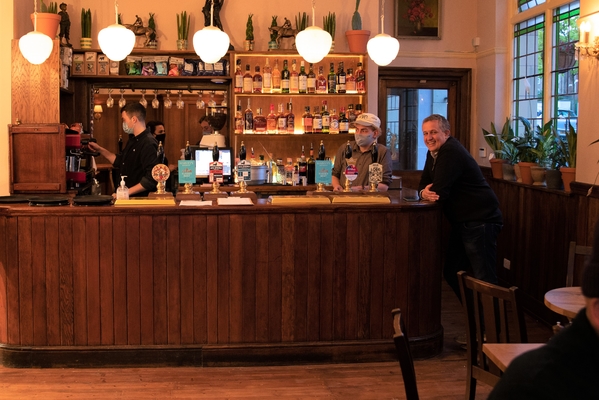 Bar snacks are available while full meals have a strong Italian influence thanks to head chefs Marcus Pitzus and Daniele Cotronei. Their dishes include orecchiette fresh pasta; broccoli and pine nut pesto; tomato panzanella salad and burrantina; and chorizo and goats cheese arancini along with such pub staples as bangers and mash and fish and chips. Sunday roasts are a speciality.
•Magdala Tavern, 2 South Hill Park, Hampstead, London NW3 2SB. Opens 11am Mon-Sat, 8am Sunday.
•Dick Morgan's Express Tavern at Kew – famous for the giant red Bass triangle trademark above the entrance -- will enjoy additional custom as it stands adjacent to the new Brentford football ground. Brentford has been promoted to the Premier League and will attract bigger crowds and more customers for the Express.
The re-opening of the Magdala comes just two weeks since the Boleyn Tavern re-opened in East London: https://protzonbeer.co.uk/news/2021/06/27/historic-cockney-pub-restored-to-glory. Sadly there's no longer a football ground next door as West Ham United has moved to Stratford.
Picture of Dick Morgan by Harry Taylor.