Wood Aged Beer
Why wood gives a magic touch
Added: Thursday, September 10th 2020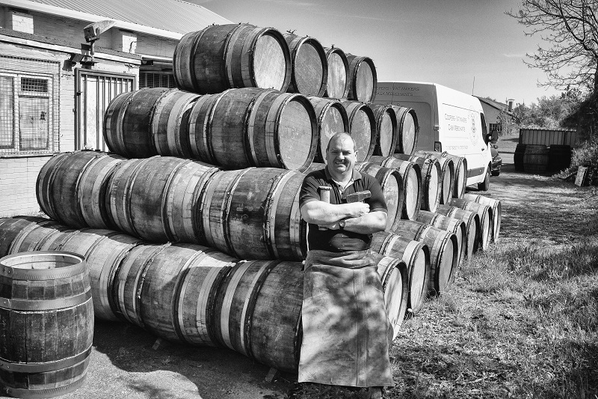 When you visit breweries you are usually greeted by the warm and welcoming aromas of malt and hops. The exception, back in the 1980s, was the Pilsner Urquell brewery in what was then Czechoslovakia where the overwhelming odour was reminiscent of burning tar.
I was a member of a small group of journalists. As we approached the courtyard in front of the brewery buildings we saw men and women armed with brushes and large pots of boiling pitch.
They dipped the brushes in to the pots and then covered curved staves of wood with pitch. Other workers were assembling the staves into large oak casks that would be taken underground into the brewery's conditioning halls in deep sandstone cellars.
In the dog days of the communist regime you didn't ask questions as few answers came back. So I didn't learn until several years later that the reason the vessels were lined with pitch was to avoid lager beer picking up unwanted woody flavours from the oak. Lining casks with pitch was widespread throughout central Europe and I later saw it used in the great lager breweries in Munich.
When wood was widely used in Britain, brewers producing robust ale were not bothered by a touch of wood in their beers. In spite of all the clamour of interest in India Pale Ale and pale ale today, these modern interpretations are almost certainly quite different in flavour to the beers of the 19th century.
Bass, for example, the major producer of IPA based in Burton, left casks standing in the brewery yard for a year before they were sent to India. During that time, the beer would have been infected by a wild yeast known as Brettanomyces, which means British fungus, that buries itself deep into wood. It was first found in the giant vats that held porter and stout in the 18th century.
Brett, as it's known for short, gives a funky aroma and flavour to beer: brewers call it "horse blanket". As a result of a number of brewers developing barrel-ageing programmes today, we can now get a fascinating glimpse of what the early IPAs may have tasted like.
Wiper and True, founded in 2012 in Bristol, has built a Barrel Store close to the brewery. The store enables the brewery to produce oak-aged beers and this summer it launched two beers made by mixed fermentation. Wort – the sugary extract produced during the mashing stage – is produced in the brewery then transferred to the Barrel Store where fermentation takes place in oak, using Brettanomyces and Cerberus yeast cultures – Cerberus is a strain widely used, in the U.S. in particular, to make sour beers, a modern interpretation of Belgian Lambic.
The two beers are Narrow Sea, based on the Belgian Saison style, and Hinterland, a 7.3 per cent IPA brewed with Citra, Ekuanot, Loral and Simcoe hops. Could this be akin to the IPAs sent to the Raj in India in the Victorian period?
The beer has an aroma reminiscent of that old confectionery known as orange and lemon slices, with an acidic note from the Brett and spicy hops. The palate is tart, tangy, fruity and acidic, with more tart fruit, spicy hops and an acidic tang in the finish. We will never know for certain if this is something like the IPAs consumed by Lord Curzon and his high-born chums in India but it's without doubt a delicious and memorable beer.
In Horsham, West Sussex, Ray Welton has produced a range of beers aged in whisky casks, including Tomintoul casks from Speyside. One beer is U.S. Congress, an American-style IPA brewed with five hops to mark the committee of five – Adams, Franklin, Jefferson, Livingstone and Sherman -- who wrote the Declaration of Independence. It's more history in a glass.
•First published in What's Brewing, September 2020. Pictured above: Alastair Simms at the White Rose Cooperage in Yorkshire