Review
Desi pubs: good for beer, food & society
Added: Sunday, June 11th 2023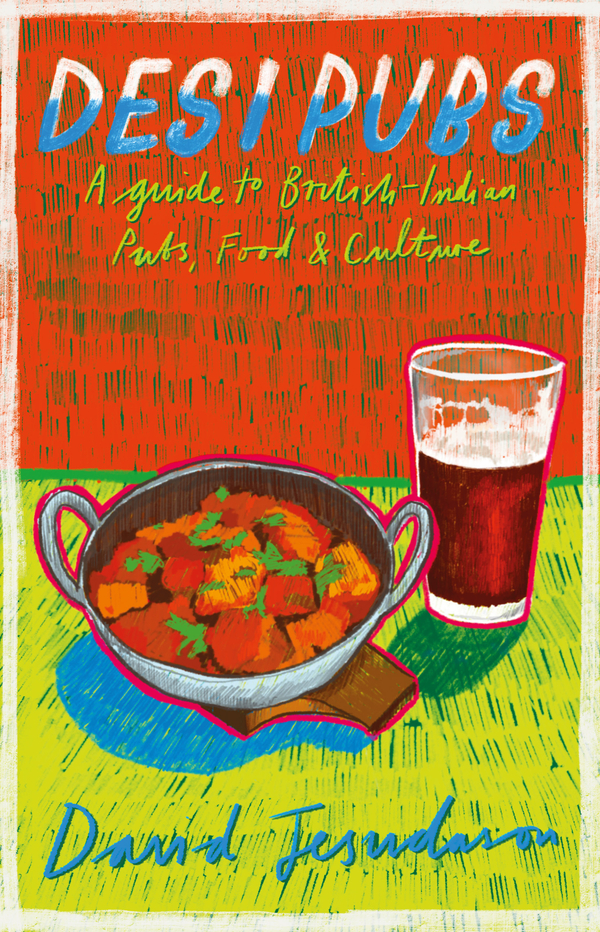 Desi Pubs, David Jesudason (CAMRA Books, £14.99)
Can a book about pubs be heart-warming? It can, as Desi Pubs is about more – far more -- than beer. It's about multiculturalism and tackling racism as well enjoying a good pint and a curry.
David is a British Asian. His father came from Singapore and his mother from Malaysia and while he was born and grew up in Bedfordshire he has experienced racism in pubs. He recalls the first pub he ever went to where the conversation stopped when he entered and one customer called out: "Anyone order a mini cab?"
But the pub world has moved on. I shuddered when I saw the first pub to be mentioned in the book was in Smethwick in the West Midlands. To me, Smethwick means race riots in 1961 followed by a vicious general election campaign in 1964 when the sitting Labour MP was defeated by a right-wing Tory. He had the backing of fascist groups who used the hideous slogan "If you want a ****** neighbour, vote Labour".
It's a different story today. David says, "When I first visited Smethwick, I was taken aback, not only by how this was an Asian-majority town dealing with a post-industrial world, but how the white population loved their – and 'their' is crucial here – desi pubs." An academic told David that the people of Smethwick are "the vanguard of multiculturalism."
What is a desi pub? The word desi has Sanskrit and Punjabi origins and can mean place, settlement, country or even just a cup of tea. It applies to people who have left their homeland but maintain their culture in their new places of domicile. A powerful element of that culture is serving food with roots in South Asia in that most British of institutions, the pub.
David Jesudason argues that while a desi pub is run by a person of Indian origin it goes further and has to stamp the publican's culture on the outlet, whether that be through the food, music or décor. The early desi pubs in the 1980s were created to offer drinking places to Asian and black people at a time when many pubs and especially clubs had racist colour bars.
One notorious club was the Handsworth Horticultural Institute in Birmingham where members went to drink and play pool and darts. But membership was open only to white people. In 1992 a local councillor told the Birmingham Post that he knew a black couple who were good friends with their white neighbours but only the white neighbours were allowed in the club. They couldn't socialise together.
The colour bar is illegal now, of course, and the Handsworth Institute closed. But the building has been reopened and transformed by Piara Singh. It's called the Manor Grove and is used to host Indian celebrations. Singh also runs the nearby Grove pub, set up in 1995 to serve British-Indians working in local foundries. The pub served mild ale to refresh workers after long, hot shifts and sold three or four 36-gallons casks a week. It still sells M&B Mild today.
The Grove is so popular that Singh has expanded it and added a large beer garden. It serves beer and mixed platters of food to men, women, white, black and brown. It's a popular meeting and drinking place for both Aston Villa and West Bromwich Albion supporters. "Harmony is the watchword of the modern Grove," the author says.
Nina Robinson comes from a Punjabi family and lives in the Handsworth area. Her father worked in a local foundry and would drink with friends in the Grove but she never felt welcome. "It became more acceptable for women to go there," she says. "And the real turning point was when I thought it was OK for my kids to come to this pub on a Saturday night. The fact that I felt I could do that in a really busy desi pub was a watershed moment."
As well as enjoying a drink, Robinson revels in the food in the Grove where her favourite dish is prawn pakora. A friend of the author's is a food blogger and says the Grove serves the best desi pub grub in the country.
Food is the big ticket in these pubs because, as David says, they offer the quality of high-end restaurants such as Veeraswamy or Chutney Jane's in London with the accessibility of a curry house. "It's top grub at pub prices," he says. The stand-out dish is the mixed grill or "the mixy". It's usually a combination of marinated meat and fish or vegetarian options, cooked in a tandoor and then "sizzled" on a grill after being doused in lemon juice. Sejal Sukhadwala, author of The Philosophy of Curry, says "Sizzlers in India are strips of meat or stuffed vegetables, you get some rice, you get some chips, some baby sweetcorn, grilled tomato and that's all cooked on a hot tawa [cooking pan]."
Following the history of desi pubs, their role in combatting prejudice and the superb food they offer, David takes the reader on a tour of the best pubs in Britain. He avoids the brevity of most pub guides. Each entry is an essay running to several pages, detailing its history, the people running it and the food and drink available.
The Boulevard Sports Bar in Southgate, North London, is a particularly good example of just how British society has changed for the better. David records: "There were women at the bar. There was a white middle-class family explaining the dishes to their teenagers. There was a group of desis celebrating a birthday. There were pensioners – brown and white – enjoying their food."
North London offers a rich haul of desi pubs. Several are called club or lounge but the Three Falcons in St John's Wood is clearly a no-nonsense pub that draws a mixed clientele from surrounding houses or cricket fans looking for a beer and a meal after a day at Lord's. The food is based on the cuisine found in Delhi, including a restaurant called Wok in the Clouds.
Birmingham and the West Midlands have long been happy hunting grounds for curry lovers. Pubs there are also blessed with good beer. I was intrigued by David's encounter with two pubs that have reciprocal arrangements where food and drink are concerned. The Craven Arms is run by the Black Country Brewery and offers a wide range of cask beers while the Keg & Grill has some cask ales but has a highly-rated food menu. (Don't be put off by keg in the name: it's an Indian term for glass.)
If you're in the Craven Arms and fancy more than a filled cob, you will be advised to go to the Keg & Grill. Conversely, if you want a wider range of beers than the Keg offers, you will be pointed in the direction of the Craven Arms. The food that Gee Bansal serves in the Keg & Grill sounds sublime, especially as he recognises that not everyone wants meat and his veggie platter is highly rated. 75 per cent of his customers are white and the pub is popular with both cricket and football fans.
Smethwick has redeemed itself. It now has several desi pubs. In the bad old days, the Blue Gates Hotel was notorious for refusing entry to Malcolm X, the American civil rights campaigner. Today the pub is the official drinking place for West Bromwich Albion supporters before and after games – supporters who are a matey mix of white and brown. Food is restricted to such snacks as samosas and spicy chicken wings washed down with M&B Mild. The Ivy Bush is a rarity among desi pubs as its specialises in Nepalese cuisine while the Red Cow is celebrated for a mixed grill that fans say is one of the best in the country.
Curry lovers won't need to be told about Belgrave Road in Leicester with its large number of restaurants serving wonderful food at affordable prices. The road also has a desi pub, the Golden Lounge, which is so popular it has to employ bouncers at weekends to control the crowds trying to get in. It has live music and as well as meat and vegetable sizzlers it also serves a number of eggs dishes, including egg sizzlers and egg Angara masala, boiled eggs cooked in a spicy gravy.
Further north, I warmed to Harry Khinda at the Crafty Indian in Shipley, Yorkshire, who is passionate about sustainability and uses recyclable plates and cutlery. He has a sensible attitude to beer. He serves delicate dishes, with Thalis and Alook tikka chat, and he thinks pale ale rather than lager is the best beer to match them.
"Pale ales using a huge raft of different fruits and flavour profiles complemented with the spices from the food just make eating an Indian meal so much more pleasurable," he says.
In Glasgow, David discovered the Glassy Central, well placed in Sauchiehall Street, where he found some of the best food, based on Punjabi recipes, on his tour of the country at amazingly affordable prices - £10 for a mixed grill, for example.
The book includes a moving tribute to the late Avtar Singh Jouhl, a leading member of the Indian Workers Association. He fought not only for workers' rights at their places of work but also campaigned against the colour bar in pubs. He was with Malcolm X when they were refused entry to the Blue Gates in Smethwick.
Deeply researched and beautifully written, David Jesudason has produced a remarkable book that will not only have you gagging for a pint and a curry but is also proof that good people from all ethnic backgrounds can get together to make not just pubs but society itself better.