Review
A paean of praise for London's pubs
Added: Thursday, June 3rd 2021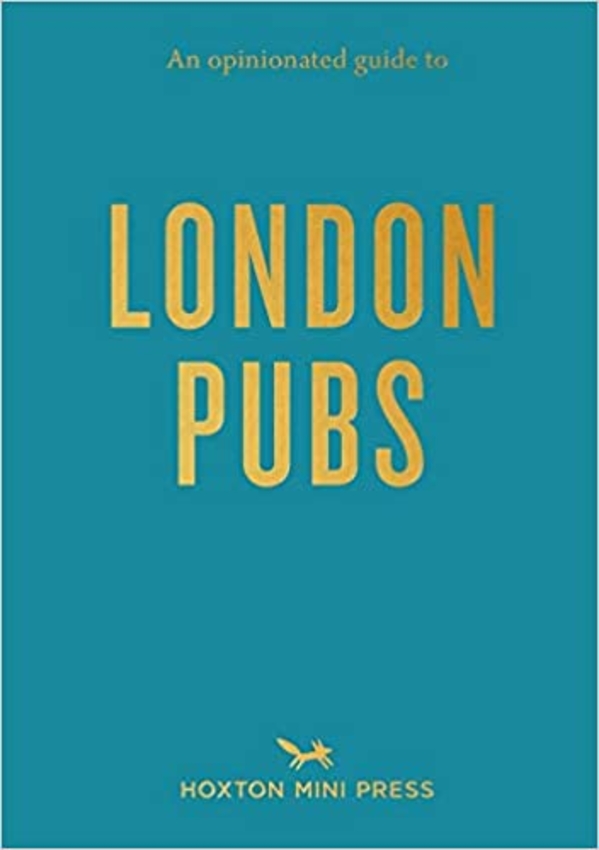 London Pubs, Matthew Curtis & Orlando Gili (Hoxton Mini Press, £9.95)
If you need any encouragement to visit a pub, this book will do the trick. It's a little gem, listing 52 of the finest watering holes in the capital. There's no shortage of books about the capital's pubs – I've written a couple myself – but what makes this stand out from the crowd is Matthew Curtis's ability to pack knowledge and passion into a hundred words for each entry and Orlando Gili's photographs that put your own snaps to shame.
With some 4,000 pubs to choose from, it's a brave man who whittles this number down to 52. You're bound to leave out some crackers and to annoy some who feel their local is the best on the planet. But Matt Curtis's choice reflects the rich pageantry of pubs that stretch back to the times of coaching inns and even earlier, which begs the question that perhaps the George in Southwark, dating from Chaucer's time, might have been worthy of selection
No matter, there are joys aplenty here and my appetite has been whetted. Even though I'm an ex-pat Londoner and thought I knew the pub scene well there are entries here I don't know and are now on my tick list to visit,
As a cricket lover, I must hasten to the Champion in Wells Street, W1, where stained-glass windows depict, among others, the celebrated Victorian wielder of the willow – and notorious cheat – WG Grace. Matt wisely points out that, as this is a Sam Smith's pub, it's best to leave your mobile and laptop at home and avoid blaspheming.
The Lady Ottoline could only be in Bloomsbury in Northington Street WC1 where Lady Ottoline Morrell was not only a leading socialite and literary hostess but may have been the model for DH Lawrence's Lady Chatterley. A portrait in the pub of Lady Ottoline shows a dead ringer for both Victoria Sackville West and Edith Sitwell: perhaps all Bloomsbury socialites were hewn from the same rock.
It's good to find the Pembury Tavern in Hackney, saved from certain closure by the splendid Five Points Brewery – how I love their Porter – and the 16th-century Mayflower in Rotherhithe, all low beams and creaking staircases, where the Pilgrims set sail for the Americas, taking with them an ale culture. The Ivy House in Nunhead, SE15, deserves its place in the book, rescued by the local community when a greedy pub co wanted to sell it to developers to turn into flats.
The Wenlock Arms in Islington is another deserved entrant, a pub that flew the flag for cask ale when our heritage beer style seemed doomed: the photo sums it up –a large crowd spilling out of the pub onto the pavement, glasses of ale to hand.
The glorious Pineapple in Kentish Town makes the cut, with one of the finest Bass mirrors in the country. Close by, the Bull & Last is a magnificent example of one of London's last great coaching inns. In sharp contrast – and one for me to visit – is the High Cross in N17, a mock-Tudor former public convenience turned to better use.
I even get an Alfred Hitchock moment in the book. The photo of the bar in the Palm Tree at Mile End shows me deep in conversation with the publican. I was there when writing a piece about East End pubs for the Good Beer Guide and was intrigued to find, among the plethora of photos of people who have sung from the stage of this Cockney music pub, one of Frank Sinatra. Did he perform here? I asked. The publican explained that Ol' Blue Eyes and his minders had come to the Palm Tree following a concert in Docklands and the great crooner had refused a drink. That's remarkable when you consider he was known to consume a bottle of Jack Daniels a day. He missed the chance to sup a pint of Sambrook's Wandle Ale.
This is a treasure trove of a book. As pubs slowly return to life following the pandemic they need all the help they can get and Matt Curtis and Orlando Gili are giving them a much-needed boost.