Review
Ian Clayton: memoirs of a pub-going man
Added: Tuesday, March 5th 2019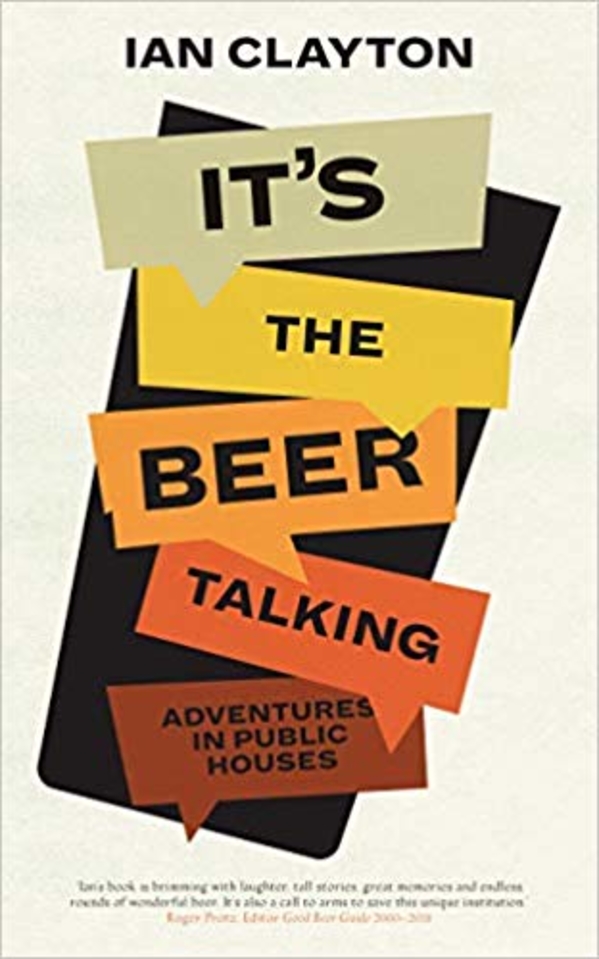 It's the Beer Talking: Adventures in Public Houses
Ian Clayton (Route Publishing, £12.99)
You won't read a better book about beer and pubs than this one. Ian Clayton, broadcaster and raconteur, grew up in Featherstone in the coal mining region of Yorkshire. He lived among people who worked hard, played hard and drank hard, and he immersed himself in the world of pubs where miners put away prodigious amounts of ale.
The book is packed with larger-than-life characters who helped Ian learn to love the malty and hoppy delights of Tetley Bitter along with Darley's, Sam Smith's, Timothy Taylor and other producers of the distinctive beers of the region. Thanks to my meetings with Ian over the years, I have been to some of his pubs, including two memorable ale houses in Castleford, the Junction and the Shoulder of Mutton.
The Junction specialises in serving beer from the wood while the Shoulder, run by the late landlord called Tetley Dave, specialised in most human pleasures: great ale, raucous laughter and toe-tapping live music. Dave, a former brewery drayman, played the ukele and invited the George Formby Appreciation Society to perform regularly.  I sat in on one concert, marvelling at the frenzied plucking of the players as they revived such numbers as Leaning on a Lamp-post.
One regular was Viv Nicholson, who famously won and blew a fortune on the pools. She would drop into the Shoulder in the hope that someone would buy her a drink. She never lacked for a glass and I had the pleasure of standing her white wine.
Ian has travelled far and wide in search of good beer and pubs. The book is packed with hilarious stories of his trips on the pavilion of his mate Burt's motorbike to find alehouses as far away as Wales.  On one occasion, a group that included other pals Cheesy, Sooner and Arnold, ended up in the White Horse in Beverley, a Sam Smith's pub better known as Nellie's. She was a legendary landlady who ruled the pub with rod of iron and evicted her live-in lover on so many occasions by throwing his belongings on to the pavement that he was nicknamed Suitcase Johnnie.
On Ian's visit, Arnold put away a gallon or two of Old Brewery Bitter and outraged the barman with his songs and banter. It ended when Arnold roared a limerick:
There was an old man from Calcutta
Who went for a peep through his shutter
And all that he spied
Were his wife's hairy thighs
And the bollocks of the man that was up her.
"You're barred!" the barman grated and Arnold found himself on the pavement where Johnnie's suitcase had often rested.
One of Ian's regular drinking haunts was the Jubilee in Featherstone, where miners and Rugby League players and supporters supped astonishing amounts of beer. George Johnson, the landlord and a former player with Featherstone Rovers, said the Jubilee held the record for selling more beer in a week than any other pub. It went through 32 hogsheads of Tadcaster Tower ales and 400 dozen bottles of Bass and Guinness every week. Ian reckoned that 32 hogsheads was 13,824 pints and if the bottles were pints, that was another 4,800.
Ian, brave lad, turned out for the Jubilee's amateur rugby side. They may not have played for money but they played to win – even in practice matches. Ian's description of being battered by his own team mates reminded me of the opening sequence of This Sporting Life when the character played by Richard Harris lost his teeth in the scrum.
I'm glad I stuck to football. The round ball game features in the book for Ian's travels took him many times to Germany where he became friends with Volker and his chums. They would go to Borussia Dortmund matches and Ian took them to a European cup match at Ibrox when Dortmund were playing Glasgow Rangers. Thanks to this friendship, Ian came across the taverns and great lager beers of Dortmund, a steel town known as "the Burton of Germany" as a result of the many breweries based there.
This is a truly wonderful book that will have you wiping away tears of laughter and gagging for a pint. But it's tinged with sadness, for it recalls a time of hard but rewarding graft and the solidarity and comradeship of working-class communities and their pubs. Many of the pubs have gone, along with the mines and steel works. Read, enjoy and -- as they say in those parts -- think on.