Review
Pop-up pubs get guide book boost
Added: Sunday, March 26th 2017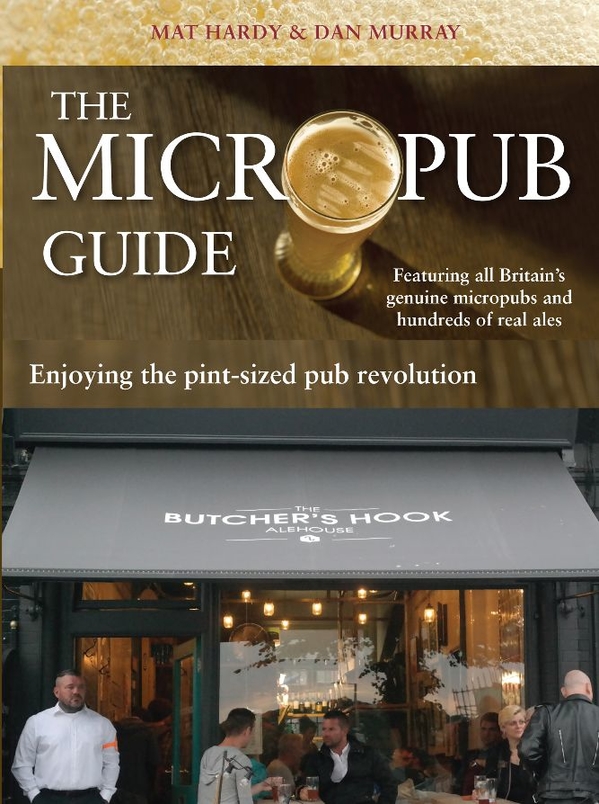 The Micropub Guide, Mat Hardy and Dan Murray (Duncan Petersen, £14.99)
Micropubs were first called pop-up pubs: like mushrooms at dawn, they appeared in old and empty buildings and brought new life as well as new drinking places to local communities. Micropubs could not be more different to conventional pubs that, as well as being bigger, are custom-built by brewers or pub companies. The micros on the other hand have taken on a new lease of life in such abandoned premises as butcher's shops, florists, vet's, pharmacies, funeral parlours and railway station parcel depots.
Mat Hardy, a former marine biologist, and Dan Murray, a disillusioned NHS bureaucrat, have a shared love of good beer and have trawled the country in a quest to visit every known micropub and detail it in this book. It's a worthy venture and it's a pity that the introduction takes the edge of the pleasure. It's written by Martyn Hillier, who founded the micropub movement with the Butcher's Arms in Herne, Kent. He deserves much praise for his endeavours. He has created a nationwide organisation with a website that dispenses detailed information on how to set up a micro.
But for some dyspeptic reason, Martyn has used his introduction to take a pop at CAMRA: in the current climate, I sometimes feel that if CAMRA didn't exist someone would have to invent it in order to have a straw man to heave bricks at. Martyn criticises the campaign for not "getting behind micropubs". He does record that he was invited to give a presentation to the organisation's annual meeting in 2009 but – astonishingly – fails to add that in 2015 he was named CAMRA Campaigner of the Year.  
When you consider the vast number of people who run beer festivals and battle to save pubs, to be named top campaigner is a singular achievement and one to treasure but Martyn doesn't mention this as it would take the gloss of his criticism of CAMRA. He also bemoans lack of support in print by the campaign, also ignoring the fact that I went to his pub and wrote a piece for the Good Beer Guide, followed by a further feature on micropubs the following year.
After clambering painfully over the barbed wire of the introduction, we can tackle the main body of the book. I know from experience just how hard Messrs Hardy and Murray have worked to cover the whole country. I just wish the publisher had followed the tried and tested format of most beer and pub guides and had divided this book up into recognisable counties. The book is higgledy-piggledy: the first listed micro is in Walsall, followed by Kent, Lancashire, Bedford and Nottinghamshire. It's confusing and headache-inducing.
On the plus side, the potted biographies of the pubs are excellent, with good descriptions of each outlet and quotes from regulars. Most importantly, the entries outline the beers available: most micros concentrate on cask beer, which clearly pleases the tastes of the authors.
There are good maps but the quality of photography is disappointing. I appreciate that the costs of professional photographers are prohibitive but it's possible, in the digital age with quality cameras at affordable prices, to do better than this.
But, with the book in hand, you can cover the country and seek out these new outlets that are bringing much-needed choice to drinkers. Micropubs are laid back, informal, with friendly and committed owners, many of whom have a good sense of humour. I enjoyed the sign in the Copper Pottle in Beltinge in Kent that warns: "No requests for discounts, no mobile phones, no e-cigarettes and no Elvis impressions". For this relief, much thanks.
I wish the guide well and hope there will be a second edition with a more user-friendly format and a more positive introduction.