Review
Frightening rise of Mega Brew
Added: Saturday, November 26th 2016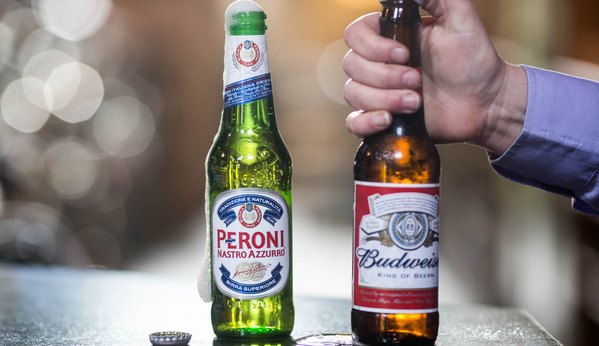 The Beer Monopoly by Ina Verstl and Ernst Faltermeier (Brauwelt International, 29.90 euro)
The once cosy world of beer and brewing has become a frightening place. One giant global corporation – the merged AB InBev and SABMiller – controls 30 per cent of all the beer brewed world-wide and its onward march to total domination will go on, swooping and swallowing smaller rivals.
Verstl and Faltermeier are two German economists with a long track record of observing and analysing the brewing industry. Their book is no dry-as-dust tome but a racy, well-argued and prescient review of the rise of the global megabrewer. Its core message is that InBev and SABMiller have changed the ground rules. Brewing was once about volumes: selling more beer than your rivals. But now it's finance-led, "a regime of accumulation dominated by financial valuations", the authors say. "AB InBev revolutionised the industy's raison d'être...In the past companies and markets were ranked according to beer volumes produced. No longer. Because AB InBev set new standards, the league table for investors nowadays measures companies' profits and countries' profit pools.
"In the past century, brewers took great pride in the volumes of beer they produced, as if they rendered a public service by quenching customers' thirsts. They strove to be profitable too, but this would have been a secondary consideration to their main objective: raising their beer sales and outperforming their rivals. As soon as they all became stock market-listed companies and had to dance to the tune of investors, business objectives were turned upside down. It became dollars over hectolitres, especially since it was cash and debt that fuelled their chequebook strategies."
In short, brewing is no longer about making a drink that gives people pleasure and refreshment. In the hands of the megabrewer, beer has become a commodity. It is a vehicle for generating huge profits and making wealthy people even richer.
The authors track the rapid rise of the global brewers at the turn of the century. In 1990, they point out, the top four brewing companies controlled only 25 per cent of global beer production. Three of the four – Anheuser-Busch, Miller and Kirin – sold their beers mostly in their respective domestic markets. But as the new century arrived, between 2000 and 2014, the top four's share had risen to nearly 50 per cent.
AB InBev began with the merger of Ambev of Brazil and Interbrew of Belgium. This gave them control of Beck's and Stella Artois. Buying America's biggest brewer, Anheuser-Busch, landed the world's biggest beer brand, Budweiser. This was followed by Mexico's Grupo Modelo, which added Corona Extra to the pile.
"In terms of global sales, these four brands are already far bigger than their six largest competitor brands in total," the authors say. "What is more, once a brewer 'controls' or 'owns' a country in the manner of the Beer Monopoly and has introduced its own international beer brand, it will have effectively closed off this market to its global competitors. Others will hesitate to break into it. This is why we talk about the Beer Monopoly. Any brewer with a market share in excess of 30 per cent per market and a full portfolio of brands – from local brands to international lager -- essentially enjoys a dominant position and nearly inexhaustible profits."
AB InBev turned its attention to SABMiller as a result of problems in other parts of the world. Russia, post Soviet Union, offered rich pickings but Carlsberg had swiftly moved in by taking over Baltika, the biggest Russian group. And following years of rapid growth, beer sales there had gone into reverse. A similar pattern developed in China. AB InBev had dipped its feet in the paddy fields but once again the market took a dive.
But Africa offered great potential. Most African countries have just one large brewer so, ergo, if you buy the brewer you effectively buy the country's beer sales. But AB In Bev had no presence in Africa worth speaking of while SAB -- South African Breweries before the merger with Miller – was mightily represented on the continent. As a result, SABMiller became a very tempting target for AB InBev, which had followed a similar strategy in South America where, again, most countries had just one big brewer with the clout to make fortunes. Jorge Paulo Lemman of Ambev in Brazil is quoted in the book as saying: "I was looking at Latin America and who was the richest guy in Venezuela? A brewer. The richest guy in Colombia? A brewer. The richest in Argentina. A brewer."
Ambev was the result of a merger between Brazil's two major brewers, Brahma and Antarctica in 1999. From that bridgehead, they set out to dominate the continent. They did so with an almost shocking ruthlessness. The merger that created InBev between Ambev and Interbrew located the group's headquarters in Belgium but it's the Brazilians who call the shots, with most of the top positions on the board. Their policy is simple: success comes through reducing costs. As result of their muscle, they can buy such essential raw materials as grain and hops with vast discounts as they put the squeeze on suppliers. And they also put the squeeze on their own people by concentrating production in a few centres and using far fewer employees. On its home patch of Brazil, for example, between 1989 and 1991 it closed more than 10 plants, built a state-of-the-art brewery in Rio and reduced the labour force by half to 10,700. Productivity is measured in volumes produced per employee.
In the United States, Anheuser-Busch was considered a model employer: high salaries and perks, and jobs for life. All that went out of the window when the Brazilians arrived. Salaries were slashed, perks, bonuses and company cars disappeared along with a wave of job losses. And Interbrew's aim of being "the world's local brewer", with a range of beers specifically aimed at domestic markets, was also binned. Out of close to 300 brands, InBev began "prioritising a small group with greater growth potential within each relevant consumer segment" as they said in their 2005 annual report. In that year the line-up included Stella Artois, Brahma, Beck's and Leffe. By 2015 all the effort went into just three key brands: Budweiser, Corona Extra and Stella Artois.
And then came the bid for SABMiller. It cost AB InBev $100 billion and was the third biggest merger in history. High though the price appears, SABMiller was a snip. It brought not only African markets to the table but its own interests in Latin America. It was also struggling to a degree: the end of apartheid in South Africa meant the group, which had enjoyed a cosy relationship with the old Afrikaners, now faced a domestic market that was opening up with new breweries.
The authors say the world is now dominated by a beer behemoth with some 400 brands. It not only accounts for 30 per cent of world beer production but, even more pertinently, 50 per cent of the profit pool.
And what of the future? The people who run AB InBev are not stupid. They can see the beer world is changing as consumers seek quality and flavour rather than fizz and slick promotions. In the U.S. there are now more than 4,000 craft brewers, with 1,700 in Britain. Prior to the merger, SAB paid an eye-watering £120 million for the Meantime Brewery in London and AB InBev pitched in with £80 million for the Camden Town Brewery. In the U.S. AB InBev has either bought outright or taken substantial stakes in a number of craft breweries, most notably Goose Island in Chicago. The manoeuvres are likely to continue.
It's outside the remit of the book, but the arrival of MegaBrew has also had an impact on beer quality. Profits come in part from not only reducing the costs of raw materials but also by speeding up the production of the end product. Costs are cut by blending cheaper ingredients such as rice and corn with barley while beer itself is produced at lightning speed with the help of such aids as genetically-modified yeast and industrial enzymes. The term "lager" – meaning aged beer -- has become something of sick joke as 21 day production cycles have become the norm.
Let there be no doubt that these attitudes will be visited on the craft breweries MegaBrew buys. Is Goose Island IPA the same beer now that it's brewed in Fort Collins, at Labatts in Canada and a "new facility" on the East Coast of the U.S? Only time and taste buds will tell.
This brilliant book is both a warning and a call to arms. MegaBrew is coming for your beer. Prepare to build the barricades.
*The Beer Monopoly can be bought from Fachverlag Hans Carl (www.carllibri.com) and is also available as an e-book on amazon.com.