Review
Book that puts beer back on the table
Added: Thursday, October 15th 2015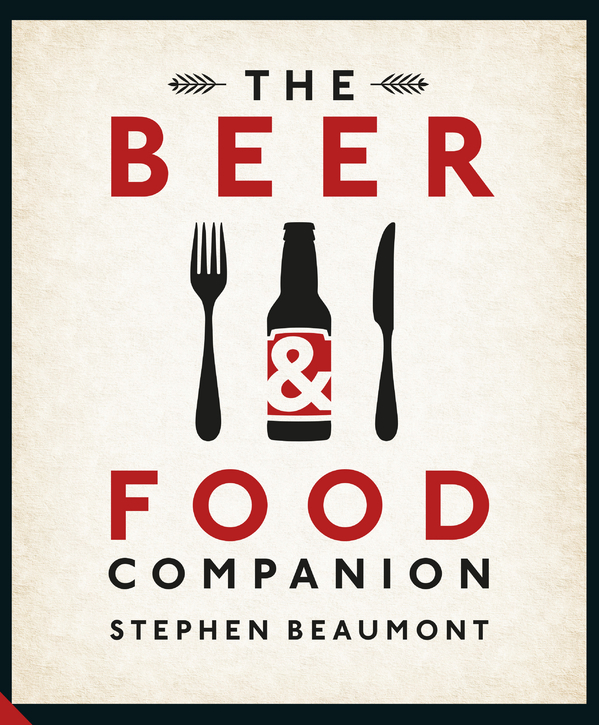 The Beer & Food Companion by Stephen Beaumont (Jacqui Small, £25)
Beer is back on the table. In this sumptuous feast of a book, Stephen Beaumont shows that in many countries restaurants as well as pubs and bars now offer beer and food pairings as naturally as they do matches for wine and food.
Stephen, who clocks up unenviable amounts of air miles in his pursuit of the juice of the barley, has interviewed chefs throughout the world who not only love beer but also devise recipes and menus with beer as the key ingredient.
A couple of years ago, I helped the award-winning restaurateur Andrei Lussmann devise a beer list for his restaurants in St Albans, Harpenden and Hertford. I was agreeably surprised when I ate in the Harpenden branch last year to see the substantial number of diners who were drinking beer with their meals.
In Britain beer is making a strong comeback as a food companion in the nation's pubs. It's been a long time coming. In the early 20th century, the large London brewer Whitbread used to deliver hot lunches by vans to its pubs in order that City workers could refuel themselves for the afternoon bout of pen-pushing. But two world wars, recessions and mass unemployment took their toll.
In his celebrated essay on his favourite pub, the Moon Under Water, George Orwell extolled the merits of the food to be had there: "Upstairs, six days a week, you can get a good, solid lunch – for example, a cut off the joint, two vegetables and boiled jam roll – for about three shillings. The special pleasure of this lunch is that you can have draught stout with it." The essay was written in 1946 and Orwell admitted at the end that the pub existed only in his imagination.
My experience, several decades later, was somewhat different. Food in pubs was rudimentary: crisps, sausage rolls, curly cheese or ham sandwiches and pickled onions. If you've never encountered a pickled onion, think yourself lucky. When I worked in the newspaper industry in London's Fleet Street, lunchtimes meant food without alcohol in a cafe and then a swift pint of mild or bitter in the Old King Lud in Ludgate Circus. It was a Whitbread pub, but the special vans with hot lunches were a thing of the past.
Scroll forward: as Stephen shows, we are now enjoying a beer and food renaissance. He sets the scene well, taking the reader through the essential raw materials that go into making beer in order to point up the contributions that malt, hops, yeast and water make to the character and flavour of beer and how they interact with food.
He follows this with a sensibly scaled down but comprehensive look at beer styles. He points out, with a hint of exasperation, that when judges gathered at the Great American Beer Festival in 2014 they were confronted by no fewer than 90 beer categories. And that number only scratched the surface, for the Brewers Association, which governs GABF and its beer judging, recognises a grand total of 141 global styles. Stephen points out that that is six times more than the number identified by Michael Jackson when he wrote the World Guide to Beer in 1977. I agree wholeheartedly with Stephen when he says: "While the explosion of beer styles is at least partially understandable given the corresponding growth of craft brewing worldwide over the last 30-40 years, the obsessive need to categorise every beer in the world by style has actually begun to have the opposite effect for which beer styles were originally intended. Instead of informing, they are confounding". Well said, sir!
There's a beautifully illustrated review of food in bars and pubs in such key beer-drinking counties as Britain, Belgium, the Czech Republic, Germany and the United States and then we get to the main course: beer and food pairing today. This includes interviews with leading chefs and bar owners from around the world who evangelise on the joys of beer and the way in which different styles complement the fats, oils, salt, smokiness and other attributes of food. I was delighted to see Sriram Aylur included: he runs the Michelin-starred Quilon restaurant in London where he proves, with his careful yet eclectic range of beers, that curry dishes don't have to be accompanied by Eurofizz. There's also a deserved mention of the work Mitch Adams is carrying out at the Bull in Highgate, North London, where he uses both cask ales and up to 70 global bottled beers to go with the excellent tucker from the kitchen.
The final section is a mouth-watering selection of dishes cooked with beer, chosen by chefs from around the world. The dishes range from starters through main courses to desserts and include such celebrated recipes as Belgium's carbonnades de boeuf à la flamande to blueberry ricotta beignets with stout chocolate sauce.
My only beef – pardon the pun – with this section is that there's little for vegetarians and those who recoil at the thought of eating pig's cheeks – poor old porkers. As the food chain Prêt à Manger is planning to convert several of its stores exclusively to vegetarian and vegan offerings, pub, bar and restaurant chefs will ignore this rolling bandwagon at their peril.
Next time he's in Britain I will be delighted to introduce Stephen to my version of carbonnades à la flamande made with toasted tofu instead of beef. Just bring a bottle.