Review
Belgian guide: now it's the Magnificent 7th
Added: Sunday, May 4th 2014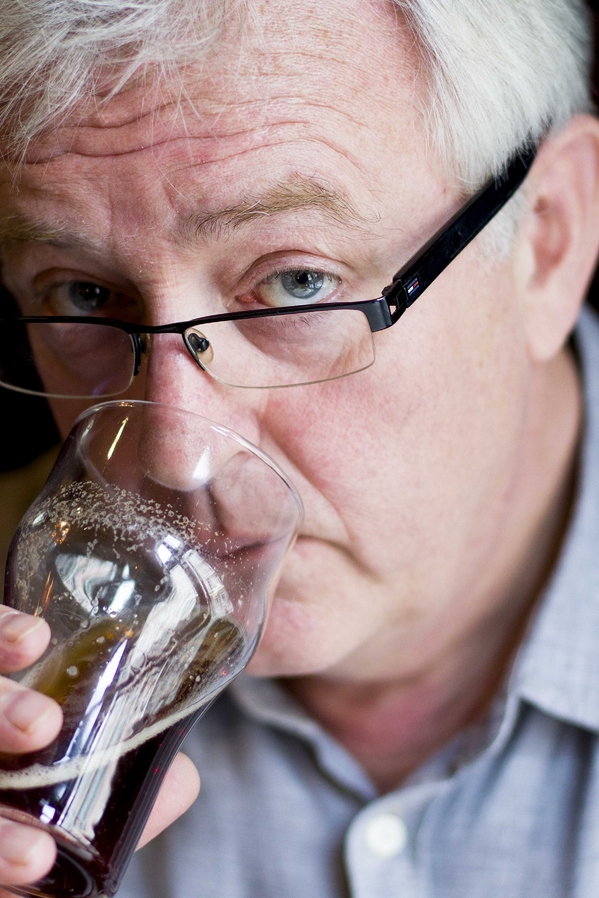 Good Beer Guide Belgium, Tim Webb & Joe Stange (CAMRA Books, £14.99)
This is not so much a guide book as a tour de force. It's the seventh edition and, my, how it's grown. Way back in 1992, it was a monochrome book with a few muddy black and white photos. Now it has a striking design and blossoms with full-colour images. Along the way, it lost the Netherlands, which is a shame, but Belgium is such an amazing and glorious cornucopia of beer that the country deserves a book to itself.
Tim Webb (above), along with the late Michael Jackson, has put Belgian beer on the map. While Michael's aim was to write lyrically about the myriad beers from that small country – and Belgian beer, arguably, is the only thing that binds the benighted nation together – Tim's role was to tell you how to get there, which language to attempt to speak, where to eat but, most importantly, where to find all the glorious beer.
Both Michael's Great Beers of Belgium and Tim's guide were necessities, for the country's traditional beers were in serious decline. Belgians were happy to drink what they calls Pils – lager to you and me – allowing such delights as Trappist ales, Sour Red, Lambic, Gueuze, Saison, strong golden ales and spiced wheat to fall off the radar.
The previous six editions of Good Beer Guide Belgium were all a celebration of the country's beer but the new edition is a cause to pop the cork and shout for joy: a beer made using the Méthode Champenoise would fit the bill. For sales of Belgian beers – call them traditional, craft or artisan, as is your wish – are growing fast and new breweries are opening apace.
With so much to write about, Tim now has a Beer Buddy. Joe Stange (below) is an American journalist who has lived and worked in Belgium for several years. He picked up his knowledge of the country's beer by never leaving home without a copy of Tim's guide and fate has united them.
Joe has the good fortune to have a splendidly apposite name for a beer writer: a Stange is the name Germans give to the straight-sided glass used to serve the traditional beer from Cologne, Kölsch. The guide proves that, fittingly, he's a straight-talking guy.
The chunky 360 pages pack in a directory of all independent breweries with potted histories and notes about each beer. You can tell that the short section devoted to global brewers based in Belgium – AB InBev and Heineken – was ground out between clenched teeth. The message is simple: surrounded by such beery delights, why can't you do better? But why bother with bog-standard Pils when you can sample beers made with passion. The guide details all the styles that abound in both Dutch and French-speaking areas. The long-standing beers have been joined by new versions, including the above-mentioned Champagne beers and even IPAs. The genuine Champagne beers are sent down to France where they are riddled and dégorged. That sounds like a risqué scene from the Game of Thrones but means the bottles are turned every day and then the yeast plug is removed from the neck before it's ready for drinking.
As for IPA, well all God's Children are making them these days. Belgium had no historic connection with India, but when you drink a beer as scintillating as Achouffe's Houblon Dobbelen IPA Triple you will put history to one side as you spend some time working out the title.
Houblon is the French for hop and a special feature by Joe Stange celebrates the arrival of greater hop character, along with imported hops, in Belgian beer. One of the country's best-known exports, Duvel, now has a Triple Hop version, with different hop varieties used in each vintage. The guide thinks the standard Duvel has lost some of its zip but Triple Hop is worth watching and waiting for.
The features at the front of the book are uniformly excellent. Tim Webb writes about the Belgian beer revolution with all the authority he can muster. Stephen Beaumont, the much-travelled Canadian writer, warns the unwary of the taste time bombs you will encounter if you have never visited the country before. Greg Engert, who cooks in the celebrated ChurchKey restaurant in Washington DC, contributes arguably the best piece in the book on which styles of beer are the best match for Belgian cuisine. There's a useful outline of the long and often tragic path that led to the emergence of the independent country in the 19th century and a sad and timely piece on the terrible destruction of Belgian breweries during World War One.
Along with the directory of breweries, the other main section is a region-by-region guide to towns and cities and their best bars and restaurants. A few editions ago, Tim bewailed the poor choice in the country's second city, Antwerp. As I discovered on a recent trip, Antwerp now has a superb range of beer bars and a newish beer shop adjacent to the cathedral with an excellent range.
Belgium just gets better and better where beer is concerned. Did you think you knew everything about Belgian beer? Think again and don't go without the Magnificent Seventh.
One tiny grumble: surely a book from a British publisher should talk about draught beer, not draft. Or does it to signify that it's work in progress?