News
Prize-winning brewery finds new home
Added: Monday, September 25th 2023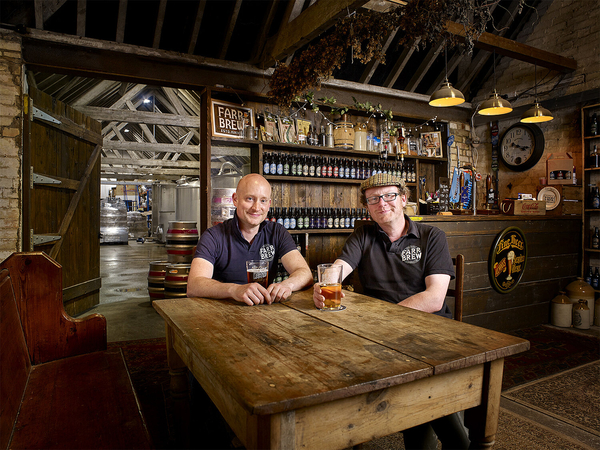 The message from Farr Brew is simple and positive: "We're carrying on brewing". The brewery near Wheathampstead in Hertfordshire is based at Samuels Farm, Coleman Green, but founders Nick Farr and Matt Elvidge (above) were given notice to quit earlier this month by the farmer who needs their buildings for offices and retail sales.
Nick Farr says they have found a new home – once again on a farm close to Redbourn – and they hope to be brewing there by November. The exact location can't be revealed until contracts have been exchanged but Nick can say the farm is owned by Mike Stanbridge.
"The farm is just five minutes' walk from the centre of Redbourn," Nick says, "and we'll have five times more space there than we have at Coleman Green with greater storage space.
"Mike sees the brewery as a route to expand the farm into a visitor hub with a farm shop, glamping and regular beer festivals." Glamping is best described at up-market camping with more comfortable accommodation.
Farr Brew was founded in 2014 by Nick and Matt and expanded to a 10-barrel plant two years later. The brewery won't be enlarged at the new site but Nick plans to increase the number of fermenting vessels from four to six as he plans to grow production and to supply more pubs in the area.
At present Farr Brew run six pubs – several of them leased from Greene King – but Nick plans to expand by selling beer to pubs in Amersham, Aylesbury, Chesham and St Albans.
The Farr Brew pubs are the Reading Rooms in Wheathampstead, the Elephant & Castle at Amwell, the Rising Sun in Slip End, the Red Cow in Harpenden, the Eight Bells in Old Hatfield and – just added – the Bell in Tring, a 400 year-old coaching inn.
The pubs are supplied with Farr's large range of beers overseen by head brewer Jason Moylan. The range includes a number of pale ales – Chief Jester, Perfect Pale, Farr & Away, Farr Apart and Fresh Start -- Our Greatest Golden, Our Best Bitter, Rusty Stag Bitter, stout and porter.
Farr Brew put down sturdy local roots at Coleman Green. It has won praise for its sustainability programme that involves recycling waste. It has planted its own hops and uses local honey for its porter. It has won two awards in the Herts Life competition and won the Green Business Award from the Society of Independent Brewers. The beers have also picked up gold awards in local and national competitions.
Income from its beers has gone to support the Herts and Middlesex Wildlife Trust and the St Albans Museum project. It has also raised money for the Rennie Grove Hospice.
Jason Moylan says the new site will enable Farr Brew to move from being a cottage brewery to a major local producer similar in size to Tring. But the move comes at a price as new flooring and electricity will have to be installed.
In total, Farr Brew employs 110 people in the brewery and the pubs, and Nick Farr is keen to maintain full employment.
"The pubs are thriving," Nick says, "but post Covid we are servicing a lot of debt."
As a result, the brewery has gone down the crowdfunding route to encourage drinkers and supporters to help pay off the debt and invest in the new site.
In total, the brewery needs to raise some £80,000 to meet all the costs of the move.
"It won't be money for nothing," Nick stresses. "Supporters will get rewards such as beer for a year, become brewer for a day and win a growler they can fill with beer once a month."
Growlers are take-away stainless steel containers with flip-top lids, usually containing two litres, designed to keep beer fresh and lively for several days. Other rewards will include clothes such as T-shirts and bobble hats.
Following weeks of uncertainty, Farr Brew looks set for a bright future on a bigger and better site, with a growing number of supporters enjoying a wide range of beers made with the finest natural ingredients.
To support the crowdfund go to: www.farrbrew.com.