News
Festbier celebrates British malt and hops
Added: Thursday, September 21st 2023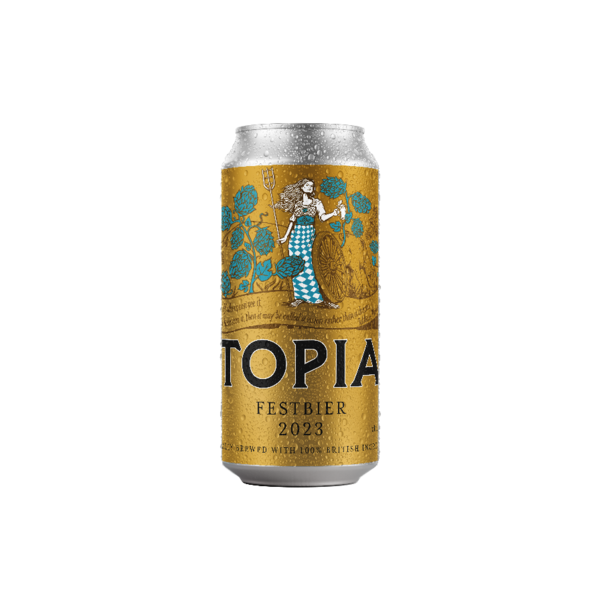 Utopian Brewing, the craft lager brewery based in Devon, has launched its annual Festbier to coincide with the world-famous Munich Oktoberfest.
Managing Director Richard Archer says Festbier (5.5 per cent) "pays homage to classic traditional styles but uses only 100 per cent British-grown ingredients."
The ingredients include English-grown Hersbrucker "noble" hops, a variety that originates in the Bavarian Hallertau.
Head Brewer Jeremy Swainson says: "Hersbrucker is a classic noble hop and has been used to make lager for centuries. It's prized for the subtle aroma it gives to malt-forward lagers."
Festbier is brewed with Utopian's house lager malt and is hopped with English East Kent Goldings and First Gold hops. Whole cone Hersbrucker are added as a late addition hop.
A classic double decoction mashing regime is used. This involves heating the mash of malt and water, pumping a portion of the mash to a second vessel where the heat is increased. The mash is then returned to the first vessel where it raises the temperature of the whole mash. This ensures that all the starch in the grain is converted to maltose or fermentable sugar.
Double decoction developed in Europe to cope with malts that were less "modified" than ale malts. Modification refers to the progress made as starch turns to sugar.
The English version of Hersbrucker is grown by Tom Probert in Herefordshire and, says Richard Archer, is an example of how British growers are pushing the boundaries with their range of hops.
Richard adds: "Using only British-grown ingredients reduces food miles and our carbon footprint. There's a window to try to redress the reduction in UK hops acreage and we will continue to bang the drum to reverse that trend."
Utopian has also brewed a Green Hop Pilsner – using hops taken straight from the harvest – with Eddie Gadd at the Ramsgate Brewery.
Utopian Festbier has a toasted malt and lemon fruit aroma with delicate floral hops. Lemon fruit grows on the palate with bitter hops and biscuit malt. The finish is bittersweet with tart fruit, toasted malt and spicy hops.
▪www.utopianbrewing.com