News
Anchor's away: an American icon closes
Added: Thursday, July 13th 2023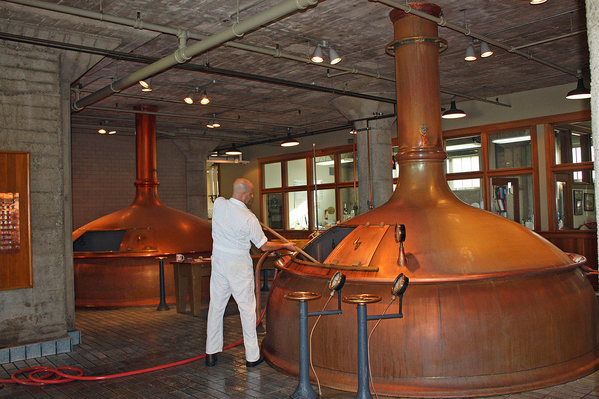 The Anchor Brewery in San Francisco that helped kick-start the American beer revolution is being closed down by its Japanese owner, Sapporo. Anchor's famous Steam Beer restored a unique style to California and its success encouraged the launch of many new small craft breweries.
Sapporo, one of Japan's major breweries, blames falling sales and lack of profits as a result of the Covid pandemic. It also says rising crime in the city makes trading difficult.
Steam Beer, also known as California Common Beer, dates from the 1890s during the Gold Rush. Prospectors poured into San Francisco and demanded the new lager beer they'd found on the East Coast. There was no refrigeration available and brewers, keen to meet the demand, obtained lager yeast and used it to produce beer but at an ale temperature.
There are two theories for the name steam beer. One is that the beer was left to cool on brewery roofs and passers-by could see steam rising from cooling trays. The second is that when kegs were tapped in bars they let off such a hiss of carbonation that drinkers said it sound like a steam train.
By the 1960s only one steam brewery was left in San Francisco, Fritz Maytag (below), a student at Stanford University in the 1960s, heard the Anchor Brewery was broke and due to close. He cashed in his shares in the family washing machine company and bought it 1965.
Maytag nursed the brewery back to profitability. He immersed himself in the science and history of brewing and came to Britain where he saw ale being produced at Young's, Timothy Taylor and Marston's.
In San Francisco he built a new brewery (above) using German equipment. He developed a range of beers that included Liberty Ale, inspired by his trip to Britain, Porter, Wheat Beer, Old Foghorn barley wine and Our Special Ale brewed annually for Thanksgiving and Christmas.
The production of Steam Beer (5%) is kept well away from the other beers to avoid cross-fertilisation of yeast strains. Fermentation takes place in open vessels just two feet deep, using lager yeast but at a warm temperature of between 16 to 22 degrees C. The grist is a blend of pale and crystal malts with no added sugars. The single hop is Northern Brewer, which is added three times during the boil in the kettle. Following fermentation, the green beer is warm conditioned for three weeks and is then kräusened, which means some partially fermented wort or sugary extract is added to encourage a strong second fermentation. It's a complex bronze-coloured beer with a rich nutty and malty aroma, with malt and light fruit in the mouth and a finish where the hops slowly dominate.
Fritz Maytag's research into the history of brewing led to Ninkasi Beer, a recreation of the type of beer produced in the Old World of Babylonia and Sumeria 3,000 years BC, where Ninkasi was worshipped as the goddess of brewing.
Maytag used the research carried out at the University of Pennsylvania by Dr Solomon Katz to fashion a beer made from bread. He hired a bakery in San Francisco and made small bappir loaves that were cut into strips and then blended with malted barley in the mash tun at the brewery.
No hops were used as they were not named in the ancient recipes. But Maytag learned that both dates and honey were added to the mash in the Old World. The finished beer was 5 per cent alcohol and had an orange-red colour. The dates and honey were apparent on the aroma and palate and gave the beer a slightly sweet but also spicy character. It was, most importantly, very refreshing.
Maytag's main work of producing top quality beers that challenged the hegemony of such thin lagers as Budweiser made him a hero among the American brewing fraternity.
In 2010, nearing his 80s, Maytag sold the brewery to the Griffin Group, an investment and consultancy company that specialises in building brands of alcohol. Griffin sold the business in 2017 to Sapporo for $85 million.
The Japanese brewer, with its world-wide sales, should have sufficient funds to steer Anchor through its current difficulties but it has chosen instead to close an icon of American brewing.