News
Thornbridge goes big on bottles
Added: Friday, June 16th 2023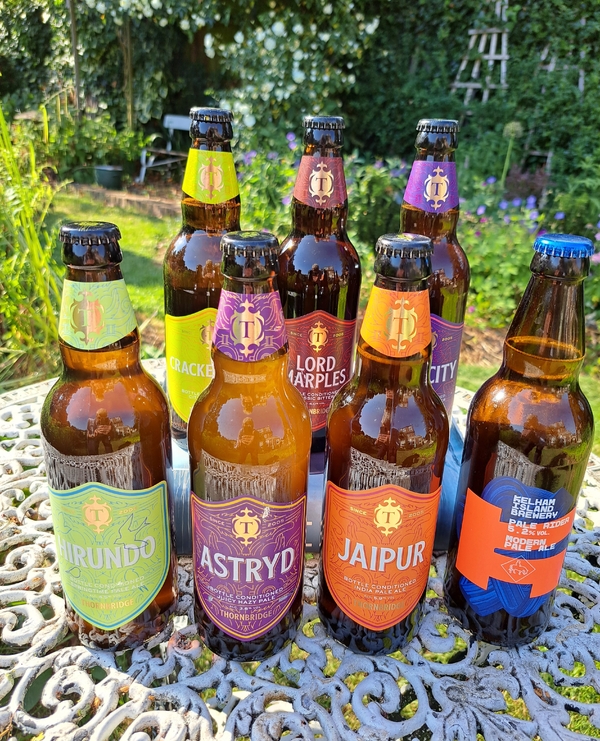 Thornbridge Brewery in Derbyshire, famous for its multi-award-winning Jaipur IPA, is launching a range of "fresh live" bottled beers. The brewery is keen to rejuvenate the declining demand for bottle-conditioned beers that contain live yeast and will improve with age.
The first batch includes seven regular beers but the range will expand to include seasonal ales. The first seven are beers that already have a national presence in cask form.
"The premium bottled ale category is in double digit decline but Thornbridge has never shied away from bucking a trend," chief executive Simon Webster says. "We see a huge opportunity to re-invigorate a stale category that is crying out to have new brands and innovation.
"The category is still bigger than craft beer but it needs refreshing to stop the decline."
Brewery Director Rob Lovatt adds: "We wanted to try to replicate as closely as possible a pint of cask ale in the pub. After many trials we have successfully re-seeded our beer with live yeast to allow an element of bottle conditioning to produce a finer, smoother carbonation without the build-up of hop matter and yeast associated with bottle-conditioned beers of yesteryear."
Sales and Marketing Director Dom Metcalfe says: "We are showing double digit growth with cask ale in the on-trade and we think we can make a huge and positive impact on Premium Bottled Ales.
"We will lead with Jaipur but we will also include our staple cask brands, including Lord Marples, Astryd and Crackendale."
The beers will be on sale in branches of Asda, Booths and Waitrose. Thornbridge is also discussing potential sales with Sainsbury's and Tesco.
▪The seven beers include Kelham Island Pale Rider, a former Champion Beer of Britain in cask form. The Kelham Island Brewery in Sheffield closed in 2022 but has reopened with investment from local beer lovers, including Jim Harrison and Simon Webster at Thornbridge.