News
Wilts family brewer chalks up 180 years
Added: Friday, February 3rd 2023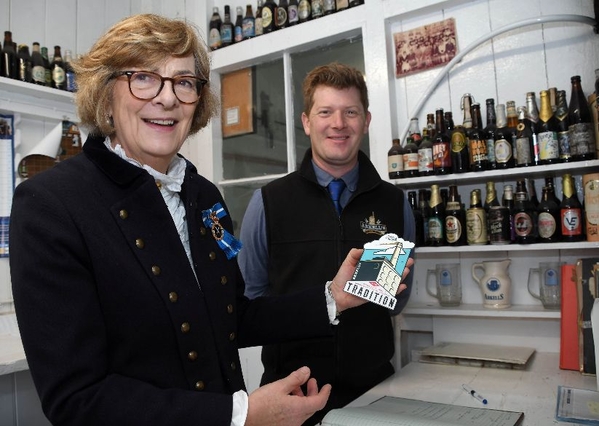 Arkell's Brewery is celebrating a special anniversary; 180 years of continual brewing at the original site founded by John Arkell in 1843.  The family brewery is one of the UK's last remaining fully operational Victorian tower steam breweries and is situated in Kingsdown, Swindon. 
Arkell's is marking the 180th anniversary with a number of activities throughout the year, but  kicked off the celebrating by inviting the High Sheriff of Wiltshire, Fiona Shelburne, the Marchioness of Lansdowne, into the old brewhouse to help them brew a brand new celebratory beer. (Pictured above with head brewer Alex Arkell: picture by Richard Wintle.)
Alex Arkell, sixth generation of the Arkell family, took the sheriff on a tour of the town's oldest surviving business and gave an overview of the traditional brewing methods put in place by his ancestors that are still used to this day.  The sheriff helped mash in, an important first step in the brewing process, setting underway the new celebratory brew – 'Tradition' 3.4% ABV.
Alex said: "We put together a recipe blending some old and new ideas. The beer is an easy drinking deep red session beer with a warming fruit biscuity base, this comes from using tye which was often used in our old brew books. We've then rounded this off with a hop aroma of mango and peach which I don't think you'd have seen much of 180 years ago. A perfect blend of old and new!" 
The beer is available on cask in participating Arkell's venues from Tuesday 7 February.
Following the brewhouse tour the High Sheriff of Wiltshire unveiled a commemorative plaque.   Managing Director George Arkell said, "It is an honour to have this visit from the High Sheriff and share with her the great heritage of our family brewery.  We are extremely proud of both our family history and our traditional methods of brewing.  On to the next 180years! "
The visit concluded in the Arkell's Grape & Grain Wine & Brewery Warehouse where the High Sheriff met members of staff and viewed the archive centre on the upper floor.  The Grape & Grain was opened to the public five years ago by The Queen Consort, formerly the Duchess of Cornwall.
A selection of special activities are planned for 2023 during the breweries 180th year. These include an ale trail competition around Arkell's pubs, weekly brewery tours for the public starting in February, and a Big Birthday Bash in September with live music and many beers to sample.