News
Farriers Arms: CAMRA icon for sale
Added: Wednesday, December 8th 2021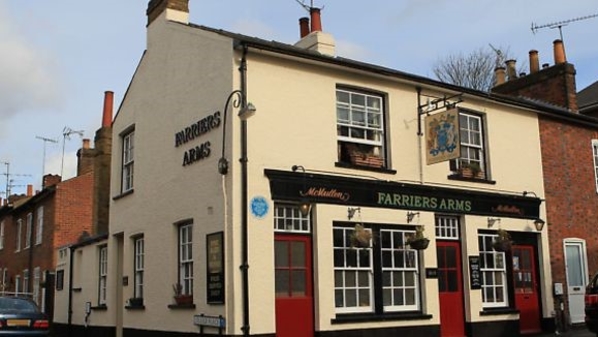 CAMRA members in St Albans are leading a campaign to save a local pub described as "a national treasure". The Farriers Arms in Lower Dagnall Street carries a plaque saying the first branch of the Campaign was formed there in November 1972.
The pub was owned by Hertford family brewer McMullen but it was sold to the sitting tenants, Tony and Jannine Passmore, in 2013. The Passmores now want to retire and have put the pub on the market with Rightmove for £725,000. The fear is that the pub could be bought and turned into private housing.
The Farriers has played a key role in the revival of cask beer in the area. In 1972, when the CAMRA branch was formed, only around 90 pubs in the whole county served real ale. Today 85 per cent or more of Hertfordshire pubs offer cask beer and they draw their inspiration from the Farriers that sold impeccable pints of McMullen's AK and Country Bitter.
Iain Loe, chair of the South Herts branch, says: "The Farriers is not only the place where the earliest extant branch of CAMRA was formed but is also a true community pub serving local residents and visitors alike. I know of people who bought their house in Lower Dagnall Street because it was close to the Farriers.
"It's a true national treasure and the epitome of a British pub and it must continue to serve as a pub."
Liberal Democrat councillor Jacquie Taylor says she will start moves to obtain Asset of Community Value for the Farriers. An ACV is a local authority listing that brings in a cooling-off period, allowing other parties to bid for the property.
It's hoped that an independent brewer or small pub company might be interested in buying the pub. There are also suggestions it could be bought by local people and run as a community pub.