News
River Cottage & Stroud join forces with organic beers including nettles and hemp
Added: Tuesday, July 27th 2021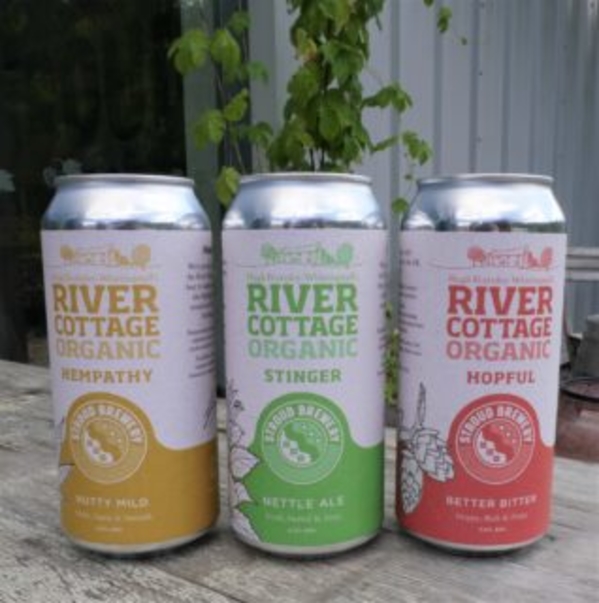 Stroud Brewery has joined forces with TV chef Hugh Fearnley-Whittingstall of River Cottage to produce three organic beers that support his campaign for ethically produced organic food.
The brewery, founded in 2006 by keen environmentalist Greg Pilley in Stroud, Gloucestershire, makes organic beers with Greg working closely with farmers and growers to use malts and hops that don't damage the land with chemicals and fertilisers. He shares Hugh Fearnley-Whittingstall's determination to bring people closer to the source of their food and drink, and to see how food production impacts on the environment.
In return, Hugh, who created River Cottage in 1999 to grow and produce fine food, has long been a fan of Stroud Brewery and its beers. He sees the Cotswolds brewery as a natural partner for the #FoodToInspireChange product range he has created to spotlight organic and ethically sourced food and drink.
The three beers have been brewed to highlight the importance of hops to brewing and beer flavour. They also promote a three-year project initiated by Stroud Brewery through the Innovative Farmers programme. The project aims to trial disease resistant hop varieties that will enable the British brewing industry to use ingredients that are less harmful to the environment.
The project brings together two organic hop growers with researchers at the Organic Research Centre in partnership with River Cottage and leading hop merchant Charles Faram.
"British grown organic hops are very difficult to get hold of and the challenge of growing them is the largest barrier to increasing production of organic beer," Greg Pilley says. "We're aiming to identify varieties farmers can grow more confidently. As a brewer I'd like to have regular supplies of British organic hops. There's a huge variety of flavours to tap into, which could help British brewers create more distinctive products."
The three beers, all branded River Cottage, are Hopful, Stinger and Hempathy. Hopful is a traditional bitter while Stinger has an addition of organic nettles and Hempathy has hemp flour: both nettles and hemp are members of the same plant family as the hop.
"Brewing and drinking beer is one of the stitches in our cultural fabric," Hugh Fearnley-Whittingstall says, "and we are much enjoying our collaboration with the brilliant team at Stroud Brewery.
"We hope and expect to see growing interest in sustainably produced beers that support UK farming and livelihoods, biodiversity, wildlife and good agricultural practice – these new beers will give drinkers the chance to choose organic and British and to be part of this mission."
Hopful (5%) is made with Warminster pale, crystal, chocolate and wheat malts and hopped with Merlin and CF257. CF257 is a new organic hop undergoing trials with Charles Faram. It has a deep bronze colour with cobnuts, marzipan and chocolate on the aroma along with biscuit malt and floral hops. Biscuit malt dominates the palate but with a good balance of spicy hops, chocolate and tart fruit. The long, dry finish has notes of floral and spicy hops, chocolate, nuts and rich malt.
Stinger (4.2%) is brewed with Munton's ale malt, Warminster Munich malt, flaked oats and lager malt, along with nettles. The hops are Merlin and Sovereign. It has a gold colour with herbal and spicy hops on the nose with hints of camomile and vinous fruit and a strong presence of honey malt. Herbal and spicy hops dominate the palate with citrus fruit notes and honey malt. The bittersweet finish becomes dry in the finale with continuing notes of herbal and spicy hops.
Hempathy (4.5%) is made with Warminster pale ale malt, wheat, crystal and chocolate malts with hemp flour. The hops are CF257, Merlin and Sovereign. It has a bronze colour with an earthy aroma with peppery hops, hints of nougat and wholemeal biscuits. The rich palate has biscuit malt, peppery hops and sultana fruit followed by a bittersweet finish with notes of bready malt, peppery hops and sultana fruit.
The beers are available from all good retailers and online from www.stroudbrewery.co.uk
River Cottage: www.rivercottage.net
•Innovative Farmers is a not-for-profit network that brings farmers and growers together with researchers and funders to facilitate ground-level innovation. Since the network was established in 2012, more than 1,000 farmers have taken part in field labs covering more than 40 topics. The Innovative Farming Network is funded by the Prince of Wales's Charitable Fund. www.innovativefarmers.org