News
Battle royal to save Art Deco gem
Added: Monday, June 21st 2021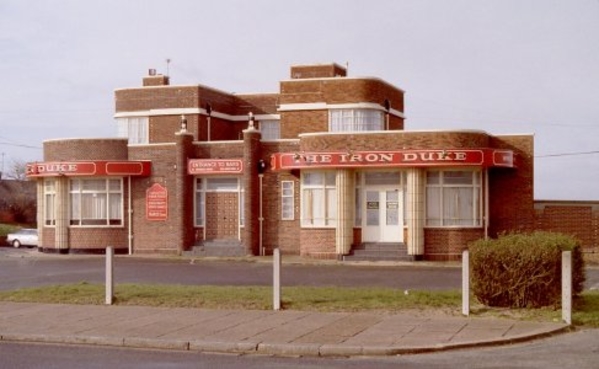 The future of a historic Art Deco pub in Great Yarmouth, Norfolk, is in doubt as supporters of the Iron Duke dispute its future with local politicians.
The pub, on Jellicoe Road overlooking the sea, was designed by leading architect Arthur Ecclestone in the 1930s and finished a decade later, with work suspended during World War Two, although members of the armed forces were allowed to use it during the war. It was owned by local brewer Lacons. 
The pub, with bars made of teak from a World War One battleship HMS Iron Duke, commanded by Admiral Jellicoe, was closed for 15 years. It was owned by Bourne Leisure, who refused to either sell or re-open it. Bourne Leisure also owns Butlins and Warne Leisure. The claim by some local politicians that the Iron Duke wasn't viable as a pub is countered by the simple fact that Bourne Leisure didn't want the pub to compete with the bars on its holiday camp site next door. The holiday camp is now closed.
A group of local people who love the pub, with its unique Art Deco features, formed Friends of the Iron Duke and succeeded in winning Grade II-listed status for the building in 2017.
The listing prevented Bourne Leisure from demolishing the building. It sold the pub for £110,000 to Great Yarmouth Preservation Trust, which says a further £600,000 will be needed to repair the building, which has been vandalised in recent years.
The trust works closely with the local council that lends them money to buy and renovate buildings. The chairman of the trust is Councillor Bernard Williamson who has hired David Clark Associates to research the future use of the site – not necessarily as a pub. The trust is considering turning the site into a "viewing station" and entertainment space even though two experienced publicans have approached the trust with the aim of running the Iron Duke as a pub again.
Friends of the Iron Duke say plans to turn it into a viewing station are "bizarre" and with Bourne's holiday camp closed the pub could be viable and popular.  The Friends claim Councillor Williamson want to impose a 20-year lease on the building but they say nobody would take on a business with such a long lease.
They add that Historic England doesn't act if a building is Grade II rather than Grade I and it leaves its future to the local council.
www.friendsoftheironduke.co.uk