News
Beer and whisky unite on Islay
Added: Monday, April 19th 2021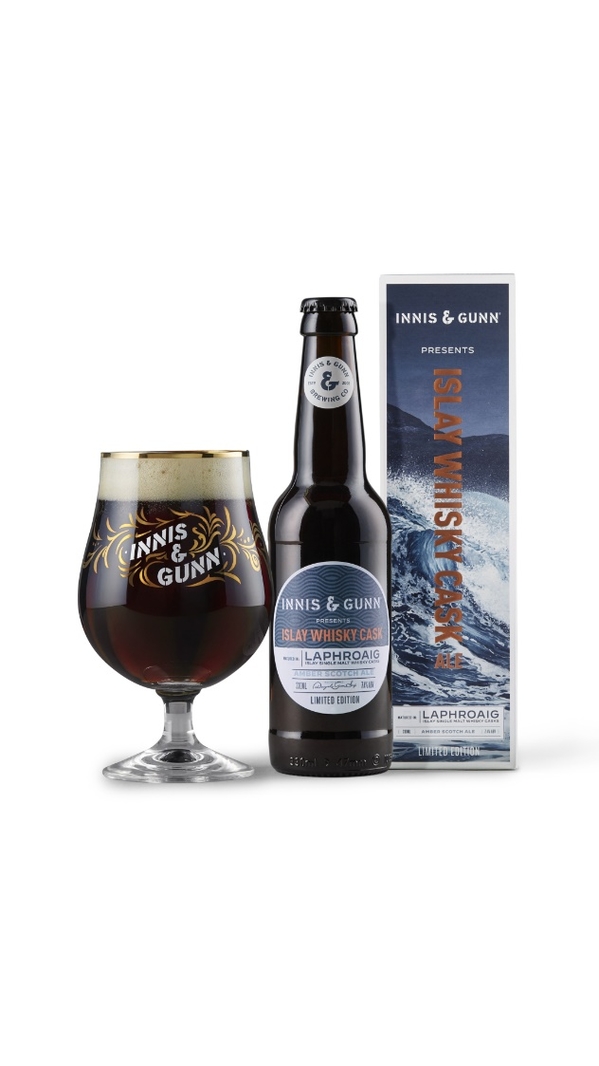 Scottish brewer Innis & Gunn has teamed up with the renowned whisky maker Laphroaig to launch Islay Whisky Beer, a limited edition beer that will not be repeated when the batch sells out: 3,400 bottles have been produced.
The beer is 7.4 per cent and has aged in Laphroaig 10 year-old casks. Whisky Cask beer rested in cask for 12 weeks and has picked up the single malt whisky's renowned complex flavours of peat smoke and brine, with hints of vanilla and floral notes.
Each bottle comes in a striking gift box created with Scottish artist Hope Blamire, who was commissioned to create artwork that evoked the atmosphere of Islay. The crashing waves, salt spray and brooding skies depicted with bold colours provide the perfect backdrop to the beer in the box.
Dougal Gunn Sharp, founder of Innis & Gunn, says: "Islay Whisky Cask truly evokes the island that inspires both our beer and the iconic Laphroaig. The rich, peated earth and Islay terroir infuse the whisky with its distinctive, complex flavours and it's these we sought to capture in this limited-edition brew.
"The result is evident even before you take the first sip. As you open the bottle, you're welcomed with the distinctly peaty, complex aroma that defines Laphroaig."
Dougal Sharp adds: "Working with Hope Blamire completes a strong trio of raw Scottish craftsmanship. Her painting beautifully captures the rugged, dramatic beauty of Islay and the resulting packaging shows drinkers they are in for something special."
Tasting note: Smoke, oak, peat, iodine, sea salt, vanilla and roasted grain aroma. Roasted malt, spicy hops and warming whisky dominate the palate with notes of vanilla, caramel, oak and peat. The bittersweet finish offers roasted grain, oak, whisky, spicy hops and vanilla.
Innis & Gunn Islay Whisky Cask is available in330ml bottles from the I&G online shop. £6.96 per bottle. https://www.innisandgunn.com/shop-landing
Hurry – when it's gone, it's gone.