News
Oktoberfest classic -- from South London
Added: Tuesday, October 13th 2020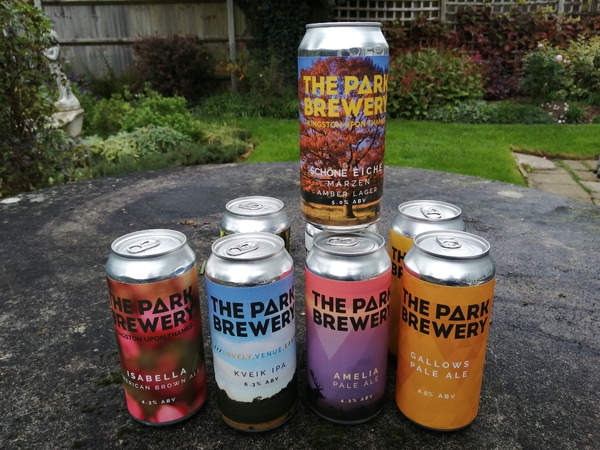 The Munich Oktoberfest, the world's most famous beer jamboree, has been cancelled this year, a victim of the pandemic. So it's been a great pleasure to receive from the Park Brewery in London their interpretation of the beer historically brewed for Oktoberfest – Märzen.
Historic is important in this context for the Munich brewers have replaced it with a lighter coloured Festbier and the future of Märzen in Munich is in doubt, so it's good to have an example brewed in Kingston upon Thames.
Centuries ago, Munich brewers produced a strong beer in March – März in German – that was then stored or lagered until October. This was the result of a local law that banned brewing in the late spring and summer as, prior to the invention of refrigeration, heat and wild yeasts turned beer sour.
Märzen took on an added significance in 1810 when a festival was held in a large open area in Munich to celebrate the marriage of the Crown Prince of Bavaria. The meadow was dubbed the Theresienweise or Theresa's Meadow after the royal bride. Casks of March beer were broached at the event and it became a special treat every year at the Oktoberfest that marked the royal marriage.
At first the beers were dark brown in colour but the innovative Munich brewers Gabriel and Josef Sedlmayr worked closely with the Viennese brewer Anton Dreher. All three were developing cold-fermented beers as ice machines became available and it was possible to store or lager beer in brewery cellars rather than caves in the Alps. While the first commercial lagers in Munich were dark, Dreher created a malt that produced a beer with an amber or orange colour and was dubbed Vienna Red.
Josef Sedlmayr studied Dreher's technique and produced an amber beer that became the benchmark for the Märzen style. It's a beer with a nutty/malty aroma and flavour, balanced by the floral notes of the 'noble hops' grown in the Hallertau district close to Munich. Sadly, true Märzen beers are now hard to find in Munich. They have been replaced at the Oktoberfest by Festbiers, lighter in colour and more in keeping with the pale lagers demanded by many drinkers. Spaten, the biggest Munich brewer, still lists its version of Märzen on its website but it's hard to find. If you are in the Bavarian capital, check out the famous Hofbräuhaus on the Platzl square, the brewpub once owned by the royal family: the name means Royal Court Brewery. It's now owned by the state and brewing is off-site but the 5.7 per cent Märzen, if available, is a delight.
You're on surer ground with Park Brewery, founded in 2014 by Josh and Frankie Kearns. Their Märzen is up and running and available from the brewery. Josh was a keen home brewer and his wife Frankie went commercial in a small plant close to Richmond Park and they were sufficiently successful to raise enough investment in 2018 to open a new 15-barrel site in Kingston upon Thames.
But their roots and hearts are still in Richmond and they take inspiration from the park for several of their beers. Their Märzen is called Schöne Eiche – Beautiful Oak. The 5 per cent beer is brewed meticulously to style by head brewer Phil Banks, who is a great fan of German beer. The grains are pale, Munich and Vienna malts with Magnum and Tettnang hops. It has a pale bronze colour with a superb aroma of freshly-baked bread and floral and minty hops. The palate is bittersweet, with a fine balance of juicy malt and spicy hops, followed by a dry, quenching, malty/hoppy finish.
Other Park beers include Phantom (4 per cent), based on the Kölsch style from Cologne, and Tread Lightly Pale Ale (3.4 per cent). The pale ale is brewed in support of the Friends of Richmond Park and their Tread Lightly campaign to conserve the area: the campaign includes a film made by Sir David Attenborough. The hops come from a garden in Epsom.
For now, before October disappears, rush to lay in some stocks of their Märzen. Prosit!