News
Top awards for rural pub saved by locals
Added: Thursday, February 13th 2020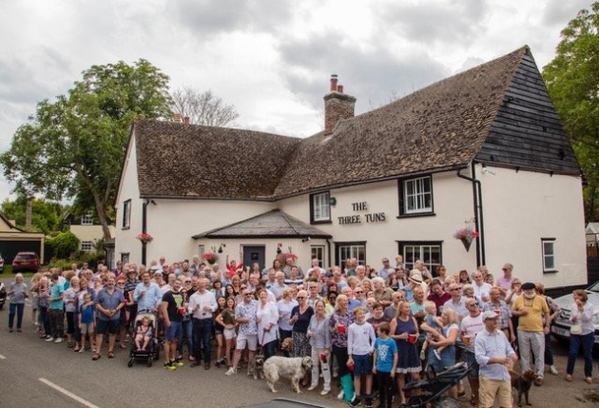 A country pub saved from developers by the local community has won major awards from CAMRA just a few months after it reopened.
The Three Tuns in Guilden Morden near Royston on the Cambridgeshire-Hertfordshire border was put up for sale by Greene King. The brewery sought planning permission to sell to developers who wanted to turn the pub into private housing.
But the villagers were determined to hang on to their local pub. It stayed shut for six years while the villagers obtained an Asset of Community Value (ACV) listing from the local authority. An ACV freezes the sale or closure of a pub and it gave the locals time to raise money to buy the Three Tuns.
Some 267 investors raised £250,000 and they won further investment from the Plunkett Foundation and Co-operative Community Finance. The villagers won their battle in 2018 and then set about renovating the 17th-century inn, with a wealth of beams and settles.
They installed modern accommodation and hired two experienced managers, Megan and Peter Friskey. Megan had previously worked as a pub manager while Peter is a chef with a reputation for modern yet traditional pub food.
The Three Tuns reopened in June 2019 and since then it has won a national Pub Saving award from CAMRA and the Most Improved Rural Pub Award 2019 from the local campaign branch.
The Three Tuns has a cosy bar and a spacious dining room. The cask beers are Adnams Ghost Ship and Southwold Bitter with one rotating guest beer such as Milton Brewery Pegasus.
Food is served lunchtime and evening with traditional fare backed by daily specials. Specialist sausages, including vegetarian, are supplied by a butcher in Royston, and the main dishes are imaginative with a variety of fresh vegetables.
Megan and Peter run a series of special events to attract both locals and visitors to an ancient village that was mentioned in the Domesday Book and is sited close to the junction of the ancient Icknield Way and Roman Ermine Street.
Events include cheese sampling, a pudding club – Peter Friskey specialises in making puddings – and coffee mornings.
There is a half-acre of land behind the pub, which was a major attraction to the developers. This will be turned into a large garden that will be a further attraction for visitors, especially those with families.
•Photo, courtesy Royston Crow, shows villagers celebrating the re-opening of the pub.