News
Cornwall mourns a champion brewer
Added: Friday, January 31st 2020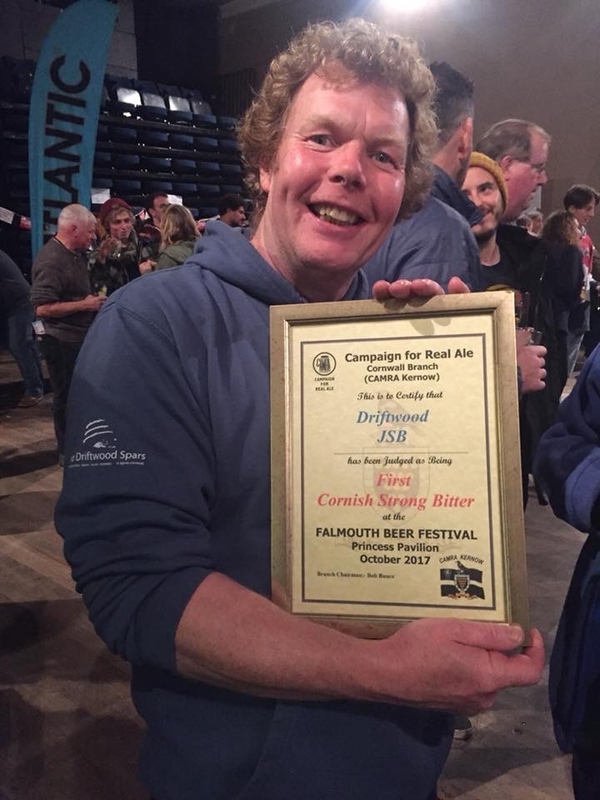 Press statement from the Cornish branches of CAMRA:-Award-winning brewer Peter Martin (56) of the Driftwood Spars Brewery, St Agnes, Cornwall, passed away after a brief illness on 10 January. Not only is this a major loss to brewing in Cornwall, but also nationally, as Peter had gained so much recognition for brewing award-winning beers both during his time at the Driftwood Spars and also Bath Tub Brewery where he initially started his commercial brewing career in tiny premises at the rear of the Seven Stars pub in Stithians.
In the spring of 2012 his Driftwood Spars beer, Alfie's Revenge, was judged to be the Champion Winter Beer of Britain at the Campaign for Real Ale's (CAMRA) Winter Ale Festival in Manchester.
Both before and after winning this top accolade Peter collected gold, silver or bronze awards for many of his other beers at CAMRA festivals in both Cornwall and throughout the country. Additionally Driftwood Spars beers picked up awards from the Society of Independent Brewers (SIBA), particularly at the SIBA South West annual beer festival held each year at Tucker's Maltings in Newton Abbot. In recognition of his brewing and festival organising skills he was appointed to the national executive of SIBA a few years ago.
Peter Martin moved to Cornwall in 2000, leaving his old career in computers to move into a property on the edge of Four Lanes. There he could concentrate on his skills in wood and stone carving, at which he excelled and received commissions for his work from the Eden Project, National Trust and Cornwall Council. He later learned from a pub landlord in the village that his old friend and ex-Cheltenham neighbour Phil Preen was also living nearby, running the Seven Stars Inn in Stithians. He made contact and subsequently confided in Phil that his dream was to brew a special beer to celebrate his forthcoming 40th birthday, whereupon Phil announced that he was toying with the idea of establishing a micro-brewery at the back of the pub -- and Pete's new career in brewing was born.
Phil set him up with a small brewing plant in the shed at the back of the pub, and invited him to be its head brewer.  As it was only of 50 litres capacity (88 pints), just enough to fill one standard pub cask, they decided to dub it Bathtub Brewery, and operations started in 2004 (in comparison, St Austell Brewery currently produces 43 million pints a year). Three beers were developed and brewed in rotation for sale through the pub's single handpump.  Pete insisted it wasn't a microbrewery -- "more of a nano-brewery", he was fond of saying. No one was more surprised than Pete when at the 2006 CAMRA Kernow festival in Falmouth he walked off with the award of Beer of the Festrival for Pete's Porter, a dark sweetish brew at 5 per cent. He won in a blind tasting competition in which all the 150 beers at the festival were sampled by a big team of judges.
In 2007 Phil Preen sold the Seven Stars and Bathtub Brewery was no more; Pete returned to his other occupation of stone carving to order.  But then he met Louise Treseder at the St Austell Brewery Beer Festival. She had recently taken over the Driftwood Spars in St Agnes and had inherited the brewery there.  Pete was a brewer without a brewery, Lou owned a brewery without a brewer, and events took their inevitable course.
Roger Protz adds:-I met Peter Martin several times, twice at Driftwood Spars where Louise Treseder had invited me to give talks and beer tastings. Pete show me round his small brewery across the road from the lovely old Cornish inn. I bumped in to Pete and Lou at a number of beer festivals, notably the 2012 CAMRA winter beer festival where, to their astonishment and delight, they won the top award for Alfie's Revenge.
Pete was simply a lovely man, warm-hearted, generous and a fine brewer.