News
Kiwi influence for new Fuller's Vintage
Added: Friday, November 8th 2019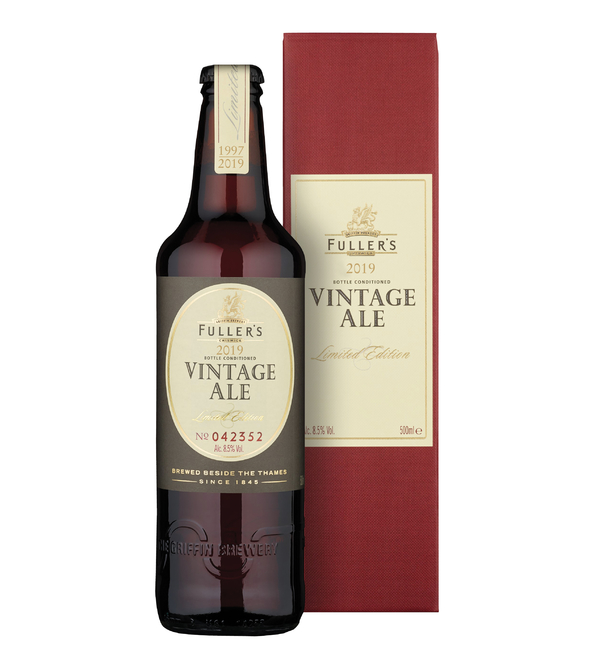 Concerns that Asahi, the new owners of Fuller's Brewery, might phase out specialist beers can be put aside for the moment. Vintage Ale 2019 is now available and it will delight beer connoisseurs who await each vintage with the keenness of wine lovers awaiting the new Bordeaux.
Vintage Ale was first brewed in 1997 and is based on Fuller's Golden Pride barley wine, which is a pasteurised bottled barley wine.  Vintage comes from the same mash but is conditioned in the brewery for a month, then filtered and re-seeded with fresh yeast. Some 50,000 bottles are produced every year.
Fuller's Vintage Ale, 8.5 per cent, is different to other vintage beers as the recipe changes every year, with different malts and hops used. The 2019 edition has a powerful Kiwi influence with Wai-Iti hops and a version of crystal malt from grain grown on the Canterbury Plains. Both hops and grain come from the South Island.
The hops deliver mandarin, lemon and lime notes to the beer while the crystal malt gives notes of toasted bread and honey. Fuller's yeast culture pitches in with an additional note of orange fruit. There's also a delicious hint of marzipan that brings a Christmas appeal to the beer. https://shop.fullers.co.uk/collections/limited-editions