News
You'll purr with pleasure over Old Tom
Added: Sunday, November 3rd 2019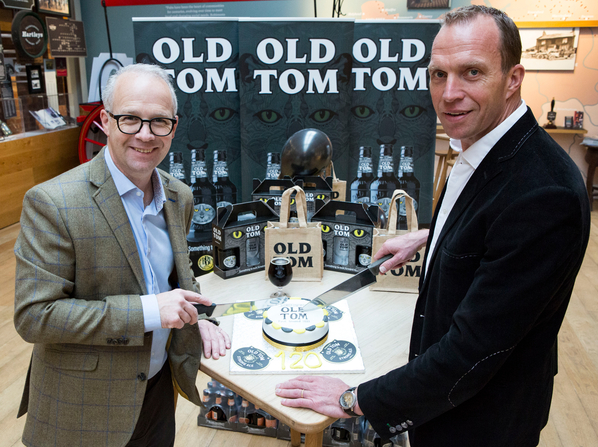 Cheshire family brewers Robinsons of Stockport have launched a new version of their legendary, 120 year-old barley wine Old Tom in keg form. The launch will be backed by a week of celebrations at the brewery where Old Tom fans will be invited to compare and assess the merits of cask, bottle and keg side by side.
Robinson's visitor centre will have an Old Tom themed menu and there will also be daily brewery tours where visitors can uncover the science behind the beer. Tours will be followed by tastings at the bar with half pints of Old Tom on sale for just £1.20.
And at the end of November one lucky Old Tom drinker will win a case of 120 bottles.
Robinson's managing director Oliver Robinson (pictured above right with fellow MD William Robinson cutting an Old Tom cake) says: "Old Tom is ingrained in our heritage. It's been in the family since 1899 and it's still brewed to the same recipe. Over the past 120 years, Old Tom has won more gold medals than any other British beer.
"The beer has a loyal following in cask and bottle but we want to make it more accessible. The new keg version is brewed to the same recipe and 8.5 per cent strength but it does taste different.
"While the original is a warming beer to be sipped and savoured, Old Tom in keg is smoother, dispensed using CO2 and designed to be chilled. This gives an extra level of refreshment and flavour."
Old Tom in cask and keg will be available in selected Robinson's pubs. Bottles will be on sale in selected branches of Sainsbury, Tesco, Asda, Morrisons, Waitrose, Booths and Co-op in the North West.