News
New-look Batemans has plenty of bottle
Added: Friday, October 18th 2019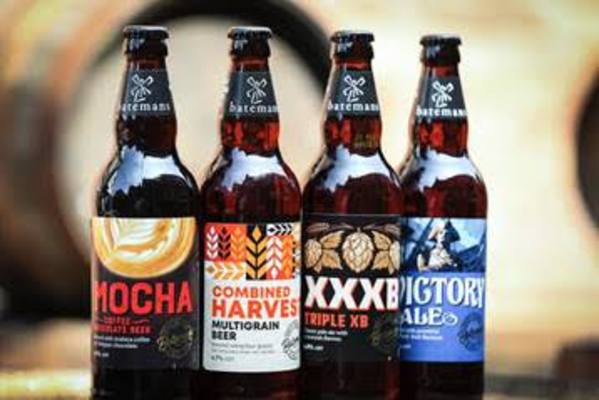 Independent family brewer Batemans of Wainfleet, Lincolnshire, has given its best-selling bottled ales a facelift to connect with today's better informed breed of supermarket shoppers and to boost sales. 
Mocha, XXXB, Victory and Combined Harvest have all been given a revamp to bring the beers  up to date with modern demand and tastes. 
The wavy labels and more traditional typography and images and dark colours have been replaced with square edges, contemporary lettering, bright colours and bold shapes while the company branding on the neck of the bottles carries Bateman's modern new logo. 
Managing director Stuart Bateman says: "As part of our commitment to innovation we're brewing new beers for the modern palate on a regular basis and we want this to be reflected not only by the way they taste but also the way they look. 
Batemans has been a major player in the off-trade bottled beer scene for more than 20 years. While  the brewery has built a loyal off-trade following it recognises there is a need to attract younger drinkers who are being drawn to beer through their pub experience of modern craft beer. They are also starting to realise that in the off-trade there is real crafted quality and value to be had in bottled ales. 
According to research carried out by Marston's, 34 per cent of ale shoppers are motivated by attractive labelling to try new or different ales and 60 per cent of ale drinkers are "experimenters" who are willing to sample new ales and craft beer. 
Stuart adds: "On one hand modern craft beer is growing in popularity and consumers are better informed but on the other there's increased saturation and competition to contend with. The challenge for brewers is getting younger drinkers' attention in the first instance by producing bottled ales that look and taste great. Fortunately, we've had almost 150 years' experience of anticipating and evolving with consumer demand and using our creativity and gritty determination to continue to serve up excellent ales on all levels."  
About the four rebranded beers
Mocha (6% ABV)
A coffee and chocolate stout, Mocha is brewed with genuine Arabica coffee, fine Belgian chocolate and locally-grown roasted barley malt. It is rich, enticing and well rounded.
XXXB (4.8% ABV)
With three malts and three hop varieties, XXXB is bursting with aroma and flavour. The delicate aroma of biscuit and fruit unleashes a distinctive peppery, fruit flavour, which is followed by earthy hops and a dry maltiness.
Victory (6.0% ABV)
One of Bateman's most popular beers, Victory Ale is brewed with pale and crystal malts. A distinctive peppery hop and bitter orange aroma is followed by big hops and fruit flavour s with a lingering hop bitterness.
Combined Harvest (4.7% ABV)
The original multi-grain beer, Combined Harvest is brewed with pale barley malts combined with wheat, oats and rye malts. It hits the mouth with a wonderful quenching flavour full of hops, citrus fruits and biscuit malts.