News
Express trip for rare drop of Draught Bass
Added: Thursday, October 3rd 2019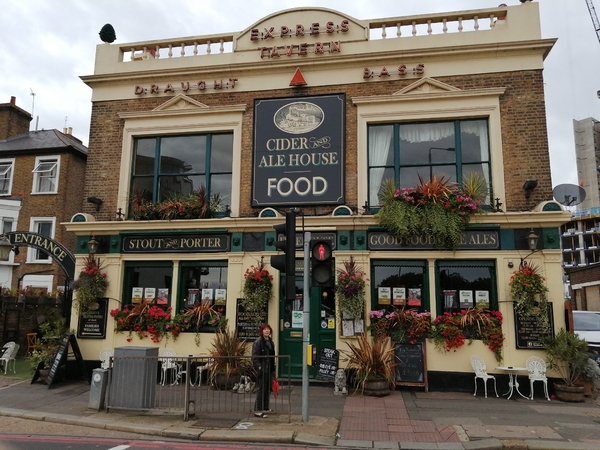 The Express Tavern on Kew Bridge Road is that rarity – a London pub that regularly serves Draught Bass. The Bass red triangle trademark adorns the exterior and the famous triangle also declares itself on a pump clip on the bar.
Two regulars seated at the bar nodded in salutation when I asked for a pint. "You've come to the right place for Bass," they said. "That's what we're drinking."
Good choice on their part—but how absurd that seasoned beer lovers have to travel miles to find a pub serving what used to be Britain's premier cask ale but is now as rare as the proverbial rocking horse droppings.
When Bass was in its pomp in Burton-on-Trent, its leading ale brand was worth some 800,000 barrels a year. But when Bass quit brewing in 2000 its breweries were bought by InBev – now AB InBev, the world's biggest brewer. It has little or no interest in the beer and has it brewed for it by Marston's, also based in Burton and with some experience of brewing the town's celebrated pale ales.
It's thought – and nobody will confirm this – that Draught Bass now accounts for around 35,000 barrels a year. Oh, what a fall was there!
The one-and-a-half hour haul by train and bus from St Albans to Kew Bridge was worth the effort. My pint was exquisite, with a lively head of foam, and an entrancing aroma and palate of biscuit malt and peppery hops with that whiff of sulphur from the Burton waters.
The Express should be enjoyed for more than the Bass. It's a pub with a fascinating history. It started life in 1794 as a stop on a coaching route that offered an express journey from London to Bath. When coaches were replaced by trains in the 19th century, the inn was placed conveniently close to Kew Bridge station and continued to refresh travellers as well as locals.
It has a splendid unspoilt interior, with two bars at the front, the one to the right offering Bass. A
another room at the back is set out for dining and beyond is a spacious back garden that's covered and heated in cold weather. The rooms have open fires, vast mirrors and fascinating memorabilia of the pub and the beers it has sold over the years. There a sporting prints in the Gents, including a portrait of Bernard Bosanquet, the cricketer who in 1903 developed the 'googly' -- an off break bowled with a leg break action. The pub has a plaque to the men of Brentford and Chiswick who fought in the Battle of Trafalgar -- there's antiquity for you.
Draught Bass was introduced in 1921 and has never left. Earlier, in 1898 the pub was owned for a while by the Watford brewer Benskins. One of the earliest meetings to launch CAMRA in London was held in the pub in 1973.
The Express has other fine cask ale, including Harvey's Sussex Best, Siren Earl Grey Session Pale and Big Smoke Milk Stout. It's was a wrench not drinking the sublime Harvey's Best but the joys of Draught Bass won the day.
*Express Tavern, 56 Kew Bridge Road, London TW8 0EW. 11-11, midnight Fri & Sat. www.expresstavern.co.uk