News
Greene King IPA gets a major makeover
Added: Monday, September 9th 2019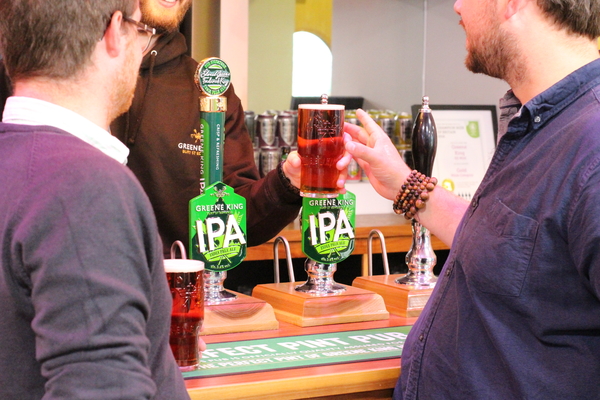 Can we expect greater hop impact and fuller flavour from Greene King's IPA following a major overhaul of the style? The brewery says it's "re-booting its flagship beer brand", putting cask quality at the heart of the process by enhancing the recipe and introducing a range of solutions to ensure the end pint is always freshly served and in tip top condition. 
The beer has been produced at Greene King's brewery in Bury St Edmunds since 1928 and has a distinctive new design that not only celebrates its green heritage but also gives it a modern appeal on the bar. The beer is brewed using locally-sourced malted barley, water from the brewery's original 220 year old acquifers and fermented in the same tank as the very first brew 91 years ago. 
But the biggest change for the beer is around quality improvements to ensure the cask beer is served at its best. 
"We've taken a deep look at the beer, the brand, the whole process from ingredient storage through to the end pint on the bar and have made some changes. Some are just tweaks, others more significant but the end result is to deliver a pint that is served at its best each and every time it is enjoyed," says Matt Starbuck, managing director of Greene King Brewing & Brands. 
From the introduction of a new cool storage facility for the hops at the brewery to the doubling of hops into the whirlpool to make the beer more robust, Greene King has analysed every step in the process from ingredients through to the end pint. One of the biggest changes has been the installation of a cool storage depot so that each freshly filled cask is kept cool until the moment it leaves the brewery for the pub cellar.
Significant enhanced training and a new cellar management system has been introduced for Greene King licensees alongside a newly developed automated water refilling system for APCs in the cellar. The number of handpulls on the bar has been re-evaluated to suit each pub's customer base and smaller sized vessels and aspirators offered to pubs with lower cask beer sales.
Assistant managers have become cask champions, putting the pride and ownership back into the age old art of cellarmanship. And pubs are being rewarded with Perfect Pint Pub status, which includes a plaque for behind the bar when they achieve 20 out of 20 Cask Marque scores.  
"In our quality manager, Susan Chisholm, we are fortunate to have arguably one the world's leading experts on beer quality leading our team at the brewery in Bury St Edmunds," said Matt Starbuck.  "However, we know that the quality beer that is produced at the brewery doesn't always stay in in the same condition when it reaches the pint glass. In the work we have done, and will continue to do, we are determined to lead the way on tackling some of the issues facing the cask beer industry."