News
Viking ale has stormy passage to Norwich
Added: Monday, May 27th 2019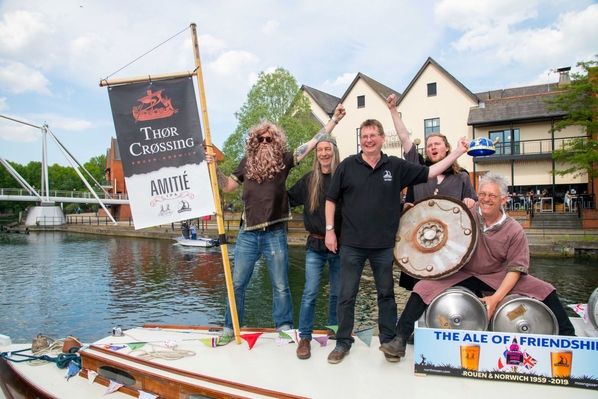 You might think that bringing a small batch of beer from Normandy in France to Norwich is a simple task – a case of the road from Rouen being paved with good intentions. The beer was destined for the launch of the 2019 City of Ale on 23 May and there were hitches along the way.
Norwich and Rouen have been twin cities for 60 years and the boat bringing the beer from the Northmaen Brewery recalled the time centuries ago when ships bought stone from Caen in Normandy to build Norwich Cathedral.
Dominique Camus and his brewers from Northmaen set off across the English Channel but 35 miles from Harwich the 20 metre sailing boat lost power due to lack of wind and then its auxiliary engine failed. The crew – and the beer – had to be rescued by a RNLI lifeboat and transported to Harwich.
Crew and beer were put on a flotilla of smaller boats that completed the voyage from Great Yarmouth along the River Yare to the Waterfront leisure complex in Norwich where the launch of City of Ale was taking place. Accompanied by sirens and klaxons, the boats arrived and the beer, crew and Mayor of Great Yarmouth disembarked on cue (pictured above: the beer arriving. Below, the flotilla of boats approaching Norwich on the River Yare).
Last year for City of Ale Dominique Camus and his team brewed a collaboration beer with David Holliday at his Norfolk Brewhouse in Hindringham, using Norfolk Maris Otter barley and barley grown at Northmean at La Chapelle Saint-Ouen near Rouen. This year, the procedure was reversed and David and his brewing team went to France to brew Amitié (Friendship), described as "a French IPA", 5 per cent, again using both English and French barley varieties.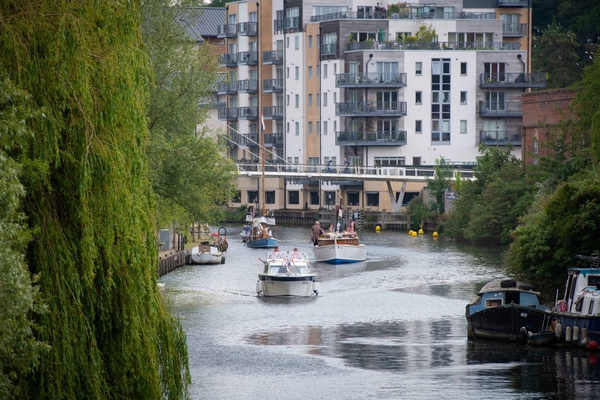 Northmean means North Men, from which comes Normandy: the term refers to the Vikings who invaded and controlled large areas of North-western France and East Anglia. The Northmean Brewery was launched by Dominique Camus in 1997 and as well as Blonde, Amber and Wheat beers also recreates Viking beers using original recipes that include herbs, spices and honey.
•Amitié is on sale in selected Norwich pubs during City of Ale, which runs until 2 June. It's currently available on cask at the Vine, 7 Dove Street, off Norwich Market.  43 pubs are participating in City of Ale and are available on seven Pub Trails. The pubs include such gems as the Fat Cat Brewery Tap, St Andrews Brewhouse, the Ribs of Beef, the Plasterers, the ancient Adam & Eve, the Rose Inn, the Murderers and the Vine. Visitors to the pubs can collect stamps and win a special heritage badge. During the course of City of Ale, many pubs will hold events, including serving collaborative beers from breweries throughout East Anglia that are supporting the rolling festival.
For full details of Pub Trails and events go to: www.cityofale.org.uk
Pictured below: Dawn Leeder and Phil Cutter, organisers of Norwich City of Ale